ATLANTA — A gathering of nearly 200 church leaders from various denominations and church groups assembled at the Georgia State University Student Center Jan. 7-8 to launch a movement in Georgia that will hopefully spread across America – a movement to "lay down what divides us and lift up Jesus who unites us."
David Franklin, associational missionary for Bartow Baptist Association and state coordinator for the National Day of Prayer, facilitated a panel discussion. Much of the discussion dealt with the division in the churches. The consensus of the panel was that we have an unhealthy culture in our churches and an unhealthy culture between our churches.
Part of the focus was on the generational divide that hinders the work of God. The panelists concluded, "We need the wisdom and counsel of those who are older and the vigor and enthusiasm of those who are young. Older people tend to play it safe and calculate their risks; younger people are adventurous and more likely to exercise faith."
However, the conclusion was that the generational divide must be resolved. One panelist surmised, "The older Saul tried to kill the younger David. The older Moses tried to mentor the younger Joshua. Today we regard Saul as a villain and Moses as a hero."
All the panelists agreed that they had come to Georgia because God is at work in this state unlike any other; and they said, "Georgia is the state which we believe will become a showcase for what God wants to do in the rest of the country."
Part of the focus was on the generational divide that hinders the work of God.
Southern Baptist Convention President Ronnie Floyd spoke passionately, stating, "We (various denominational leaders) have been meeting and we are in complete agreement about the essential issues of theology. We are absolutely in agreement that there is only one way for anyone to be saved and that is through the shed blood of Jesus Christ; and we are also in complete accord regarding the infallibility of the Word of God. We are also in agreement that we are in desperate need of revival."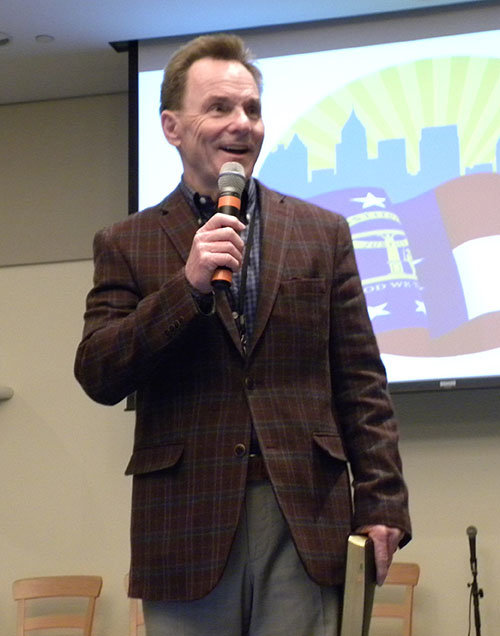 "The one ultimate need in the United States is for the next great spiritual awakening," stated Ronnie Floyd, Arkansas pastor and president of the Southern Baptist Convention. GERALD HARRIS/Index[/caption]
Floyd continued, "The one ultimate need in the United States is for the next great spiritual awakening. In order to have a genuine revival we must prioritize prayer in our lives and in our churches.
"Revival must come to the people of the church, before we can reach others and our nation for Christ. How can you reach the world with the Gospel with lukewarm churches? How can we make an impact for Christ in our own strength? How can we become change agents without devoting ourselves to prayer? How can God ever significantly use us without the Word of God in our heart?
"In our church in Arkansas we are going to begin 21 days of fasting in our church. On the last Sunday in January in all eleven worship services on all five campuses we are going to spend the worship time in prayer. I want to challenge all of you to begin to lead your people in mighty moments of prayer."
The SBC president concluded, "We all live like we have 500 lives to live, but we don't. We don't even have ten lives to live. We only have one shot. We need to live it to the fullest and get all in with God."Tony Evans, senior pastor of Oak Cliff Bible Fellowship in Dallas and honorary chairman for the National Day of Prayer, addressed the gathering and illustrated the divide by pointing to a National Football League game.
Evans said, "When you to a Falcons game there are three teams on the field. There are the Falcons, ... the visiting team, and the third team is the officials, who are there to represent the League and to see that the game is played according to the rules.
The Falcons and the visiting team are like kingdoms devoted to their own cause with the purpose of fighting to win. Each team represents its own interests and objectives. They are out to promote their own cause.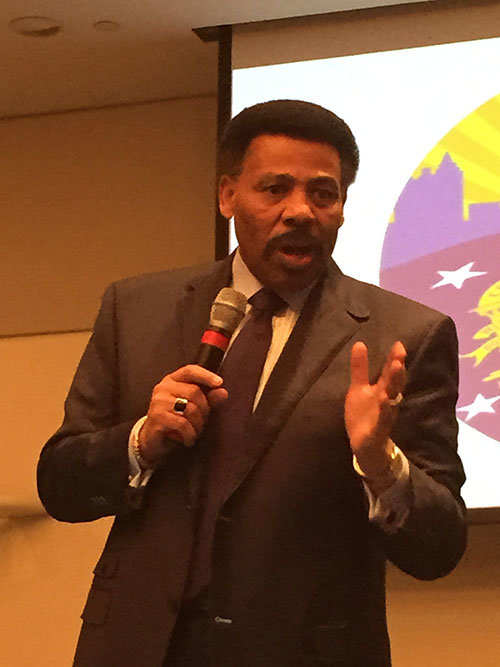 "Only one group has access to God and that is the church, but the evil one has kept the church divided," said Pastor Tony Evans of Oak Cliff Bible Fellowship in Dallas, TX. GERALD HARRIS/Index[/caption]
Who has ultimate authority
"When there is an apparent infraction of the rules the officials step in, sometimes gathering in a huddle, discuss the matter and if there is disagreement there is one of the officials who is designated to make the final call on the alleged infraction.
"This one official, who has ultimate authority, represent another kingdom – a kingdom headquartered at 345 Park Avenue in New York City. Sometimes churches and denominations fight like NFL football teams. They establish their own kingdoms and fight like they are in a contest to defeat one another. But there is another King and another kingdom; and our King doesn't come to take sides, he comes to take over.
"Unfortunately, God has to deal with a bunch of Benedict Arnolds who profess to belong to the heavenly kingdom, but who serve the king of an earthly kingdom. Only one group has access to God and that is the church, but the evil one has kept the church divided. God can only function in a unified environment."
Evans cited a quote from the movie Concussion, a film which focuses on the violent blocks and tackles that sometimes causes brain trauma. In the movie Will Smith plays the part of Nigerian-born pathologist Dr. Bennet Omalu, who was among the first scientists to sound an alarm about the long-term dangers that playing football poses to the brain. Evans stated, "In the movie Omalu goes to war with a corporation that owns an entire day of the week, a day which, he adds, used to belong to the church. In this way, football is presented as America's secular religion, one that has replaced traditional faith with hedonistic entertainment.
"Consequently," Evans added, "The church doesn't have any real authority in this world. We are mostly ceremonial. We gather on Sunday, sing a few songs, have our invocation and benediction, but we are not much good for anything else, because we don't have any authority.
"We are very much like the church in Germany during Hitler's regime. They sang their hymns, had their invocations and benedictions and their homilies while the German Gestapo marched Jews and Christians to concentration and extermination camps. They had no authority to affect any kind of change.
"If there is not a spiritual awakening, then Christ must come soon or our children and grandchildren will live in a chaotic world."
Call to gather in Washington
The purpose of the meeting was not only to emphasize prayer, repentance, and revival, but to urge Christians to converge on the National Mall in Washington, D.C. on July 16, 2016 to gather around Jesus in unified prayer, worship, and a call to catalytic change.
Georgia Baptist missionary Paulette Dehart testified, "How encouraging it was to gather with brothers and sisters in Christ from several denominations to learn how to begin synergizing to awaken Atlanta and Georgia! The importance of prayer, confession, and repentance was shared and steps to implement a unified effort to win our state for Christ was laid out."
Georgia Baptist Mark Mirza, who is the president of Common Thread Ministries, commented, "Preeminent in all of the speaker's messages was the concept of relationship – relationship with God, with fellow believers in one's local church and fellowship with believers in other denominations. It was encouraging and hopeful watching everybody put aside their doctrinal differences and worship together as well as pray together."
Todd Gaddis, pastor of First Baptist Church in LaFayette, exclaimed, "I thoroughly enjoyed the conference. I believe we are on the verge of a major movement of God in America, one in which Georgia will play a key role.
"Ronnie Floyd's presence and passion were especially uplifting. The next movement of God will come forth from prayer, crossing denominational, racial, and social barriers. I am thrilled to see Southern Baptists take a lead in the process."