Veteran TX pastor Chris Osborne joins SWBTS faculty
FORT WORTH, Texas (BP) — Longtime Texas pastor and Southern Baptist leader Chris Osborne has been named to the faculty of Southwestern Baptist Theological Seminary, President Adam W. Greenway announced July 7.
Osborne will serve as professor of preaching and pastoral ministry beginning Jan. 1, 2020.
Osborne has held multiple pastorates and convention leadership positions at the state and national levels. Since 1986, he has served as pastor of Central Baptist Church in College Station, Texas. During his time there, the church grew to a membership of more than 3,000, reaching out to all areas of the Brazos Valley. He has also served as president of the Southern Baptists of Texas Convention and member of the Executive Committee of the Southern Baptist Convention.
Osborne completed his master of divinity at Southwestern Seminary in 1974, and he returned in 2012 to pursue his Ph.D. in preaching. He is currently finishing his dissertation and plans to graduate this fall.
Man charged with 4 church arsons, burglaries, theft
NASHVILLE (BP) — A Nashville man confessed to setting fires at four area churches, including two Southern Baptist congregations, authorities said June 26.
A suspect set a fire at Crievewood Baptist Church in a file cabinet full of papers located a floor beneath the sanctuary, believed to be an attempt to cause major damage. CRIEVEWOOD BAPTIST CHURCH
Crievewood Baptist Church and Priest Lake Community Baptist Church suffered minor damage in the arsons and burglaries committed within an hour of one another June 25 beginning at 11 p.m., the Nashville Fire Department said in a press release. The suspect, 26-year-old Alan Fox, admitted to setting fire to a file cabinet filled with papers a floor underneath the sanctuary at Crievewood Baptist, and starting a fire in a trash can positioned near curtains in the academy gym at Priest Lake Community church, Nashville Police told WKRN TV.
Priest Lake Community Church pastor Harold Frelix praised God that the flames caused only minimal damage. Crievewood Baptist pastor Ray Miller also expressed gratitude that damage was not extensive.
Fox also reportedly admitted to burglarizing and setting fires at St. Ignatius of Antioch Church, a Catholic congregation, around 1:30 a.m. June 26, and at Crievewood United Methodist Church just before 4 a.m. on June 17.
All four churches are within a 10-mile area in South Nashville, where Fox lived in an apartment complex, but the churches represented denominational and ethnic diversity. Crievewood Baptist also hosts a Laotian mission, according to Southern Baptist Convention church profile data. Officials have announced no motive for the crimes.
Florida Baptists feed thousands in Dominica
DOMINICA (FBC) —The Florida Baptist Convention, Florida Baptist Children's Home, and One More Child collaborated with and mobilized 40-plus churches, both stateside and local, to facilitate the Dominica, Windward Islands Feeding of 5,000 Crusade this past June. Thousands of hurting and hungry adults and children were fed and more than five hundred accepted Jesus Christ as their Savior.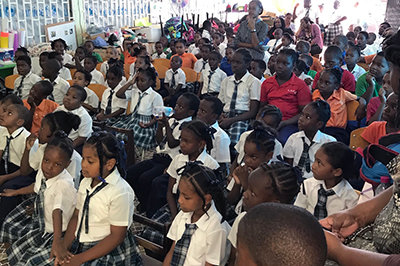 Children from the Island of Dominica. FLORIDA BAPTIST CONVENTION
The 30,000-plus bags of groceries dispersed throughout the Island of Dominica represents a $2 million impact to its people. Sharing the Gospel of Jesus Christ, especially with those who were unsaved, represents an immeasurable impact, and eternal life for many. The successful mission was executed through four preaching and food distribution locations every night in five major Dominica towns: Roseau, Grand Bay, St. Joseph, Portsmouth, and La Plaine.
In total, there were more than 20 preaching and distribution locations and the missionaries also spoke daily at most of the large schools in the country.
"Churches were strengthened, saints encouraged and the Kingdom advanced," said Jeffery Singletary, central region catalyst for the Florida Baptist Convention.
Prayer tent volunteers venture downtown each month
GEORGETOWN, Ky. (KT) — Several devout members of Gano Baptist Church are taking prayer into their community.
They have set up a couple of tents in the middle of downtown Georgetown, Kentucky and made themselves available to pray on the second Saturday of every month for the past year.
Members of Gano Baptist Church in Georgetown, Ky., are taking prayer to their community with a prayer tent outreach the second Saturday of every month. KENTUCKY TODAY/Submitted
They pray for those walking up to them off the street in their city of 35,000. They pray for mothers who are hurting over situations with children and fathers who want to be back with family.
They prayed for those injured when an ambulance went screaming by. And they have prayed for a couple who was on the way to the veterinarian to put down a pet.
They pray from 9 a.m. until noon — longer if there is an immediate need — and have braved rain and freezing temperatures.
Second Saturday Prayer, the unofficial name of the group, wants to expand with other churches in the community joining them, thus the name of Gano Baptist Church is purposely left off any advertisements.
The Second Saturday Prayer group, however big or small it may be, promises to be there for those who need prayer in their community.
Alabama's Carey Association continues tradition of Sunday worship at Cheaha Park
ASHLAND, Ala. (TAB) — It began in 1980 with one visit to the park director's house, and nearly 40 years later it's still going strong.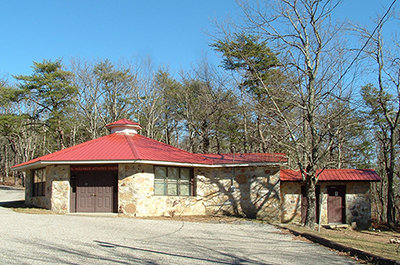 Al Alexander Activities Building THE ALABAMA BAPTIST
From April to October each year — with the exception of race weekends at Talladega Superspeedway — Carey Baptist Association churches partner with a ministry at Cheaha State Park in Delta to conduct a nondenominational service on Sundays at 9 a.m.
Pastors in the association rotate preaching there, some of them moving their Sunday services to the Al Alexander Activities Building, a chapel named after the man who got it all started in 1980. Donna Frames, a member of Mount Moriah Baptist Church, Delta, has served as the ministry's pianist and soloist for three decades.
"We're persistently there presenting the gospel," said Bruce Willis, director of missions for Carey Association.