Horn unanimously elected to lead La. Baptists
WOODWORTH, La. (BP) — The Louisiana Baptist Convention Executive Board voted unanimously to elect Steve Horn as the 19th executive director of the organization during the entity's spring meeting..
Louisiana Baptist Convention Executive Board President Waylon Bailey introduces newly elected Executive Director Steve Horn and his wife, Linett. LOUISIANA BAPTIST CONVENTION
He was nominated by a search committee composed of board members and led by Waylon Bailey, president of the Executive Board and the senior pastor of the First Baptist Church in Covington. Horn will succeed David Hankins, who retires as executive director June 30.
"I am honored and humbled to be selected to lead Louisiana Baptists in our cooperative efforts at this crucial time," Horn said. "My prayer for Louisiana is as the apostle Paul said about his people — 'My heart's desire and prayer to God concerning them is for their salvation.'"
He is in his second year as a trustee with New Orleans Baptist Theological Seminary and previously was a member of the SBC Committee on Order of Business (2012-2015). Additionally, Horn served on the Committee on Committees for both the LBC (2012-2013) and the SBC (2009).
See related story. Read more here.
Tornado touches down in Delaware, DR trains church members
SEAFORD, De. (Baptist LIFE) — Grace Seaford Church member Jake Moss woke up one morning to discover that an EF-2 tornado with wind speeds up to 95 miles per hour touched down in the Laurel, Delaware area causing power outages and significant damage to homes, and injuring one person.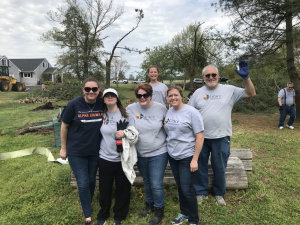 Members of Grace Church Seaford helped neighbors after a tornado touched down leaving downed trees and damaged homes.
"The tornado just tore through houses, farms, and property," said Larry Davis, Grace Church, Seaford's senior pastor. Davis was shocked. Tornadoes in the area were rare. Feeling called to lend a hand, he contacted the local firehouse and discovered they were overwhelmed and were appreciative of any help the church could provide.
Davis explained that the disaster was too big for local authorities to manage but too small for a response from the national recovery teams. It was an opportunity for the church to step in and fill a need. He put out a call for volunteers, and several responded, including Moss.
Davis contacted Kerry Hinton, pastor of Lynnhaven Baptist Church, in Pocomoke, Maryland, for some advice. A veteran disaster relief (DR) worker, Hinton told Davis to start the process with Baptist Convention of Maryland/Delaware (BCM/D) Church Services Consultant Ellen Udovich.
Men and women ages 14 – 75, from Grace Church, Lynnhaven Baptist Church, and Oak Ridge Church, in Salisbury, Maryland, provided 132 working hours of service over three days.
Hinton brought a church DR team to help, and he trained all of the volunteers in the basic rules of safety when working with trees and debris, and specifically how to properly use the necessary power equipment.
The team cut and ground limbs and dragged the debris to pick up points.
Davis said the experience opened their eyes."This made us aware of the need for DR training in our local churches. We don't think about a lot of disasters this side of the Bay, but they do happen," he said. Disaster relief is a way the church "can really shine."
Gulf Coast Baptist feeds physical, spiritual hunger in Lafourche
GOLDEN MEAOW, La. (The Message) – Gulf Coast Baptist Church recently distributed one ton of pork while also planting Gospel seeds with the residents of Lafourche Parish.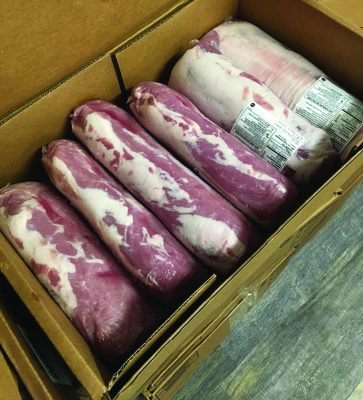 Frozen pork loin was among the items included in a box recently distributed by Gulf Coast Baptist Church to the community. THE MESSAGE
Seven members and their children handed out boxes filled with frozen pork loin, a Bible, and Gospel tract to more than 100 people at the Gulf Coast campus, May 10. The effort was the first scheduled activity for the church's newest ministry, "Feeding Lafourche."
According to the Second Harvest Food Bank of New Orleans, one in five households in Louisiana is at risk of hunger. The organization said rising costs of food, housing, and utilities, coupled with high unemployment and low-wage jobs have increased the need for emergency food assistance. Gulf Coast Baptist is one of more than 700 partners with the Food Bank, which encompasses a 23-parish area.
Hannah Terrebonne, a GCBC member, said future plans for Feeding Lafourche include using funds provided by a grant from the Louisiana Baptist Convention to purchase another freezer and shelving to increase its storage capacity.
Hundreds baptized in Ill.'s 'One GRAND Month'
SPRINGFIELD, Ill. (Illinois Baptist) – One GRAND Month, marked in churches around Illinois in April, was, in a word, grand. Churches reported more than 700 baptisms during the month, and Pat Pajak, associate executive director for the Illinois Baptist State Association is still getting reports. And churches are still baptizing. Several pastors have said the April emphasis on evangelism resulted in professions of faith and people wanting to be baptized.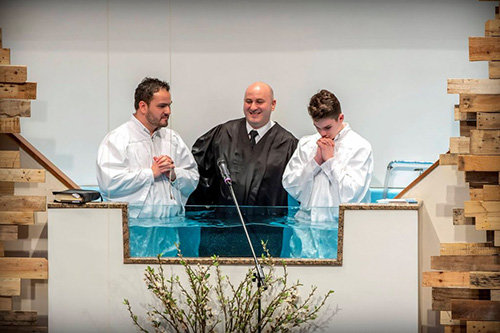 Romanian Baptist Church of Chicago and Pastor Adrian Neiconi (center) celebrated baptisms in April, joining a statewide, month-long focus on evangelism. ILLINOIS BAPTIST
If One GRAND Month did anything, he says, it alerted church members to the fact that people all around them are living without a relationship with Christ. "It's a daunting task if you allow Satan to convince you that it can't be done. You just say, 'Let's give up. Let's not try.'"
But hundreds of churches took up the challenge in April, baptizing 271 people on Easter Sunday and 443 the rest of the month, for a total of 714. Pajak notes that if IBSA churches baptized 700 people every month for a year, it would more than double the number of baptisms reported last year.
It has alerted people to the necessity of sharing their faith, and that it's not just the pastor. He's one guy in a whole town. Think about what happens if 35 or 40 people decide, 'You know what, I can do that.'
"It's the only way we're going to reach 8.5 million people in Illinois."
Fla. church plant poised for growth
YULEE, Fla. (Florida Baptist Convention) – Considered part of the Jacksonville, Florida metropolitan area, Yulee, in Nassau County, is the home of a new master-planned community called Wildlight. Developers plan to build 24,000 homes there in the near and distant future. Anticipating the upcoming growth, Callahan First Baptist Church, also in Nassau County, began praying about starting a church to reach the folks that would be moving into that development.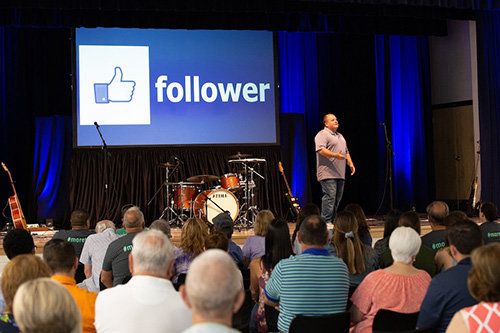 FLORIDA BAPTIST CONVENTION
After sensing a call to plant a church, First Baptist sent Todd Carr, who had served on staff as student pastor for 18 years, out to plant Exchange Church.
"While we have been a supporting church many times, Exchange Church campus is our first experience as a sending church," says Lynn Hyatt, Senior Pastor of Callahan First Baptist. And as a sending church they not only provided one of their own staff to be the church planter, but also sent out approximately 70 adults to assist in starting the new church.
Launching in January 2019, Exchange Church has been averaging well over 200 in weekly attendance. The church had their first baptism service on May 19, with Pastor Carr baptizing six new believers.
"Sending 70 adults, many of whom were in leadership roles at Callahan First Baptist, was a difficult step, but God has been faithful to raise up new leadership. This church plant is one of the most exciting opportunities God has given us in my 40 years here," shares Pastor Hyatt.