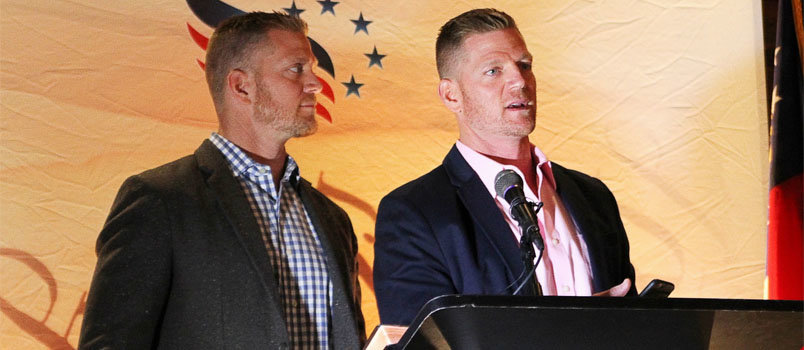 David Benham, left, and brother Jason Benham, right, address the crowd at the Religious Freedom Breakfast held yesterday at the 1870s Atlanta Railroad Freight Depot. The brothers' conservative views on marriage led to the cancellation of their planned show "Flip It Forward" with HGTV. BRYAN NOWAK/Special[/caption]
ATLANTA — It was bitterly cold outside the restored 1870s Atlanta Railroad Freight Depot on Wednesday morning, but inside the historic venue there was a convivial breakfast fellowship. There were also motivational testimonies designed to mobilize hundreds of concerned citizens to urge their legislators to vote for religious liberty bills.
It was apparent that HB 837 sponsored by Representative Ed Stetzler and SB 284 sponsored by Greg Kirk were deserving of particular support.
The Georgia Baptist Mission Board, Shorter University, Truett-McConnell University, Brewton-Parker College, and The Christian Index were among the sponsoring ministries of the religious freedom event.
Alveda King, one of Atlanta's most effective conservative voices, stated, "Three people were crucified on Calvary the day that Jesus died; and all three were extremists. Two were extremist for lawlessness and vice. The one on the middle cross (Jesus Christ) was an extremist advocating love and truth." She suggested that some causes are worthy of extremism and that the fight for religious liberty is one of them.
Kevin Williams, pastor of First Baptist Church in Villa Rica, told about his church having a Gridiron Day with Georgia Tech chaplain Derrick Moore bringing the message and about 50 young men coming forward during the invitation to trust Christ. Villa Rica coach Andy Szatkowski expressed his desire to be baptized on the football field and 18 football players expressed their desire to be baptized with him.
A video of the baptism was placed on the church's website and went viral. Williams indicated that someone from Wisconsin saw the video and soon thereafter Williams and the church was receiving threats from Freedom of Religion Foundation and the school district was investigating the baptism on the practice field.
Williams said, "It is not in my DNA to back down on important issues. We have a God who wants us to stand up for Him. When did it become illegal to be a Christian in the United States? We are having laws that militate against our faith. This nation was founded on the Word of God. We must stand strong, because the fight is coming."
"It is not in my DNA to back down on important issues. We have a God who wants us to stand up for Him."

Kevin Williams, pastor, Villa Rica First Baptist Church
Rafael Cruz, father of presidential candidate Ted Cruz, was also on the Religious Freedom program. He thundered, "Psalm 11 talks about foundations being destroyed. We are seeing our foundations as a nation destroyed. One reasons is because pastors are hiding behind their pulpits. We are to be salt and light, but we have been playing church within the four walls of the church.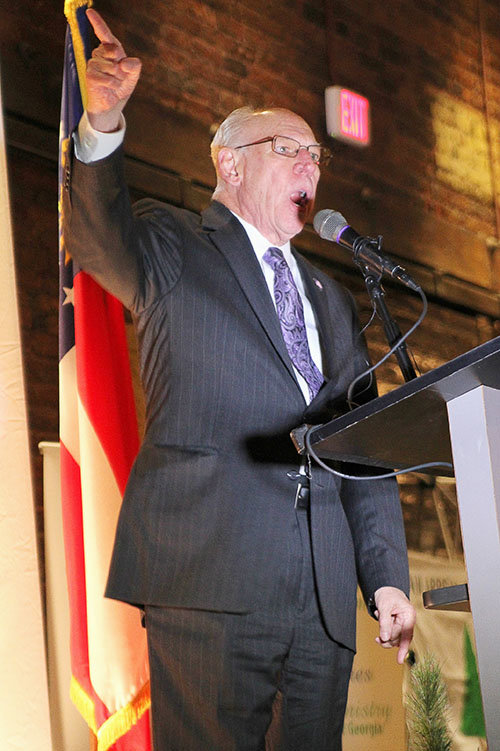 "The church has ceased to be the moral conscience of the nation, but the good news is that there are more of us than there are of them," Rafael Cruz, father of presidential candidate Ted Cruz, told the crowd. BRYAN NOWAK/Special[/caption]
"Freedom of worship is not freedom of religion. In Cuba you can preach within the four walls of the church, but if you do it outside the church you will be put in jail.
"The church has ceased to be the moral conscience of the nation, but the good news is that there are more of us than there are of them."
Cruz quoted Dietrich Bonhoeffer, the German pastor who resisted the Nazi regime, who said, "Silence in the face of evil is itself evil: God will not hold us guiltless. Not to speak is to speak. Not to act is to act."
The Benham brothers were featured on the program for the Religious Freedom breakfast. David and Jason Benham were preparing to join HGTV with their program "Flip It Forward" when the cable network made the decision to cancel the show because of the brothers' conservative views on traditional marriage. Even though their contract with HGTV was terminated the twin brothers decided to finish the renovation of the homes they promised to do.
At the breakfast they talked about their joy in the Lord and the privilege and responsibility of following Jesus. David stated, "The problem today is not the presence of darkness, but the absence of light. This is time for us to be lightning bolts not lightning bugs.
"America is not shifting from Christian to secular – that happened a long time ago. We are now shifting from secular to pagan.
"Our leadership has bought into the philosophy of Saul Alinsky and his rules for radicals. Among those rules are:
Ridicule is man's most potent weapon. There is no defense. It's irrational. It's infuriating. It also works as a key pressure point to force the enemy into concession.

The threat is usually more terrifying then the thing itself. Perception is reality.

If you push the negative hard enough, it will push through and become a positive.

Go after people, not institutions. People hurt faster. Direct, personalized criticism and ridicule work.
"The good news is that this is the greatest time to be alive. No real athlete wants to come in at the end of those games where the game has already been won or lost. For example, LeBron James (NBA star) wants to play when the stakes are high, when the game is on the line. We get to live and appropriate our faith and commitment to Christ at perhaps the most crucial time in history.
"Jesus said, 'Blessed are you when people revile you and persecute you and say all kinds of evil against you; rejoice and be exceeding glad: for great is your reward in heaven.'"
Jason added, "If you want to experience freedom, exercise your faith. Your faith will usher in the truth and the truth will set you free.
He then quoted A.W. Tozer, who said, "It is doubtful whether God can bless a man greatly until He has hurt him deeply."
"In Acts 4 Peter prayed, 'And now, behold their threatenings: and grant unto thy servants, that with all boldness they may speak thy word,'" added David. "He was not concerned about being delivered from persecution. He wanted God to give him courage and boldness. Jason and I do not just want to be men of faith, we want to talk about the object of our faith – Jesus."
After the inspiration of the breakfast meeting hundreds of people walked to the Georgia State Capitol to be ambassadors for Christ in what is undoubtedly the most significant issue of this legislative session – religious liberty.