By Diana Chandler
PINEVILLE, NC (BP) — Clifford Burton "Cliff" Barrows, who served as music director of the Billy Graham Evangelistic Association for more than 60 years, died Nov. 15 in Pineville, NC, after a brief illness. He was 93.
The Marvin, NC, resident had traveled the world with Billy Graham since the noted evangelist's first crusade in 1947 in Grand Rapids, MI, the Billy Graham Evangelistic Association (BGEA) reported.
Barrows' contributions to the ministry were immeasurable, Graham said in an official statement upon the musician's death.
"There wouldn't be a Billy Graham Evangelistic Association in the way it is today without him. He was used of the Lord more than anyone else to keep us together with his strength, energy, devotion, and love for the Lord," Graham said. "Cliff set an example and was a role model of what a Christian ought to be. His contribution to my ministry cannot be measured in human terms."
'Uncle Cliff'
Barrows was known to BGEA President and CEO Franklin Graham as "Uncle Cliff."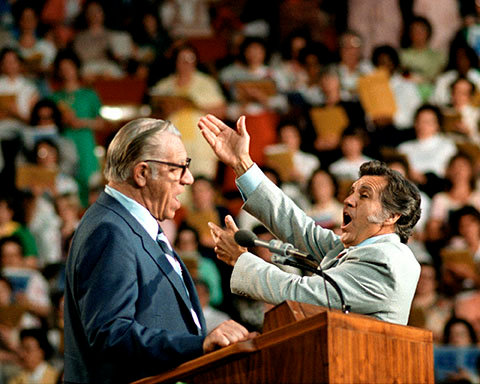 Cliff Barrows and George Beverly Shea sang "How Great Thou Art" at the 1980 Indianapolis, Ind. Billy Graham Crusade. BGEA/Special[/caption]
"Not only was he one of my father's closest friends, but he was a friend to all of us on the team and in the family," Franklin Graham said. "Growing up, and until the day of his death, I called him Uncle Cliff. He was very much a part of our family."
Barrows met the patriarch Graham in 1945 while the song leader was on his honeymoon. The two men soon formed the first team of what would become known as BGEA. Barrows was director of music programming -- and later television and radio programming -- for Billy Graham Crusades, and hosted the weekly Hour of Decision radio program heard internationally for more than 60 years.
"Sometimes he could just step up and preach a lot better sermon than me because God gave him the gift -- not only of organization and music, but also of preaching and teaching," Billy Graham said of Barrows. "We have a little conference center near my home where I would go to hear him when he was there and he certainly was a powerful speaker."
Model of music leadership
Barrows is fondly remembered by many.
LifeWay Worship Resources Director Mike Harland called Barrows "the Father of every one of us who aspire to lead the church in singing the song of faith."
"Whatever the job of leading congregational singing is, that's what Cliff Barrows did. And whoever that leader is supposed to be, that's what he was to the rest of us," Harland told Baptist Press. "And whatever the relationship between preacher and song leader can be, that's what we all saw in his relationship with Dr. Billy Graham."
Frank S. Page, president and CEO of the Southern Baptist Convention Executive Committee, expressed deep sadness at Barrows' passing.
"He was a dear friend for many years," Page said. "When I was considering going to Taylors (First Baptist Church, Taylors, SC) as pastor, he called me and asked me to visit. We sang a chorus together and he shared Scripture with me.
"He was a man without guile and a man in whom the Holy Spirit found a welcome place," Page said. "He will be deeply missed by millions and remembered as a man who served our Lord and his friend Billy Graham with absolute selflessness and joy."
Everything done with joy
Barrows was inducted into the Nashville Gospel Music Hall of Fame in April 1988, the Religious Broadcasting Hall of Fame in February 1996, and the inaugural class of the Conference of Southern Baptist Evangelists' "Hall of Faith" in 2008.
Jerry Johnson, president and CEO of National Religious Broadcasters (NRB) said Barrows reminded him of joy.
"He spoke with joy, sang with joy, and led God's people to sing with joy at the Billy Graham crusades," Johnson said. "Cliff was an NRB man all the way and we will miss him until we see him again in the glory."
Barrows is the fifth member of the original Billy Graham Crusades team to die, including his first wife Billie, Grady Wilson, George Beverly Shea, and Billy Graham's wife Ruth.
Son of the late Harriet M. and Charles Tilson Barrows, the ministry leader was born and reared in Ceres, CA. He is survived by his wife Ann and five children from his first marriage to Wilma Irene "Billie" Newell Barrows, who died in 1994, and their spouses; namely Chris and Bonnie Thomas, Bob Barrows, David and Betty Ruth Seera, Clifford "Bud" Barrows, and Bill and Teri Barrows. He is also survived by Ann Barrows' children and their spouses, Tal and Teresa Prince and David and Dana Shillington, and numerous grandchildren.
A public funeral service for Barrows will be held at 10:30 a.m. on Nov. 22 at Calvary Church in Charlotte, followed by a private interment. An online memoriam has been established at https://cliffbarrowsmemorial.org/.