FLOWERY BRANCH — Blackshear Baptist Church is one of the flagship Baptist churches in the Georgia Baptist Convention. Jeff Crook, who has served the church since 2004, is one of the premier pastor/preachers in our denomination. Crook is an expository preacher who skillfully and passionately proclaims "the unsearchable riches of Christ."
From its humble beginning in 1955 with 37 charter members, the Flowery Branch church has grown to more than 8,000 members.
During Crook's tenure as pastor the church has experienced phenomenal growth, adding more than 4,000 new members with 3,000 being baptized during that time.
The church is currently in an expansive building program as they prepare for the future. Demographic studies indicate that 50,000 new families will arrive in the area within the next few years. The population of those 12 year of age and younger is predicted to double in the very near future. In addition, the church is well positioned to do its part to reach the next generation as Georgia Baptists are being urged to do.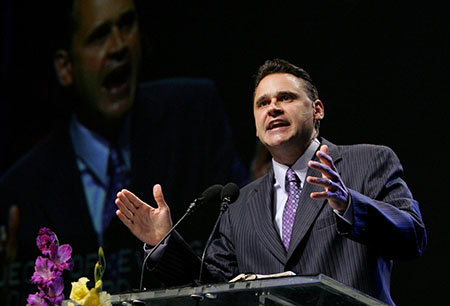 Jeff Crook recently announced that Blackshear Place Baptist Church in Flowery Branch, where he serves as pastor, will soon become Christ Place Church. "For 63 years, we have been a Southern Baptist Church, and this will not change. What has changed at Blackshear Place is our heart," Crook said. JEFF CROOK/Special[/caption]
The church is nearing the completion of the new facility, including a massive worship center. The projected cost of the building is $20 million. The church already had an existing indebtedness, but $9,373,000 has already been given for the major building expansion.
Pastor Crook provided The Christian Index with a press release indicating that the church is also undergoing another change as explained below:
"On Sunday, February 11, Blackshear Place Baptist Church became Christ Place Church. We are the same church, just with an updated name.
"For 63 years, we have been a Southern Baptist Church, and this will not change. What has changed at Blackshear Place is our heart. Often, a name change took place in the Bible when there was a fresh encounter with God, a new identity was needed or a new future was waiting. This has been our recent experience at Blackshear Place.
"In a few months, by God's grace, we will move into a new facility. But God has done a new work in our hearts before we have even moved into the new space. I must confess, in the past I have made building projects, and other things like that, the vision of the church. But the excitement fades fast and the search for the next new thing begins. This is frustrating and exhausting. This is why I'm so thankful for the place God has us in now.
"We have clarity of mission, and the vision God has given us pounds in our hearts. For this reason, the Blackshear Place church family updated our name to Christ Place Church. The new name will help us better accomplish our mission. The name will also keep our vision constantly before us. Ultimately, we desire to make Christ preeminent in everything, even our name.
"Please pray for us. Please also know that we are grateful for the partnership we share with you in our SBC family. May God's blessing continue to be on our cooperating efforts as Southern Baptists. May His favor be on the local churches that we lead. Your friendship means much to me.
"This is why I wanted to take a moment and update you on this exciting season in the life of Blackshear Place. A name update is not a fast process. For the next few weeks, we are still known as Blackshear Place Baptist Church. After Easter, we will make the big transition and be fully known as Christ Place Church.
"As I get older in ministry (This month is my 25th year pastoring a SBC church.), I'm learning that some of the greatest treasures in ministry are the friendships that have been forged over the years. You are a treasured friend to me, and for that I am grateful."
We pray for God's richest blessings upon Pastor Jeff Crook and Christ Place Church as they move forward to reach their growing region for Christ. They will certainly have the facilities, the pastor and staff, the committed membership, and the passion to make a profound difference for the cause of Christ in Georgia and far beyond.