By Evan Riekhof

MOUNT VERNON, Ga. — Brewton-Parker College recently announced Frank Sharpe of Laurens County as the director of the Academic Success Center.

In the new role, Sharpe will facilitate educational support and tutoring services to Brewton-Parker students, and he plans to expand the online tutoring services.

The Academic Success Center also offers specialized help with student papers at the Writing Center.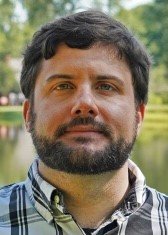 Frank Sharpe
Before accepting this position, Sharpe taught full-time last fall. He also taught remote classes in Brewton-Parker's prison and Youth Challenge programs in the spring.

Prior to joining Brewton-Parker, Sharpe was a junior fellow with the Blount Program at the University of Alabama.

Education has always been a priority for Sharpe as both of his parents and his older brother are teachers.
Brewton-Parker Provost Robert Brian shared his enthusiasm by saying, "I am very excited that Dr. Frank Sharpe will be joining us this fall in the key role of ASC Director. Over the spring and summer, we have strengthened our capacity for spotting students showing early signs of disengagement or those who just need more academic support. Dr. Sharpe will be leading a team of tutors, advisors, and mentors charged with making student success an attainable goal for all Barons."
Sharpe understands some of the challenges that come with being a college student. "Students are already in a new environment with high expectations," he said.

He sees the services provided by the Academic Success Center as a way to be more actively engaged in the success of students and meeting those expectations. Sharpe hopes to see growth in the number of students progressing in their classes and successfully making it to graduation.

"I want them to know we're on their side," he said. "Combine that with the chance to help people on a personal level and then I think we'll really have something to feel good about."
The work of the Academic Success Center is valuable to both students and Brewton-Parker, according to Sharpe.

"Your time in college is valuable, not just because of tuition, but because you will only be here for so long," he said. "These four years will go by before you know it, so do the best you can without looking for shortcuts."

Sharpe said he believes the college needs to provide a strong support system for students who are struggling, saying, "This is important to both our success as an institution and the morale of the students."