By Jenni Prevett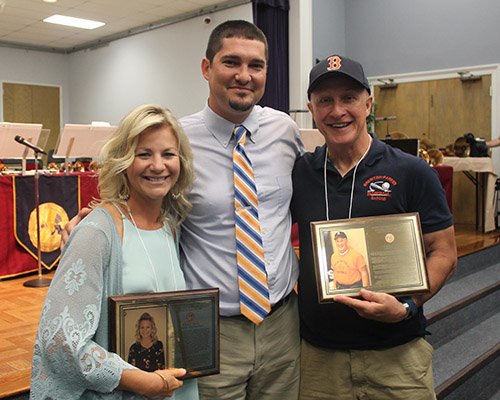 At left, Lyndsay Herrin, and Grady Brown, right, join Brewton-Parker athletic director Daniel Prevett at the recent BPC Sports Hall of Fame induction. BPC/Special[/caption]
On April 22 two new members were inducted into Brewton-Parker College Sports Hall of Fame – Grady Brown and Lyndsay Herrin. Both left lasting legacies at BPC and have continued to be impactful off the field.
Hailing from Northern Kentucky, Brown was recruited to play baseball at BPC by the legendary coach Tracy Rivers. Brown played the outfield, first base, and catcher positions from 1970-1972. Because Brewton-Parker was a junior college, Brown had to transfer after two years.
He says if it were up to him, he would have stayed and continued his education at BPC; he loved it that much. Brown decided to commit to Northern Kentucky University in 1972, becoming the first ever junior college baseball recruit at the institution.
Grady taught middle school science and coached for 36 years in the Newport School District. He says, "I used something from all the professors here in my teachings." In the district, Grady has credited to him over 1,000 wins, with over 550 in baseball alone, as both an assistant and head coach in baseball, basketball, and volleyball.
He also helped lead the Newport Wildcats to the Regional Baseball Tournament 29 times, one Kentucky state baseball tournament appearance, and two regional runner-up placements. Alongside these accomplishments, he also served as the district athletic director. Grady still works there part-time as the district-wide energy manager.
It means more
A member of the Northern Kentucky Athletic Director's Hall of Fame as well as the Newport School District Athletic Hall of Fame, Brown says the Brewton-Parker Hall of Fame means more. "My daughter said, 'Dad, you're getting old.' This Hall of Fame means more because this is where it all started," he reflects.
He wants to thank God, his parents (who drove miles to watch him play), his brother, professors, Coach Tracy Rivers, his teammates, and all the people he went to school with at BPC. Brown credits Brewton-Parker with giving him the foundation to build a successful career as a teacher and coach.
"I learned many life lessons and Rivers is the best coach I ever played for," he states. "There wasn't a day that went by in my teaching career that BPC didn't come up in conversation. At Newport High School, where I taught and coached, my students know exactly where Brewton-Parker is."
He continues, "Brewton-Parker shaped and molded me into the person I needed to be. It is very easy to go the wrong way. Before I do something today, I think, 'Would that be acceptable down there?' You are what you are and big is not always better. The small school atmosphere was for me!"
'I belonged'
Reflecting on his time at BPC, Brown has two fond memories: "The day my parents dropped me off I didn't have a car. There was a meal by Jones Lake and when they left, I wasn't going to come out of my room. My teammates persuaded me to come out and go to the lake. Then, I knew I belonged.
The other memory that stands out is when I received my first paper back in Mr. Cooper's English class. It looked like someone had bled all over it. He was never a person who was negative. He stuck with me and made me a better English student."
Spectators at the Hall of Fame ceremony on Saturday could feel the pride and joy radiating from Mr. Brown. He loves BPC and the impact that the professors, coaches, and peers had on not only his successful career, but more importantly his character and beliefs.
Passing lessons along
The other inductee, Lyndsay Herrin, also excelled on the field at Brewton-Parker. She played four years of softball and volleyball in addition to assisting the softball team in 2004, the year she graduated. Lyndsay earned her B.A. in Psychology and minored in coaching. While at BPC, she achieved multiple awards in softball, including All-Freshman team, All-Conference team, and led the conference in strike outs, innings pitched, and ERA.
"My fondest memories at BPC would be the victories against North Georgia and striking out my former teammates from Canada when facing them in games," she says.
Following her time at BPC, Herrin coached at multiple high schools in Georgia. She received Region Coach of the Year while at Robert Toombs Christian Academy, as well as GISA Coach of the Year. She also led her team to win the State Championship in 2007.
Currently, Herrin lives in Ailey with her husband, Madison, and four children. She is a homemaker and continues to invest in young girls spiritually and physically through pitching instruction. Her passion is to pursue the Lord and disciple her children while enjoying serving others alongside her husband in ministry.
"The legacy I desire to leave has nothing to do with sports of any kind. I want to be known as a girl who loved the Lord and was willing to follow Him wherever He was asking her to go. I want to be remembered as a person who fought hard for what she believed in and never gave up.
"Ultimately, I want to care more about my work for the Lord than any one person. My prayer is for my kids and theirs to come to see a ferocious love for the Lord and people."
Results of work
Herrin has two important people she would like to thank for this award: "Without the constant support, encouragement, motivation, disciple, and push from my father, Richard Gomme, and a former coach, Jerry Runzer, I would have never been the player I was. They taught me so much more than the game of softball.
"This award is something I can share with my kids as they doubt that hard work pays off. It means so much to my dad and is actually a product of his countless hours of teaching, instructing, and pushing me for many years. It should have his name on it!"
Herrin says, "I simply wandered onto BPC campus expecting to do my four years and then leave it behind. The friends I've made and the relationships I have acquired have shaped and molded me closer to the Lord."
More impressive than any athletic record or performance is the lives changed for eternity at Brewton-Parker. It is something that will continue at the athletic facilities and in the classrooms through great coaches, professors, administrators, and student leaders for years to come.
Jenni Prevett is the sports information director for Brewton-Parker College.