LAUREL, Md. — It's a Wednesday like many others of late. Chris Codding logs onto Zoom and chats with teens he leads as a volunteer student pastor at Cassville Baptist Church. He shares a devotional. They talk about their week and what they've been doing. Prayer requests are passed around.
After leaving the meeting just before 7 p.m., Codding gets ready for the next part of his evening. Surrounded by old x-ray copies in an otherwise empty storage room at Laurel Medical Center, he adjusts back in place the N95 mask that had been hanging around his neck. His surgical gown securely tightened, he proceeds to put on a pair of gloves, then another pair on top of those. A second surgical mask goes over his N95 so he doesn't have to change it out so often. A hair net/cap goes on. Then comes a pair of goggles, followed by a face shield.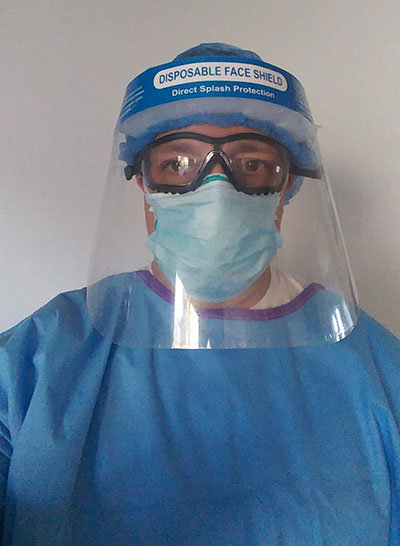 Codding's personal protective equipment is substantial, but more than necessary. CHRIS CODDING/Special
With that, the 40-year-old is finally set to begin his 12-hour shift as a radiologic technologist. This week marks his seventh at the Maryland hospital x-raying those diagnosed with COVID-19, the novel coronavirus. At his job Codding gets an up-close view of not only what the illness does to the outside of patients, but how it ravages the lungs as well. The exterior tells one story, but the inside reveals the true need.
"People come in with chest pain, low blood pressure," Codding told The Index. "When we get them from other hospitals they have already been diagnosed [as positive]. Many go straight to a room but also get a second diagnosis in the ER. There are others who come straight here who haven't been diagnosed yet. Some of the patients get sent home if doctors feel they can recover there."
At the hospital Codding's focus is understandably on the task at hand, checking patients while helping keep at bay a pandemic of over 5 million cases worldwide, 1.6 million of them in the United States.
In a position that brings him into contact with every patient in the hospital, Codding literally stares danger in the face each day he's at work. On April 21 he woke up exhausted because at nearby Prince George Hospital a radiologic technologist – the same position Codding occupies – had contracted COVID-19 and died. As a result, that shift of ten workers had to be quarantined, causing Codding and others to temporarily travel the 15 miles to that hospital to cover those patients. The remaining staff at Laurel worked extra to make up the difference in manpower.
But even in the midst of it all, that's not the only thing on his mind.
Missions opened the door to a calling
Codding set out for Maryland on April 5, driving his 2006 Expedition packed with belongings that included a bicycle, basketball, and a fishing pole for his days off. For 15 years he's served in his current role at Cassville Baptist while working as a radiologic tech, first across the state line in Centre, Ala., then in Cedartown, Rome, and Cartersville. Two years ago, he added a position as clinical instructor at Georgia Northwestern Technical College in Rome.
Codding, who was born in Massachusetts but grew up in Rome, traces it back to a mission trip in 2003. "We went to New York, where I ended up doing youth ministry for three years," he said. "While there, God opened up a door for me to work in a hospital."
He took to the work and built a career out of it. At the beginning of the coronavirus spread in the United States, someone on a Facebook group of those in his field said help was needed at a hospital outside of Washington, DC. Codding raised his hand.
"I expected to be there around eight weeks," he says. "Now it looks like we may be here 17 weeks, total, through Aug. 2."
Staying on schedule
In addition to helping lead the Wednesday night youth gathering, Codding also helps host the live stream of Sunday services for Cassville Baptist from his room at the Hampton Inn around the corner from the hospital. About 20 minutes early, he'll log on and chat with others, asking them about their week. During the service he'll answer questions anyone may post about the message being preached by interim pastor Mike Stephens. If someone wants to know how to give to the church, he'll point them in the right direction. At the end he'll offer a digital connection card and engage in conversation, perhaps asking them for their favorite point of the sermon.
Soon after logging off he goes to sleep, because in a few hours he needs to be set for his first 12-hour shift of the week starting at 7 p.m. That will repeat for Monday, Tuesday, and Wednesday nights, making Thursday a much-needed day to catch up on rest. Friday and Saturday, he says, are often spent exploring the area finding a place to fish, shoot hoops, or go on a hike. Sundays are largely spent trying to get his body clock back in rhythm for the work schedule. He's found it better to avoid the news when watching TV, choosing to focus instead on cooking shows.
Codding's schedule will pick up on June 21. That week will be the first of six straight where he'll fly to Georgia and spend a few days instructing GNTC students working in area hospitals. When not teaching, he'll reconnect with students and hopes to work in a few day trips June 22-24. That's when he had already scheduled time off from the hospital for a youth camp that has since been cancelled. He'll fly back Wednesday nights for his Thursday shift at the hospital that repeats Friday, Saturday, and Sunday.
"It's a crazy schedule, but I don't want to leave my team short," he says. "I'll rest while at the airport and in the air."
Help at home
Fourteen years ago, Codding adopted a son, Hayden, who is now 25. Hayden manages much of the technical aspects from Georgia on Sundays and Wednesdays and is part of what his dad calls a crucial support group at the church.
"We have a great team of adult leaders. Our assistant youth pastor, Matt Downey, was a student minister in Tennessee who switches out with me on teaching month to month. Jessica Wilburn is a girls' small group leader who helps out a great deal, too," says Codding.
"I couldn't do this without them. When we learned I was traveling to Maryland we knew we needed a game plan."
Oh yeah, Codding also is a deacon and has continued calling his assigned family while working, sending birthday cards and such via text and email. His role as a member of the pastor search team has been unique during this time of COVID, particularly since the team identified a leading candidate who accepted just before quarantine occurred. Easter marked one year since Cassville has been without a pastor, so the church is eagerly anticipating a Sunday in June when the candidate is to preach in view of a call.
There are connections in what Codding sees at the hospital and ministry. A person can look one way on the outside, but the inside tells a different story. Reflecting Ephesians 6:11-18, one cannot overstate the importance of not only what you wear into a battle, but how you wear it. And, it takes an investment of time, patience, and yes, risk, to leave an impact on others. These truths factor into Codding's decision to use the money he's earning now for making his home available for foster care when he returns.
Right now, though, he's focused on the task at hand. He avoids the political discussions that can rise up among staff. "We're all here to get through this crisis as a team," he says. "People are people, and they have opinions. But everyone is really nice here. They're hard workers, with many of them having more than one job."
So he continues working, but also praying. He prays for the patients, but also for his co-workers and those at Cassville Baptist back home. Because as he knows well, the exterior tells one story, but the inside reveals the true need.
An earlier version of this story incorrectly stated the number of cases as deaths, as sourced by the World Health Organization. The Index regrets the error.
---