OKLAHOMA CITY — Ingrid Williams, age 44 and wife of Oklahoma City Thunder assistant coach Monty Williams, was killed two weeks ago in a tragic automobile accident in Oklahoma City. On February 16 KFOR, the local NBC television station in the Oklahoma capital city, reported findings of the fatal crash.
According to the accident report, investigators stated that 52-year-old Susanna Donaldson was headed southbound toward Williams' automobile at a high rate of speed. Lexuy Nguyen was also headed southbound. Donaldson swerved left to avoid Nguyen, crossing the centerline and hitting Williams' car head-on.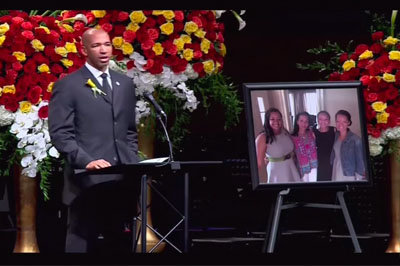 "All of this will work out. As hard as this is for me and my family and for you, this will work out," Williams said.[/caption]
The report specified, "Investigators determined that Donaldson was driving 88 miles per hour five seconds before the collision. Just one second before impact her speed had accelerated to 92-miles-per-hour. The speed limit in the area is 40 miles per hour. Donaldson was pronounced dead at the scene, and Williams died at the hospital a short time later."
While the untimely death of Ingrid Williams is a tragedy, the demonstrative faith of her husband, Monty, is also worthy of mention. Monty Williams played college basketball at Notre Dame and then had some very productive years in the National Basketball Association primarily with the New York Knicks, San Antonio Spurs, and Orlando Magic.
On June 7, 2010 Williams became the head coach of the New Orleans Pelicans. In June of 2013 Williams accepted an assistant coach role with the U.S. national team for the 2016 Summer Olympics in Rio Janerio, Brazil. On June 29, 2015, Williams became the associate coach of the Oklahoma City Thunder.
Buildup to indomitable faith
However, Williams is a genuine Christian. He went to live with his grandparents when he was eight years old. His grandparents were devout Christians and served God faithfully. Both his maternal and paternal grandparents had a profound impact upon his young life.
When Williams was ten years old he returned to his mom's home and that fall began to play Little League football. One day, his coach invited the entire team to church. It was that Sunday that Williams invited Christ into his heart. He was baptized that same day.
During his teenage years his faith lagged and his athletic ability prompted him to think about the status and notoriety that playing basketball would provide him. Once he got to Notre Dame things began to change in his life. He met a fellow student, Ingrid Lacy, and he knew there was something different about her compared to the other girls he'd met in college. Ingrid was a student with an indomitable faith in God.
At Notre Dame Monty was diagnosed as having a heart disease called hypertrophic cardiomyopathy. That diagnosis ended his basketball career after just one year in college.
The diagnosis drew Monty and Ingrid closer together. They prayed together. Ingrid believed that God would heal Monty's heart, but Monty was becoming more and more frustrated because the game that had once been his life's focus had been ripped away from him.
Many people were praying for Monty. The leaders of the church had laid hands on him in accordance to James 5: 14-15. At last he was beginning to believe that God would answer the prayers of His people.
One day he received a call from a staff member in the athletic department who encouraged him to go to the National Institute of Health for a series of tests. After three days the doctors concluded that nothing was wrong with his heart. Monty knew that God had answered his prayers.
Growth in the NBA
He played two more years at Notre Dame, earning honorable mention All-America honors his senior year after averaging 22.4 points and 8.4 rebounds a game. The New York Knicks selected Monty as the 24th overall pick in the 1994 NBA Draft.
Charlie Ward, the Heisman Trophy winner from Florida State, was drafted two picks after Monty and they decided to room together. They became accountability partners and stayed up late at night studying the Bible and talking about the Lord.
Monty and Ingrid, who had continued to date, got married after his rookie season with the Knicks, but after his first year in New York he was traded to the Spurs in San Antonio where he really began to grow in the Lord.
The newlyweds began attending a Bible-believing church in San Antonio. The Okaloosa/Walton Fellowship of Christian Athletes reported Williams as saying, "That class (in that church) is where I learned to be a husband, how to be a father, and how to treat my wife biblically. I started to take my relationship with the Lord really seriously and got serious about my Bible study, prayer, and understanding the things of the Lord."
And for the first time, Williams understood that basketball could never fill the god-sized hole in his heart.
Not lost, but found
Fast-forward all the above to Ingrid's memorial service earlier this month. Monty delivered an emotional address at the service. An ESPN spokesman said that Williams' eulogy "was a message of strength, a message of love, and a message of forgiveness."
At the memorial service Monty declared, "God loved me so much that He sent His Son to die for my sins. He loved me so much that He gave me a wife that loved every part of me. Over the years the players who knew me probably got tired of me talking about my wife, but who else was I going to talk about?
"Romans 8:28 says, 'For we know that God causes all things to work together for good to those who love God and to those who are called according to His purpose.'
"All of this will work out. As hard as this is for me and my family and for you, this will work out. It doesn't mean it's not hard. It doesn't mean it's not painful. It doesn't mean we aren't going to have tough times. But what we need is the Lord. And that is what my wife exhibited every single day.
"I am going to close with this and I think it is the most important thing we need to understand. Everybody is praying for me and my family but let us not forget that there were two people in this.
"In our house we have a sign that says, 'as for me and my house, we will serve the Lord.' We cannot serve the Lord if we do not have a heart of forgiveness. That family didn't wake up wanting to hurt my wife. Life is tough and that was very tough, but we hold no ill will toward the Donaldson family. We should pray for that family.
"My wife is in heaven. God loves us. God is love. And when we walk away from this place today let's celebrate, because my wife is where we all need to be. I didn't lose my wife, because when you lose something, you don't know where to find it. I know exactly where my wife is. I will miss holding her hand. I will miss talking to her, but let's not lose sight of what is important. God is important. What Christ did on the cross is important."
What is most important to you?