(Left) Evelyn Price has made over 4,200 masks and she has wisely selected a variety of masks that range from a Christian theme to a sports theme. (Right) Glen McCall, transitional pastor at Colonial Woods Baptist Church in Lawrenceville, is the recipient of a mask especially made for him by Evelyn Price. (SPECIAL/Evelyn Price; COURTESY/Cindy McCall)
---
STONE MOUNTAIN – Multiple studies have revealed that wearing masks and social distancing has helped to contain the spread of the airborne COVID-19 virus. During the peak of the pandemic health professionals insisted that if a significant fraction of the population adhered to both measures, the spread of the virus could be curtailed to a significant degree. Since the development of the vaccines, people are now hoping and praying that mass inoculations will prevent the unbridled spread of the illness.
Evelyn Price, age 88, and a member of Colonial Woods Baptist Church in Lawrenceville, decided she would be a part of the solution to the rampaging and deadly pandemic. She recalled, "I was having my morning devotion in March of 2020. I was reading my Bible and praying, asking God to show me His will for that particular day. My desire was to simply be a vessel that He could use for His glory."
Price continued, "My friend, Lynne Wells, a fellow member of Colonial Woods, was also praying for God's direction in the midst of the pandemic. God seemed to impress upon our hearts at the same time that He would like for us to use our knowledge and sewing ability to make masks to help prevent the aggressive spread of the virus."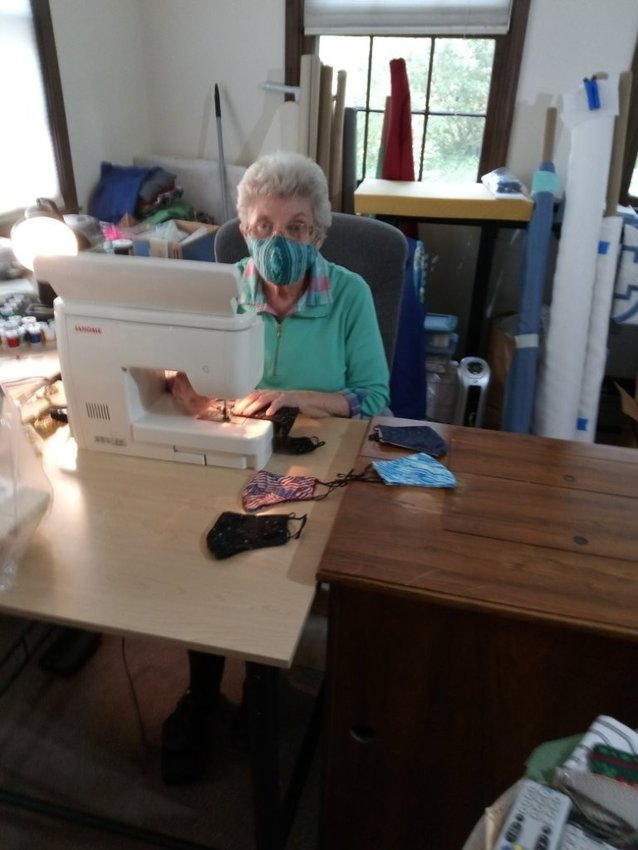 The master seamstress is hard at work making masks to help stem the tide of the COVID-19 pandemic. COURTESY/Greg Price
In a conversation subsequent to their search for God's will it became evident that both women were resolved to be dedicated to supplying masks to as many people as possible. Evelyn explained, "Lynne suggested that I get a pattern for masks, find the materials necessary to make them and begin to produce as many of them as possible. She used her computer to let people know that we had masks available to those who needed them."
The responsibilities seemed to naturally divide with Evelyn creating the masks with her keen interest in sewing and Lynne establishing a distribution plan with her computer skills. Evelyn stated, "Lynne would tell me, 'I think we will need 40 masks tomorrow.' I would make the masks and sure enough it seemed like that was the same number of masks required for distribution the next day.
"We never set a price for the masks, but when we started making them available, they were in scarce supply and there were people who would offer to pay us. Lynne and I shared the proceeds, but making money was never a priority for us."
Price continued, "Because of connections we had at Emory University Hospital, we distributed many of them to the healthcare providers there. Doors opened for us to deliver them to senior living facilities and schools. When the schools closed, there were school cafeterias that provided meals for children and the school bus drivers delivered the meals to multiple homes. The drivers needed masks and we provided our masks to the bus drivers and to many of the families to whom they delivered meals."
Evelyn and Lynne also provided hundreds of masks to fellow church members, friends and family. Evelyn reported, "I made over 4,200 masks in all. Each mask required cutting the fabric to match the pattern, pinning and sewing and generally required anywhere from 20 to 40 minutes to complete one mask."
Evelyn Price has spent her life serving the Lord. Her husband, Jim, was a Baptist minister, but passed away 25 years ago. Evelyn was his partner in ministry. Since her husband's death, Evelyn has continued to serve the Lord as a choir member, a Sunday School teacher and a member of various church committees. She also worked for a number of years at the Dekalb General Hospital.
Glen McCall, who is serving as interim pastor of Colonial Woods remarked, "Miss Evelyn does not do what she does for notoriety. She just humbly serves. We call her masks "Styles by Evelyn". She is an encourager to her pastor and has been known to say a sweet "amens" during my preaching. She gave great support and love to the ministry of her husband; and she shares that same spirit with the people of Colonial Woods.
"She is a gifted seamstress and continues to use that gift in her years of retirement. She loves everyone and is a faithful servant of Christ and His church. She always has a kind word and a loving smile for others. She reminds me Dorcas (Tabitha) in Acts 9:36-39, who was "full of good works and charitable deeds". I know that Lynne Wells was also instrumental in the distribution of the masks. These two ladies made a great ministering team."
Evelyn Price and Lynne Wells are beautifully demonstrating that even though you may retire from your vocation or profession, being a Christian and serving Christ never stops.
---