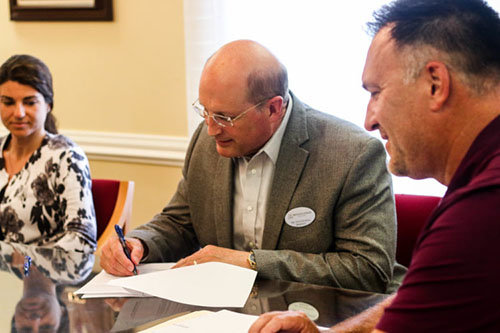 Brewton-Parker College President Steve Echols signs for the $7.2 million loan that will place the school's interest rate at 3.85%. BPC/Special
By Jerusha Yoder
MOUNT VERNON – Earlier this month, Brewton-Parker College officially signed for a new $7.2 million USDA loan to refinance on its long-term debt. This new loan will move the college from a variable rate exposure to a 40-year fixed rate. In this way, the college will reduce its expense by almost half each year, which will allow more cash flow at a lower cost.
Steve Echols, BPC president, stated, "We are very grateful for the USDA loan. It is one of the greatest financial blessings that BPC has had in recent years.  The 3.85 percent fixed rate far exceeds any bank rate that we could secure, and the 40-year term of the loan insulates the school from the threat of rising interest rates in the future. It will allow us to direct more funds to the fulfillment of our mission.
"We are very appreciative for the support from 11 different surrounding municipalities and other local government entities that wrote letters and gave resolutions that were sent to the USDA on our behalf. We are also thankful for the consortium of six banks in our area that provided the bridge loan until the final closing could be completed. Through the years, Brewton-Parker College has been greatly blessed by local support. It is our hope that this loan will enable us to thrive in a way that will return the blessing to our surrounding community and region."
This step is just one in many that the college has taken in the past few years to sustain continued growth. The college has already increased its on-campus enrollment by 25% over the last four years with the hopes of securing an additional 25% in the next five years. In addition, the college is in the planning stages of a new nursing program, which will bring a needed resource to the local community.
---
Jerusha Yoder serves as director of marketing for Brewton-Parker College.