Jimmy Baughcum, Associational Mission Strategist, is one of the team members collaborating on bringing the church planting network to fruition. Here, he is pictured (left) in a church planter training session with church planters KeeSoo Na, Gerald Gibson, and James Ajiboye. COURTESY/Jimmy Baughcum
---
New Network – New Collaboration
For even the casual reader of Baptist or Christian news, church planting is a common topic. Even The Christian Index has published several articles over the years indicating the need for church planting at home and abroad.
The Georgia Baptist Mission Board is working in collaboration with Associational Mission Strategists around the state to design a new church planting network that better addresses missional needs throughout Georgia. The demographic and numerical landscape of Georgia's population has changed drastically over the last decade, and the percentage of lost people has increased.
"Georgia Baptists are attempting a great endeavor in establishing a new network for church planting that will expand the church planting pipeline in the state, ensure greater effectiveness for fiscal responsibility, and foster a sense of collaborative teaming for churches and associations," Buck Burch, GBMB Missions catalyst, said.
Church planting can be a very effective means of evangelism and discipleship, but it has also replenished the numbers of churches that close their doors to ministry each year. However, the success of church planting lies not only in the quality of the church planter and strategic locations for growth. It also depends heavily upon the collaborative support system in place.
"Buck and I have worked extensively with a group of Associational Mission Strategists to determine what a Georgia Baptist church planting network would look like," said Levi Skipper, lead strategist of Church Strengthening.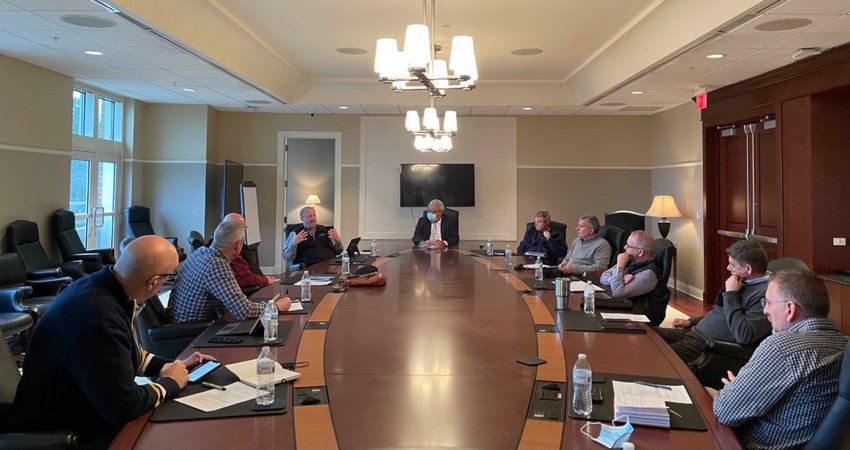 Staff from the Georgia Baptist Mission Board and Associational Mission Strategists from across Georgia met in early January to start discussion on forming a collaborative church planting network. COURTESY/Myriah Snyder
Need for Church Planting Collaboration
Burch said the team – which includes several Associational Mission Strategists – has begun to lay out a vision for ensuring successful church plants in Georgia with values of frugality, accountability, and deliberate strategy. Speaking into this process are Associational Mission Strategists Bernard Miller of SABA, JoJo Thomas of Chattahoochee, Daryl Price of Noonday, Jimmy Baughcum of Atlanta Metro, Steve Parr of Gwinnett, Ray Gentry of the Southside Network, David Franklin of Bartow, and Larry Black of Stone Mountain.
Burch said one central piece to this joint effort is intentional partnership between the Georgia Baptist Mission Board, the sending/mother church pastor, associational Baptist leadership, a regional missions consultant and the church planter. Each of the roles will understand their interconnection and the goals of the network from the pre-launch to the celebration of the new church.
The partners will covenant to share resources, offer accountability and coaching, create missional opportunities for sister churches, and undergird the entire process in prayer. This covenant will include a commitment to a code of conduct, adherence to Baptist beliefs, foster a greater depth in understanding our Baptist identity and purposes for missional giving, and draft time for meaningful associational involvement with sister churches. And with partner churches taking mission trips to help the new plant, this collaborative effort does not have to be so lonely.
"Our task was to create a baseline assessment tool to evaluate church planters," Skipper said.
Burch said the goal isn't just the funding of church planters. Instead, the goal is to build a pipeline that can multiply church planters.
In order to build a greater church planting pipeline in Georgia, ongoing recruitment, assessment, and celebration will highlight the milestones in the new church's birth. Burch said opportunities for personal and professional development as well as periodic evaluation should ensure greater success in a very difficult task. In addition, church planters themselves will become a recruitment mechanism for those who God will raise up in generations to come.
Churches Planting Churches
Skipper said a primary tenet for this new church planting network will be the understanding that churches plant churches. Out of the multiple meetings the team has had this year, Skipper said they concluded that the GBMB will task a Church Planter Network consultant with the responsibility for encouraging the communication between planting assessment teams, mother church, association, mission consultants, sister churches, and the planter. This consultant will be a part of the Missions team and work under the supervision of Burch. This team is a part of the larger Church Strengthening team, led by Skipper.
"Church planting is under Missions because we are going to be connecting multiple local churches with that church planter so they can help do mission trips to the church planter's site," Burch said. "They will connect with him and walk with him through this process. This ensures a more successful plan."
Burch said another important aspect of this network is the multi-faceted approach to membership. One new church plant might need some financial backing, whereas many others may find their streams of income from a strong mother church, the income of the core group, or the planter's own sources. Therefore, the network will involve much more than a simple financial relationship.
"The benefit of coaching, camaraderie, and connection with sister churches are as important features in a network as financial assistance," Burch said.
The network will draw from the strategic position of associational leadership who can be the gatekeeper for local relationships.
"The idea isn't just to plant churches but to plant strong churches with connectivity to the deep roots of other churches," Burch said. "When a church decides to be a part of church planting, the mother church can grow in depth as the church plant grows in size. It should be a venue for missions, evangelism and discipleship for every church in the association."
---