This is the sixth of a dozen stories highlighting the upcoming Nov. 14-15 annual meeting of the Georgia Baptist Convention in Savannah. The stories are being published on Monday, Wednesday, and Friday through Nov. 11 and include both Convention-related content and a look at how the Savannah Baptist Association is making a Kingdom impact in Coastal Georgia.
SAVANNAH — With 1.4 million members in Georgia, the Georgia Baptist Convention remains the state's largest faith group with about 15% of the population. But Georgia Baptists are more than a group that gathers on Sundays to worship; they are actively involved in bringing quality health care throughout the state to those who are uninsured or underinsured.
For those in the Savannah area, that translates into $307,450 in greatly reduced health care costs through direct funding of that amount. Those funds are more than doubled when services – such as medical/dental office visits and procedures – are counted.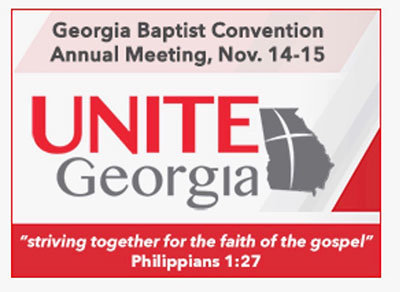 Since the launch of the Georgia Baptist Health Care Ministry Foundation in 2004, Georgia Baptists have awarded 518 grants representing more than $36,000,000 to 247 unique non-profits. This investment in Georgia communities, as well as some international outlets, has provided free or reduced health care to more than 3,311,129 million individuals through the service of 62,679 volunteers.
The majority of clients receiving assistance know their health care is being heavily subsidized by Georgia Baptists. They receive the service regardless of whether they take advantage of spiritual counseling, but the option is available if desired.
Four Savannah-area non-profits share in grant distributions
Funds distributed in metropolitan Savannah have assisted groups to help clients with issues ranging from life-threatening medical concerns to those seeking assistance with unexpected pregnancies to needy vision and dental care.
Since 2008 those funds were distributed to four non-profit, public-service health care organizations. Among those:
The Living Vine Christian Maternity Home at 535 East 54th Street in Savannah received $72,450 in three grants between 2008 and 2014;

The Pregnancy Care Center in Rincon was awarded $35,000 in two grants in 2013 and most recently in 2015;

The J.C. Lewis Primary Health Care Center at 125 Fahm Street received $100,000 in 2013 to help with medical, dental, and vision problems; and

The Savannah Baptist Center, located in the Savannah Baptist Association building at 704 Wheaton Street, also received $100,000 in 2011 for health care assistance to needy residents through construction of the Oasis Ministry.
Foundation President and Chief Executive Officer Will Bacon said the grants are representative of Georgia Baptists' commitment to provide assistance to individuals who could not otherwise help themselves. While the nation continues to sort out a national health care plan, the Foundation helps thousands who live at or below the poverty line – many of whom are identified as the working poor.
Nearly 22 Georgians die every week due to lack of health insurance
"Nearly 22 Georgians die every week due to lack of health insurance, according to a June 2012 report published by Families USA," Bacon explained. The headline of the report is "Each Year, More Than a Thousand Uninsured Georgians Die Prematurely. "
"Between 2005 and 2010, the estimated number of adults between the ages of 25 and 64 in Georgia who died because they did not have health insurance was more than 5,624. The Institute of Medicine estimates that nationwide, 26,100 adults died in 2010 because they did not have health insurance.
"It is obvious that a lack of health coverage is a matter of life and death for many people. Through their concept of 'a hospital without walls' Georgia Baptists are committed to standing alongside the working poor and others who are under-insured or uninsured to provide health care necessary to keep them well."
The Savannah Baptist Association will host the Georgia Baptist Convention at Calvary Baptist Temple on Nov. 14-15. An inspirational rally will be held the previous evening at the church beginning at 6 p.m.