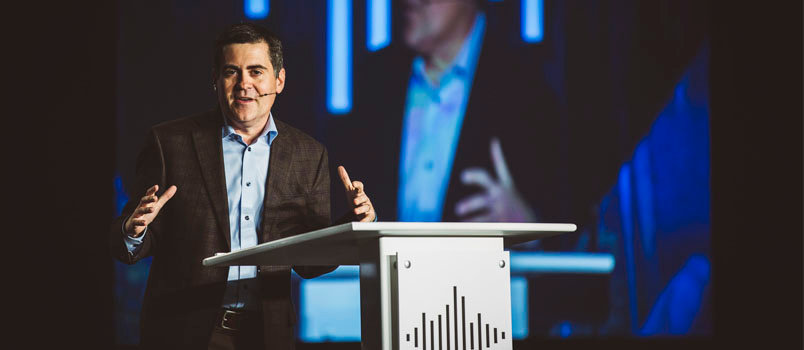 Russell Moore, president of the Ethics & Religious Liberty Commission, speaks in the opening address of Evangelicals for Life on Jan. 26. On March 20, Moore and the ERLC Board released statements asking for unity in the Southern Baptist Convention stemming from controversy over several issues in the past year, most notably Moore's comments regarding evangelicals supporting presidential candidate Donald Trump. In his own statement, Moore apologized again to critics, saying "I want to do everything in my power to be an agent of unity." JOSH SHANK/Rocket Republic[/caption]
Georgia Baptists responded positively alongside other national denominational leaders to statements made by the Board of Trustees for the Ethics and Religious Liberty Commission and ERLC President Russell Moore seeking greater unity within the Southern Baptist Convention.
The single post on the ERLC website led with one of support for Moore by the Board.
"We affirm Dr. Moore in his leadership of the ERLC," it read. "He has spoken with clarity and conviction on ethical matters that have been identified in our Baptist Faith and Message and various Convention resolutions. These included issues related to religious liberty, racial reconciliation, character in public office, and a Christian understanding of sexuality. Most importantly, he has endeavored clearly and graciously to articulate the Christian gospel and its implications."
In his statement, Moore expressed regret over the current dissension.
"As I look back over the last year, I am grieved by the tensions in our denomination over the state of American politics and the role of religion in it. I want to do everything in my power to be an agent of unity …"
Georgia Baptist response
Georgia Baptists gave their own thoughts, with Christopher Sanchez, education and evangelism pastor at Northside Baptist Church in Valdosta, crediting Moore's humility.
" strikes me as sincere, acknowledges that there were faithful Christians who legitimately arrived at defensible conclusions that differed from his own, and for the most part accepts responsibility for the overly broad or unnecessarily harsh remarks he has made. I accept his apology and encourage others to do the same," Sanchez said.
Ben Smith, senior pastor of Central Baptist Church in Waycross, expressed thanks for Moore's comments as well as appreciation for his position in a post on Facebook.
"As cultural Christianity continues to fade there will be other difficulties and disagreements that arise in the SBC," he wrote. "I am thankful that God has put Russell Moore at the ERLC for such a time as this. He has a difficult job – but he is well equipped and abundantly gifted."
"Hope you will take time to read Russell Moore's very Christlike thoughtful statement," tweeted Johnson Ferry, Marietta Pastor Bryan Wright, a former SBC president. "Praying this will bring greated unity in the SBC."
"Gracious, clarifying, gospel-rich words from @ERLC trustees & @drmoore," said Meansville Baptist Church Pastor John Blackmon on Twitter.
SBC response
Last month Texas pastor Jack Graham told the Louisiana Baptist Message his church, Prestonwood Baptist in Plano, would be escrowing $1 million for Southern Baptist ministries due to Moore's leadership at the ERLC. Yesterday, he was among those giving a positive reception online.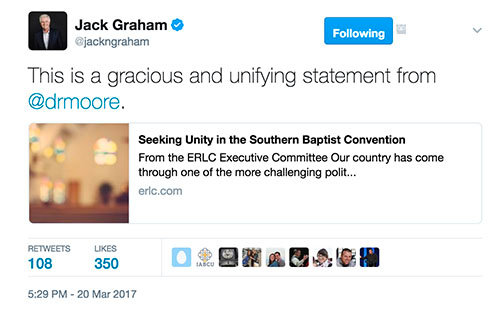 In comments to Baptist Press SBC President Steve Gaines, pastor of Bellevue Baptist near Memphis, vouched for Moore while acknowledging the challenge of representing all Southern Baptists when it comes to matters of culture.
"I am grateful for the statement from Dr. Russell Moore and the ERLC executive committee," Gaines said. "They have been assigned with a very difficult task. Indeed it is impossible to please everyone regarding issues of conviction and conscience. I know Dr. Moore to be a very godly servant of Jesus Christ. He has preached at Bellevue Baptist Church and he did a wonderful job.
"Regarding his work at the ERLC, I have agreed with most of his statements, especially those regarding the sanctity of human life, the sacredness of heterosexual, monogamous marriage, and religious liberty. However, I have disagreed with some of the statements he made during the election and I especially disagreed with the tone with which he made some of those statements. I have discussed all of this privately with him. He has genuinely apologized for his mistakes and that is good enough for me."
Established support
And while Moore's detractors have been loud, so have his supporters. Days after his December apology, New Orleans Baptist Association issued a statement affirming the ERLC president. Signers included David Crosby, pastor of First Baptist New Orleans and a 2016 candidate for SBC president, as well as Fred Luter, pastor of Franklin Avenue Baptist Church and the SBC's first African American president.
In addition, earlier this month the leader of a network comprised of approximately 4,000 predominately African American Southern Baptist churches issued his own letter of affirmation.
Nevertheless, Moore's December apology didn't go far enough for some, which he addressed.
"Some who saw things differently than I did received those words, and we've gladly joined arms in unity. Others didn't receive them, not because of any deficiency of grace on their part, but due to my own fault," he wrote.
Buildup
Controversy over Moore's leadership began last year with the joint filing of an amicus brief regarding the construction of a mosque when Bernards Township in New Jersey denied the required building permit. It intensified throughout the 2016 presidential campaign with Moore's criticism of then-Republican candidate Donald Trump before the eventual president became the GOP nominee.
Critics said Moore's tone as much as his words deserved scrutiny, particularly when directed at fellow Southern Baptists. Moore addressed the issue with a public apology on his personal website in December. The ERLC board addressed it Monday.
"Christians … can disagree on delivery, tactics, and approach, and we find that many of the criticisms levied against Dr. Moore fall into these categories," the statement read. "Even still, some of the criticisms in this vein Dr. Moore himself has received and apologized for."
Maintaining its support of Moore, however, the Board asserted many of Moore's positions stood "in affirmation of our Convention's stated doctrine, resolutions, and the mission established by the Convention for the ERLC. We believe we would be in error to accept these criticisms."