RICHMOND, VA — Southern Baptists gave to the 2015 Lottie Moon Christmas offering like never before, said a news release from the International Mission Board yesterday, with $165.8 million provided through the annual drive to raise support for foreign missions.
The amount is the highest in the 127-year history of the offering, surpassing the previous record of $154 million in 2013. Last year $153 million was raised through the offering.
"Southern Baptists have exhibited their commitment to God's mission through these gifts to the Lottie Moon Christmas Offering," said IMB President David Platt. "Especially after a year in which we have walked through many challenges together, the support Southern Baptists have shown through this offering will not only sustain but also encourage the thousands of missionaries sent from Southern Baptist churches who are spreading the gospel right now. As an IMB family, on behalf of unreached people around the world, we are deeply grateful for the generosity of Southern Baptists who have given for God's glory among the nations."
Johnson Ferry Baptist Church in Marietta led in giving toward the 2015 Lottie Moon Offering through the Georgia Baptist Convention Executive Committee with $403,949.93, according to Georgia Baptist Mission Board Church Research Services. Pastor Bryant Wright tweeted out his excitement on the effort by Southern Baptists shortly after receiving the news.

Rounding out the top three churches giving to Lottie through the GBC Executive Committee were First Baptist Woodstock with $345,000 and Prince Avenue Baptist near Athens with $241,241.20. Per Church Research Services, the top ten amounts given in the state included both First Baptist Cumming and Johns Creek Baptist in Alpharetta.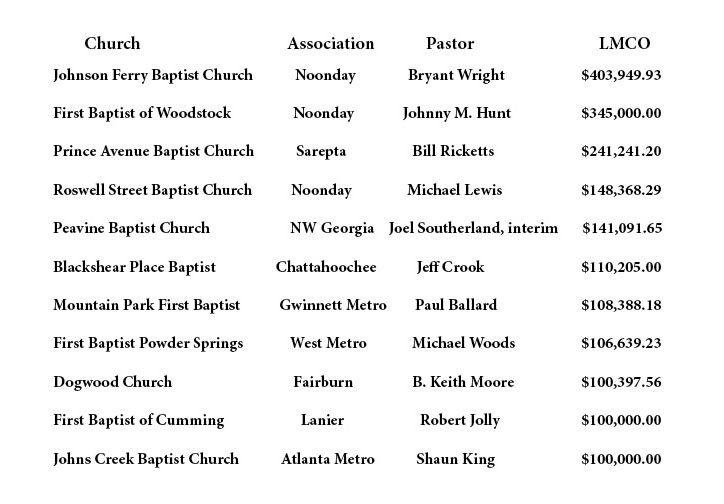 "Southern Baptists were challenged to pray and give sacrificially so those who had not heard the gospel might have that opportunity," said Wanda Lee, executive director/treasurer for Woman's Missionary Union, w hich promotes the offering in partnership with IMB. "When Lottie Moon saw the depth of lostness in China and pled for help, churches responded with increased giving and prayer support. This year, we are grateful Southern Baptists responded once again at a critical time when increased resources are needed for our international outreach."
Lottie Moon was appointed in 1873 out of First Baptist Church in Cartersville, going on to serve the people of China for 39 years. Six years after her death in 1912, WMU named the annual Christmas offering for international missions in her honor.
The 2015 offering will account for more than half of the total 2016 IMB budget of $278,755,000, said Rodney Freeman, IMB treasurer and vice president of support services.