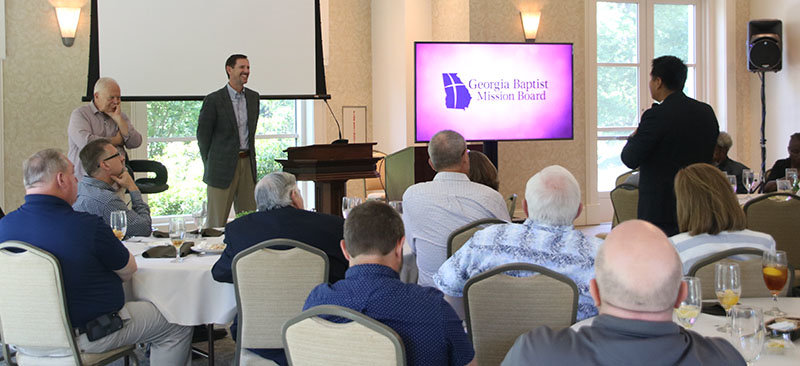 International Mission Board President Paul Chitwood answers a question by Gainesville pastor Javier Chavez May 2. Chitwood was at the Missions and Ministry Center to visit with Georgia Baptist leadership and pastors. Standing to the left of Chitwood is John Brady IMB vice president for Global Engagement. MYRIAH SNYDER/Index
DULUTH — Since his first days as Georgia Baptist Mission Board Executive Director, W. Thomas Hammond Jr. has made it clear that "pastors are our heroes, churches are our priority, and Georgia is our mission field."
"But we've also said," he stressed at the Missions and Ministry Center May 2, "that doesn't exclude us from taking the Gospel around the world. And it's not just that we want to support financially, but we want to go ourselves."
Hammond's address came at a luncheon for a group of Georgia Baptist pastors and others that included International Mission Board President Paul Chitwood and IMB Vice President for Global Engagement John Brady.
Following the luncheon that brought comments from Chitwood and Brady, both met with Hammond and Georgia Baptist leadership to discuss, as Hammond stated, "how we can partner as a convention of churches to do things with the IMB that we have never done before, probably that no convention has ever done before.
"It's going to be a major part of our emphasis as a convention."
The restructuring of the Georgia Baptist Mission Board, Hammond noted, included a Missions Catalyst for each of the six ministry regions throughout the state.
"Their responsibility is to see that those churches in that region are involved in missions in some way, whether that is locally, in our state, North America, or across the world. We want to see all 3,600 of our churches engaged in missions somewhere, somehow, some way."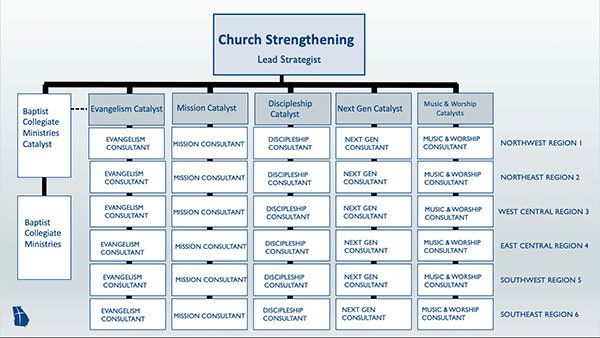 A missions consultant, explained Georgia Baptist Executive Director W. Thomas Hammond Jr., would be part of each region of churches in the new restructuring of the Georgia Baptist Mission Board.
'Unique opportunities for a partnership'
Hammond had hinted at new types of partnerships between Georgia churches and the IMB. Chitwood confirmed that for the Gospel to be shared around the world, new partnerships with likeminded believers would, indeed, be important.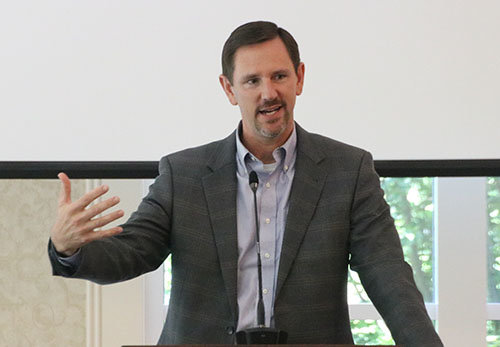 "I celebrate all that God is doing and the unique opportunities for partnership Thomas and I have talked about – for as much as we can to connect Georgia Baptists to the work of the IMB," said Chitwood. MYRIAH SNYDER/Index
"The nations will not be reached – the Revelation 7:9 vision of all tribes and every language –­ that won't happen simply by the efforts of Southern Baptists," the IMB president said. "The globalization of missions – how God is using your IMB missionaries and cooperative mission efforts of Georgia Baptists – we're looking more in that direction of how the resources of the IMB can work with the Brazilian Baptists … Nigerian Baptists. Those are the kinds of partnerships we're looking more toward even as we carry out the missionary task through the IMB."
As the Kentucky Baptist Convention's former executive director, Chitwood identified with Hammond's focus on Georgia as a missions priority.
"I understand what Thomas is talking about when you say Georgia is your field. Indeed, it is. You ought not be ashamed of that, for it's the field God gave you.
"I celebrate all that God is doing and the unique opportunities for partnership Thomas and I have talked about – for as much as we can to connect Georgia Baptists to the work of the IMB as you carry out the Acts 1:8 assignment, evangelizing here at home, across North America, and to the ends of the Earth."
Questions from pastors
After Chitwood shared how IMB missionaries were making a difference around the world – including those in Columbia preparing for refugees fleeing Venezuela – pastors in attendance were able to ask the new IMB president some questions.
With growing pockets of Latino churches being planted not only in America but around the world, can the IMB train up pastors for those churches?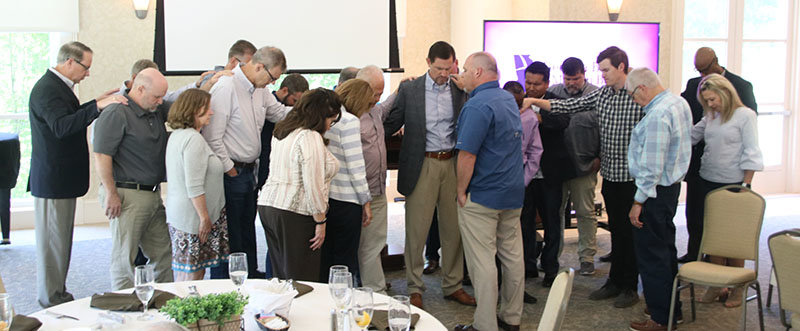 At the conclusion of the meeting Georgia pastors and others gathered to pray over Chitwood and the work of the IMB. MYRIAH SNYDER/Index
It's a significant challenge, Chitwood noted, to train up and disciple pastors for ethnic groups around the world. One thing being discussed with conventions like Georgia, he added, was evangelizing internationals living in the U.S. with hopes of becoming pastors.
Is there anything being done to help churches partner, whether short-term or in small groups, with missionaries?
"Mobilization has gotten more complicated," admitted Chitwood. "We're attacking that right now and … know we've got work to do there."
In identifying people groups rather than regions around the world, he explained, the plan is to identify mobilization specialists out of those people groups. Those specialists would help facilitate such partnerships with missionaries and churches in the U.S.
How is the IMB connecting with college students in the U.S.?
"This resonates with me," said Chitwood, the father of two college students. "It goes back to mobilization. Even as I was interviewing for the position of president of IMB, mobilization was the issue that kept burning in my gut. I want to mobilize Southern Baptists."
That week, he stated, the IMB had added two positions related to student mobilization. Another individual who had been working in student mobilization will soon be added full-time.