An interesting and compelling book came across my desk just prior to Thanksgiving. At first I put it aside because I was headed to Savannah for the Georgia Baptist Convention meeting and then off to Pigeon Forge for a family vacation. When I returned I picked up the book and began to read. I couldn't put it down.
The book, Baptist Revival: Reaffirming Baptist Principles in Today's Changing Church Scene, is written by Dan Nelson and provides a synopsis of Baptist history and the doctrines for which our forefathers fought and even died.
Nelson states, "I believe it will cost us big time, if we lose our identity and forget from whence we have come. I am not for preservation, however, as much as I am for fresh truth that will invigorate and give new life to churches, where there is staleness and where churches have plateaued or are dying."
Nelson goes back to the 16th century to mention men like Balthasar Hubmaier, Conrad Grebel, George Blaurock, Wilhelm Reublin, and Felix Manz who were willing to suffer and die, if necessary, to demonstrate their allegiance to God's Word, salvation by grace through faith, believer's baptism by immersion, and a free church in a free state.
What 'Baptist' means today
Nelson suggests that if Hubmaier were to peer into the beginning decades of the 21st century "he would probably be concerned in this day of generic Christianity, when churches, church growth leaders, and denominations shy away from what their churches believe. He would most likely be concerned about how lightly we take the name Baptist, especially since he died for their principles."
Nelson expresses concern that Baptist churches that have dropped the name "Baptist" may ultimately lead to a loss of their Baptist identity. He writes, "I do have a fear, however, that what started out so innocently (dropping the name Baptist) and with sincere desires will lose its original purpose. Years, and maybe even generations, down the road I wonder if those who drop the name Baptist will retain the identity they said they would not lose."
Members of the invisible church
The importance of the church as a local assembly is also addressed in Nelson's book. The author says, "There is a constant conflict between the church as a local body of believers and a universal entity. One of the most popular statements is, "I'm not into organized religion ..' I wonder if theses views are popular because people know organized religion means accountability, faithfulness, and growth. Being a Christian does not mean sitting around and getting spiritually flabby.
" the invisible church ... have no pastor, no building, no address, no group of people to commit to, no method of identifying with public ordinances like baptism or the Lord's Supper ... no zip code, no website, no responsibility, and no accountability to a universal church.
"I know the vast majority of people that do not see the local church as a part of their life, think just being a believer in Christ is enough. Could it be, however, that many cannot find fulfillment in their lives spiritually, because there is more to the Christian life than just believing in Christ?"
The relationship between church and state
In addition to many other interesting and vital topics, Nelson asks and answers the question: "Should the government protect religious freedom or restrict it?"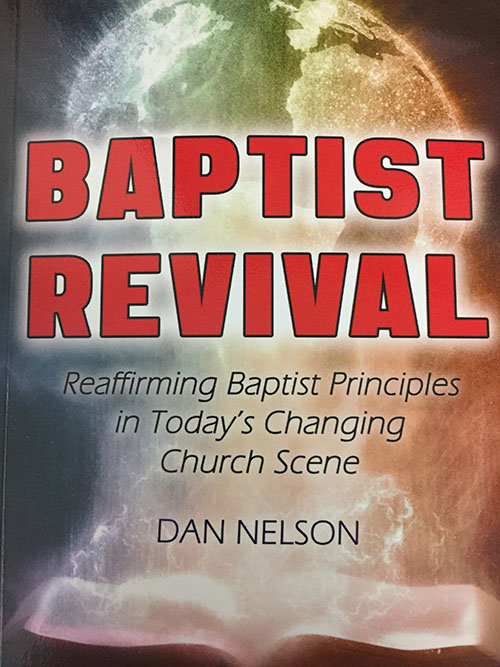 Since this has been a burning issue in Georgia for several years I was interested in what Nelson had to say about religious liberty. He traces the history of church and state issues from the first century to the present day. In a letter to the Danbury Baptist Association in Connecticut in 1803 Thomas Jefferson defined the true separation of church and state.
Nelson emphasized, "Jefferson explained there was a strong wall between church and state, which prevented government from controlling religious practice. The wall was one-dimensional, in that it prevented the government from controlling religion, but did not forbid religion from influencing the government." Nelson added, "This belief continued until the strict forbiddance of religious influence in recent times."
Nelson also deals with topics like Local Church Autonomy, Soul Competency, The Priesthood of Believers, and Biblical Authority.
Nelson says, "Much of our Baptist legacy today is disappearing like a ship on the horizon. Many are content to allow it to drift out of sight .... I think we ought to catch up with it and bring it back safely to harbor."
If you would like more information about Nelson's book you may contact him at gospel4you@fbccamarillo.com.