Renee Bennett, project manager for Need a Mask and member of Salem Baptist Church in Dalton, distributes a mask at the church's drive-through distribution point. RENEE BENNETT/Special
---
DALTON — A little over two weeks ago Pastor Darey Kittle, Renee Bennett, Rebecca Ward, and others at Salem Baptist Church began a ministry that has to date provided nearly 1,000 protective masks for medical care workers and others to ward off the coronavirus.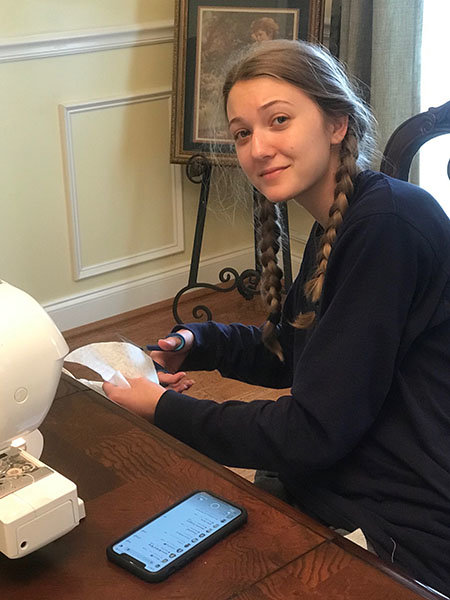 High school student Gia Marsh sews between online classes. RENEE BENNETT/Special
Need A Mask includes other churches in and around the North Georgia city. Those groups include congregations not a part of Conasauga Baptist Association (formerly North Georgia Baptist Association). The free masks are built out of the church's Sew Blessed ministry, to which materials are donated and then disseminated to volunteers.
"Everybody works on the masks out of their homes before dropping them off at the church," said Bennett, who was a food and nutrition director for 25 years in hospitals and the kitchen manager at Salem for the last five. "People are asking for them from all over the state and country. We sent a shipment to Valdosta. Others are going to Colorado and South Carolina."
Bennett credits fellow church member and best friend Ward with spearheading the project.
"She has a marketing background and got it going. She asked me to be the project manager and recruited others who weren't part of the Sew Blessed ministry," said Bennett.
An extra layer than cloth
Constructing your own mask has become a common practice to ward off COVID-19. However, a cloth mask only gives a limited amount of protection; an online search will show just how wide-ranging various tests have placed effectiveness. But the ones created by Need a Mask include polypropylene, a material included in the N95 masks regarded as most effective for combatting the coronavirus.
"Polypropylene protects the face by keeping small particles from coming through the material," Ward explained to The Index. " Current Mattress is supplying this unlimited … for these masks."
The type fabric used makes a difference. To use a football metaphor, imagine the coronavirus as a blitzing defense. A cloth mask could be seen as the protection given by the five offensive linemen. COVID-19 can still weave through, but add a fullback, running back, and two massive tight ends in to block and that path becomes much more difficult to get to the quarterback.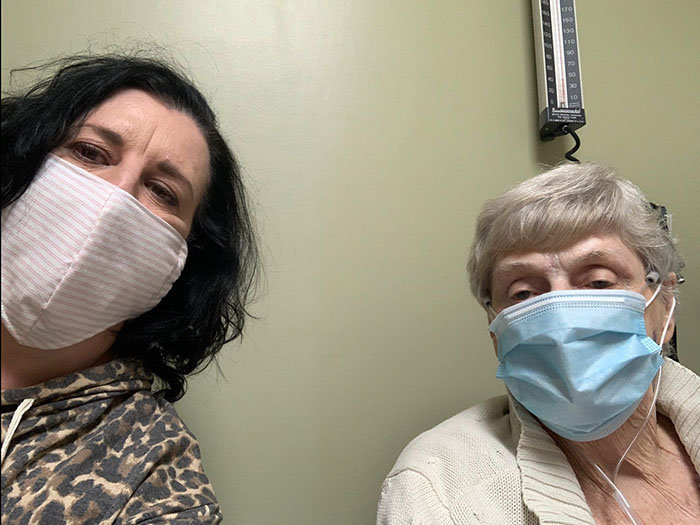 "I just wanted to thank you again for the masks!" this thankful daughter said to Need a Mask and its volunteers. "Because of the mask you provided, I was able to be with her at the [doctor's] office! We were both overcome with happiness to be able to see each other for just a little bit!" RENEE BENNETT/Special
Four churches in Conasauga Association, which Kittle heads as associational missions director, are partnering in the endeavor. They are MacFarland Baptist, Salem, First Baptist, and Welcome Hill Baptist Church, all in Dalton. In addition to Current Mattress, Corinthian Textiles in Dalton is dye-cutting the masks to save steps in production.
Volunteers wanting to sew are sent a packet with materials. Once the created product is finished, they can be dropped off at Salem Baptist Church. A demonstration for sewing the masks is included on the Need a Mask website.
Kittle heaped praise on the volunteers' work ethic, recounting in an interview this morning how one had recently been so feverish in the process that she had sewn her finger to the fabric.
"We have people making 15-20 masks a day," he said. "They're overwhelmed with the number wanting masks, but are working hard at it."
Kittle added how the bulk of volunteers are among the most vulnerable to COVID-19.
"Most of them are senior adults. They're in this to help others and are absolutely essential to the ministry."
Ward, who testifies God brought the idea to her in a dream, says He has been in this from the beginning.
"I knew God had a plan, but I never could have imagined it would be this big," she exclaimed. "I'm excited to be a part of His work."
For more information on Need A Mask and how to volunteer, go to the ministry's website, email needamask2020@gmail.com, or call the Salem Baptist Church office at (706) 259-7045.
To learn more about the ministry, watch the following interview between Rebecca Ward and Index editor Scott Barkley.
---