WINSTON — Krista Stone had retinoblastoma when she was just a baby. Retinoblastoma is an eye cancer that begins in the retina – the sensitive lining on the inside of your eye.
It is the most common malignant cancer of the eye in children and almost half of children with retinoblastoma have a hereditary genetic defect associated with the disease. Though most children survive this cancer they may lose their vision in the affected eye(s) or need to have the eye removed.
Krista explained, "I had tumors in both eyes that required radiation treatment. Because of the cancer and the treatment, I was left with no vision in my left eye and legally blind in my right eye. The radiation also left a lot of scarring on my left eye, which is magnified by my glasses.
"As a child," Krista stated, "I was often teased for looking different. However, my parents constantly reminded me that God loved me and had a special plan for my life. I was taught all along that if I had Jesus in my heart, He would always be by my side."
Heeding the counsel and witness of her parents, Krista accepted Jesus as her Lord and Savior when she was seven years old. She testified, "I have gone to the same church, Ephesus Baptist Church, my entire life. I love my church. I credit much of my calling to my childhood Sunday School teachers and GA leaders.
"It took me many years to realize that God was leading me into a life of missions, but I have had teachers who now tell me they knew it when I was a little kid. I was typically a loud, talkative, and hyperactive girl, but I was always attentive and listened to stories about missionaries. I guess that was fairly clear evidence that missions really resonated with me.
"When I was in the ninth grade I was able to go on my first overseas mission trip – a trip to Sighisoara, Romania. It was the third mission trip our church had taken to Romania and my Dad had gone on the two previous trips. He had decided to go on this third trip as well and I was delighted that I was going to be able to go with him.
"Even before we landed I could tell that God was working in my heart. I fell in love with the people of Romania and the whole idea of missions. I went to Romania all four years of high school and realized that during those years that God was calling me to be a missionary."
Billy Godwin, Krista's pastor at Ephesus Baptist Church in Winston, commented, "Krista has an enthusiastic love for people and a deep devotion to her Lord. Her parents instilled within her a love for God and for serving. She grew up hearing stories about missionaries from her Wednesday night GA leaders. Krista sensed God's call on her life from an early age to international missions, and she has been unswerving in her commitment to that calling."
After graduating from high school Krista continued her education by enrolling in school at Truett-McConnell College to pursue a degree in Christian Studies. She explained, "At the start of my junior year a new degree opened up, so I switched majors to pursue a degree in World Missions. In May of 2012 I was one of four students to receive the first ever B.A. in World Missions from Truett-McConnell."
The Douglas county native had hoped to go to the mission field after graduating from college, but realize that God had other plans.  In order to give God time to work she took a job as a substitute teacher and waited on divine direction. After a year a friend convinced her to begin the application process for the International Mission Board's two-year Journeyman Program.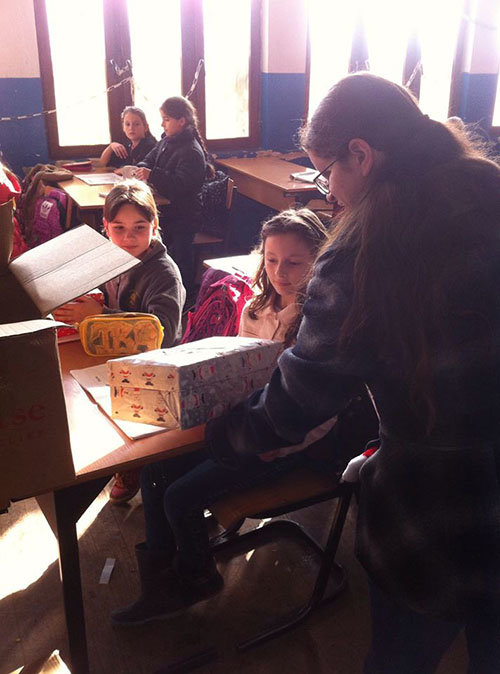 "My official assignment was to work in the bakery. My true task was to build relationships, but my real mission was to share Jesus," says Stone.[/caption]
Krista stated, "Once I had been accepted I found out that part of the process involved going to IMB's training facility near Richmond, VA for orientation and picking my assignment. While I was there I spent most of my time reading through hundreds of options, locating places on the map, researching, and lots of praying.
"There were two of the options that really stood out – both in the Balkans. One involved working in a community in a big city and the other was working in a bakery in a smaller city. The community center position was attractive, because it would give me an opportunity to work with kids. I put it down as my first preference and the bakery as my second choice. A few weeks after the orientation, I received a call that I had been selected for the bakery position. I was thrilled!"
Krista was soon off to the bakery in her city in the Balkans. She declared, "My twenty months there permitted me to learn plenty of new baking skills, allowed me to lead children and youth activities, and make some amazing relationships. My official assignment was to work in the bakery. My true task was to build relationships, but my real mission was to share Jesus.
"Where I lived the population was about 96 percent Muslim. My first friends were bakery workers, seven nationals, six of which were Muslims.
"After a few months of being the only tenant in my apartment building, a family of four moved in below me. Soon after they moved in I went down to invite them to an English group I was starting.  Their eleven-year-old daughter, Dona, came and brought three friends. That was the beginning of my relationship with this family that became my family.
"After that there were very few days that I did not see Dona, who became my 'little sister.'  She was my best friend. I fell in love with her and her family. The second time I was in their home, the father, Besim, said, 'We are Muslims, but not like what you see on television. Those people (ISIS) are not really Muslim, they are psychopaths.'
"Oddly enough, it was one of the most comforting things I could have heard considering what we were hearing from the media. Though I lived in a country filled with Muslims at a time in history that says Muslims are the enemy, I never felt unsafe. My God never left my side.
"Even though I did not get to see any salvations during my time in my city, I saw the Lord work in the people I met. I shared Jesus every chance I could. I found ways to incorporate spiritual conversations into everyday situations at the bakery or with my neighbors. Oftentimes my words were rejected, but every once in a while I would see a little bit of understanding.
"As my time came to an end I came to an understanding that I did what I went to the Balkans to do – share Jesus. The rest is not up to me. It is between them and God. When I left I had to say some of the hardest goodbyes I have ever made. Even though my term is over, my duties are not. Now my job is to pray that God will work in the hearts to whom I shared the Lord and that they will come to the knowledge of the truth."