Deaths
Longtime Georgia Baptist pastor and denominational missionary Gene Brooks died May 27 at Northeast Georgia Medical Center in Gainesville after suffering a stroke.
A native of Columbus, Brooks was a graduate of Auburn University (1950) and Southwestern Baptist Theological Seminary (1954). In addition to Winterboro Baptist Church in Alpine, AL and Riverside Heights Baptist in Tallassee, AL, Brooks served the Georgia congregations of First Baptist Soperton, Lakewood Baptist in Gainesville, and Woodlawn Baptist in Augusta. He was also active in various positions with Daniell Baptist and Chattahoochee Baptist associations.
In retirement, Brooks served as an interim pastor and worked in the Georgia Baptist Convention (now Georgia Baptist Mission Board) Cooperative Program/Stewardship department from 1997-2000. During that time, he was instrumental in helping develop a summit on the Cooperative Program.
Survivors include his wife, Ella; children Ruth Hall, of Cumming, Lois Brooks, of Gainesville, and Rebekah Brooks; a sister, Ina Durham, of Clemson, SC; and two grandchildren.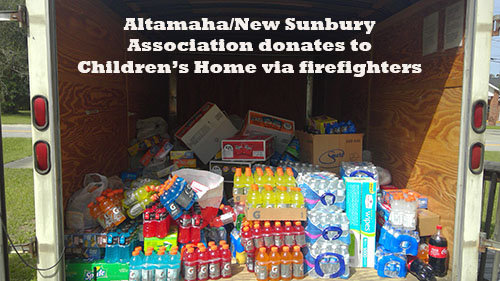 Churches in the Altamaha/New Sunbury Baptist Association took up supplies earlier this year for firefighters battling a wildfire in the Okefenokee National Wildlife Refuge. However, the supplies ended up going to the Georgia Baptist Children's Home in Baxley. "
Ministerial Moves
On May 21 Meldrim Baptist Church in Effingham County welcomed Darrell Bailey as pastor. Bailey had been serving at the church on an interim basis since January.
Luke Folsom was recently called as associate pastor for students and missions at Crabapple First Baptist Church in Milton. Folsom grew up at the church when his father and current Georgia Baptist state missionary, Alan, served there as associate pastor of education in the 90s. The younger Folsom marks four generations of ministers in his family, including alongside his father his late great-grandfather Homer Lee Folsom and grandfather Don Folsom, also deceased.
Homer Folsom was a bivocational pastor throughout the state while Don Folsom served several positions, including as executive director of the Georgia Baptist Foundation and president of the Board of Trustees for Georgia Baptist Children's Homes. Alan Folsom currently serves at the Georgia Baptist Mission Board in Church Administration.
Luke Folsom and his wife, Jacque, have one son, Isaiah, and are expecting a second son in September.
What's Happening
On June 5 North American Mission Board President Kevin Ezell began a lineup of noted speakers for Cumming Baptist Church's Magnificent Mondays, lasting through the end of July. Those scheduled to speak are:
June 12 – Stoney Benefield, pastor, Prospect Baptist Church, Albemarle, NC

June 19 – H.B. Charles, pastor, Shiloh Metropolitan Baptist Church, Jacksonville, FL

June 26 – Randy Helms, pastor, Forestbrook Baptist Church, Myrtle Beach, SC

July 3 – Saddler Family, Gospel music group, Vale, NC

July 10 – Herb Revis, pastor, North Jacksonville Baptist Church, Jacksonville, FL

July 17 – Harold Hunter, pastor, Trinity Village Chapel, Newburg, IN

July 24 – Mike Stone, pastor, Emmanuel Baptist Church, Blackshear, GA

July 31 – Emir Caner, president, Truett McConnell University
Cumming Baptist Church is located at 115 Church Street in Cumming. For more information call (770) 205-6699. Services start at 6:30 p.m.