Feature Photo: Sean Wegener, right, and his wife Danielle routinely welcome others into their home, such as First Baptist Summerville member and Chattoga Baptist Association missionary Barry Peppers, in jacket. SCOTT BARKLEY/Index
SUMMERVILLE — Sean Wegener makes it clear: He's no extrovert.
"If it were up to me, I'd stay in my living room or office reading books about theology," says the 32-year-old Wegener, who has been pastor of First Baptist Church for a year since earning his Master of Divinity degree from Southwestern Baptist Theological Seminary. He's currently working on his Ph.D. from Southwestern.
Part of accepting the call to First Baptist Church included housing in a pastorium for Wegener, his wife of six years, Danielle, and their sons Elijah (5), Malachi (2) and Isaiah (8 months). Not your standard brick ranch, the house sits about 200 feet from the church on the same block in downtown Summerville. At 100 years old the two-bedroom home features classic styling such as a vaulted ceiling and a sunroom area off the dining room that, more practically at the moment, serves as a playroom.
The Wegeners credit former SWBTS President Paige Patterson and his wife, Dorothy, with opening up hospitality as a ministry avenue.
"When we moved here we didn't know anybody," Sean explains. (Danielle's family is in Texas while his are in Texas, Oklahoma, and Michigan.) "Danielle really got into how Mrs. Patterson emphasized hospitality in the women's program.
"Hospitality seems to be one aspect of Christianity that's waning" he adds. "We talk about the importance of community, but really seem to prize our individuality. We want our private space."
Walking together
Hospitality isn't just making your home available; it's finding a way to meet needs. "It's allowing people to participate in our life and to walk with God together," Sean points out.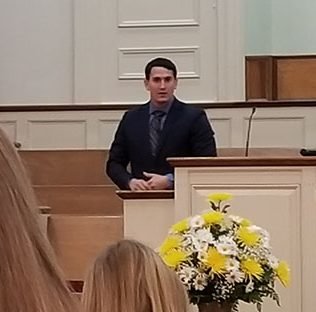 Sean Wegener is in his second year as pastor of First Baptist Church in Summerville. SCOTT BARKLEY/Index
That also means not waiting until the house is perfect. Right now, the Wegeners have two tiny tornadoes – two adorable, smiling tornadoes – ripping through the home with another doing the best he can from a high chair. If you visit, expect some toys and books on the floor. Like every parent ever, they put off matching the tiny little socks in the laundry basket until it's absolutely necessary. A hand-scrawled potty-success chart hangs on the back of the bathroom door.
That doesn't mean they don't work at keeping the house straight nor shy from asking for help. The Friday before Christmas Barry and Maghan Peppers babysat the Wegener boys so Sean and Danielle could tidy up their home for an Open House.
The couple are friends of the Wegeners but also are members of First Baptist along with their children. Barry Peppers also serves as associational missionary for Chattooga Baptist Association bivocationally as well as principal of Chattooga Academy, an alternative school, and as athletic director for Chattoga High School.
At the Open House church members as well as others from the community – like friends Danielle had made taking the boys to story time at the library – dropped by and talked. No one was asked to bring food, but these are Baptists so a few casseroles appeared to go along with what Sean cooked on an indoor grill in the kitchen.
A gift many have
The Wegeners see their home as a gift from God. And in keeping with the spirit of stewardship, they're to use it to bless others.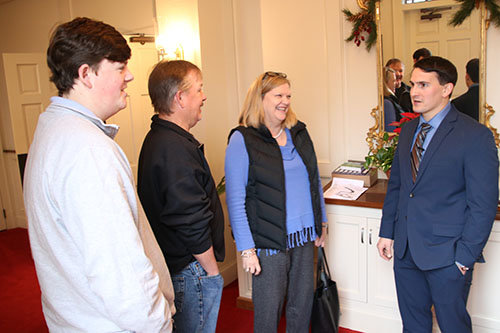 First Baptist Summerville Pastor Sean Wegener talks with church members Sherry and Stacy Koonce and their son, Josh. SCOTT BARKLEY/Index
"The best way to steward something is to let someone else enjoy it with you," explains Sean. "When we first got to Summerville we wanted to get to know people and they wanted to get to know us. But with toddlers it was tough going out to eat. So, we decided that on Sundays after lunch we'd invite another church family to have coffee with us.
"My goal was to get to know them, but also learn where they were with God and how I could help. We wanted to not just know their joys but their hurts as well as walk alongside them."
A hunger for meeting together
Danielle says she first saw genuine hospitality from her grandparents opening their home to others. After earning her nursing degree from Texas A&M, she completed the Women's Studies program at SWBTS under Dorothy Patterson and says she saw the potential in hospitality.
"The world offers more technology and options such as meeting online," she says. "But, we have a personal God who wants us to have relationships. We live in families and communities. We're not made to just talk online. There's a hunger for meeting together in person."
"God," adds Sean, "did not remain in heaven. He came to earth to have a real relationship with people."
The value of a home
The hospitable spirit was already at First Summerville, say Sean and Danielle, as shown by the pool house owned by a church member that is made available to any visiting members of the Wegener family. And truly, that's how it is for most churches. It just takes understanding the value in opening up one's home.
The Pattersons' habit of opening up their residence at Southwestern, Pecan Manor, to students greatly influenced the Wegeners. It isn't the only strong connection they have. The couple asked Paige Patterson to officiate their wedding service during a chapel service one Thursday, letting their own marriage serve as the lesson taught by Patterson that day to other seminarians on how to conduct a wedding.
Having visitors began at seminary, and it didn't come without moving several items around their small apartment to make room for people. "I wasn't comfortable with it," Danielle admits, "but my comfort wasn't the point." Those times making friends and learning the importance of community has remained with the couple.
"We didn't have a place for people," says Sean, "but we wanted people to be there. So, we made it work."