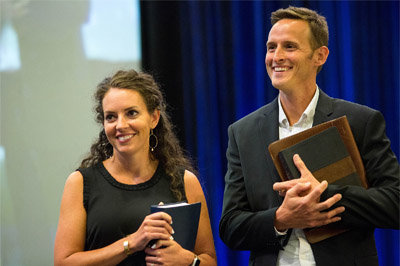 LifeWay Christian Resources trustees presented Bibles to Ben and Lynley Mandrell after Ben Mandrell's election as president and CEO on June 28, 2019. GRETA REYNOLDS/BP
By Carol Pipes
ATLANTA (BP) — LifeWay Christian Resources trustees unanimously elected Ben Mandrell as the organization's 10th president during a special-called meeting June 28 in Atlanta.
"I am grateful for the opportunity to lead in such an important season for LifeWay," Mandrell told trustees during the plenary session. "My first priority is to get our family to Nashville and begin loving the people at LifeWay. There is already an amazing team in place, and I can't wait to roll up my sleeves and work alongside them."
Mandrell, 42, comes to LifeWay from his role as lead pastor at Storyline Fellowship in Arvada, Colorado. Two days after the June 21 announcement of his nomination to lead LifeWay, Mandrell delivered a heartfelt sermon to his congregation explaining his decision to relocate his family to Nashville.
"All through Scripture, we learn that God is a calling God," Mandrell said in his sermon. "He dials our number and we have to answer. We have to take His calls." When considering the decision to accept the search committee's nomination, Mandrell said he had "a wrestling match with God like I have never experienced before."
Mandrell has served as lead pastor of Storyline Fellowship since its founding in 2014.
A native of Tampico, Illinois, Mandrell is a 1998 graduate of Anderson (Ind.) University. He also holds a master of divinity degree from Southern Baptist Theological Seminary and a doctor of ministry degree from Union University.
Mandrell and his wife Lynley have been married 18 years. The couple has four children: Ava (15), Max (13), Miles (12) and Jack (11).
Read more about Mandrell's nomination at LifeWay.com/CEOSearch.