The first time I saw Billy Graham I was five years old. My father, Rev. J.T. Drace, had taken our family to Miami, FL, to attend the Southern Baptist Convention. I remember my Dad saying, "Hurry up; we are going to hear Billy Graham."
When we arrived in the Convention Hall I saw was a man wearing a white suit and preaching like my Dad did every Sunday morning. That was Billy Graham.
The next time I saw Billy Graham was 19 years later. During my last year at Southern Seminary I, along with Ken Hemphill and Dr. Lewis Drummond, attended the Billy Graham Crusade in Chicago.
Dr. Drummond introduced me to T.W. Wilson, Rev. Graham's personal assistant. T.W. introduced me to Franklin Graham, who was attending his father's crusade. Franklin and I would meet each night before the crusade services and talk about the plans we thought God had in store for us. Little did we know.
One night shortly before the crusade service began Franklin said, "Do you want to meet my Daddy"? That was one invitation I didn't have to pray about. As Rev. Graham emerged from a private room where he would stay until time for the service Franklin walked up to him and said, "Daddy there is someone I want you to meet."
At that moment I stood face-to-face with the man I had watched so many times on television with my Dad and Mom. He quickly smiled, stuck out his hand and said, "What's your name?" I almost forgot. The sincerity which flowed from his voice and his bright blue eyes which locked on mine made me feel I was the only person of over 70,000 who had gathered in McCormick Place to hear him preach.
He wasn't looking around. He wasn't in a hurry. He wanted to know something about me.
When we finished talking he smiled again and said, "Whatever God leads you to do, keep your eyes on the Cross." Then he walked to the platform and took his seat beside George Beverly Shea. T.W. had reserved a seat for me on the platform where I sat next to the great gospel singer Ethel Waters. I told her how much I enjoyed hearing her sing "His Eye Is on the Sparrow." She patted me on the leg, smiled that electric gapped smile of hers, and said, "Honey child I'm going to do it again."
Another 11 years passed before I would speak to Rev. Graham again. In 1982 after establishing the Jerry Drace Evangelistic Association in 1975, I served as the program director for the First National Congress for Southern Baptist Evangelists. It was held on the campus of Southern Seminary. I asked Dr. Duke McCall, the outgoing president of Southern, to invite Rev. Graham to come and be our keynote speaker. He did and Rev. Graham came.
During those two days my wife, Becky, and I had lunch with Rev. Graham. From that event a mentor relationship was born. Throughout the years our ministry has received international invitations which required counsel and advice. When that happened I would contact T.W. with my concern and he would relay my request to Rev. Graham.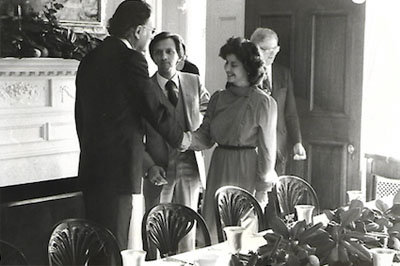 Billy Graham visits with Jerry and Becky Drace at a luncheon held in honor of Rev. Graham. DRACE ARCHIVES/Special[/caption]
We were together again in a press conference at the conclusion of Amsterdam '83 where evangelists from all over the word had gathered for instruction and inspiration. As usual, Rev. Graham turned the attention from himself to those who had attended.
The last time I spoke to Rev. Graham was concerning an invitation I received to address the annual meeting of top religious officials from throughout China. The conference was in Shenzhen, just north of Hong Kong. I knew I needed some help. Rev. Graham met with me and shared the message which he delivered to that same group a few years before.
We prayed together and once again as he smiled he said, "Keep your eyes on the Cross." When the date arrived as I stood before a rather stern audience, I brought them greetings from Rev. Billy Graham. Instantly broad grins broke across their faces followed by a resounding applause. At that moment I knew everything was going to be fine. It was. They invited me back.
As I have watched literally millions pause to pay their respect to this man of God during this time of his home going, it is encouraging to know that his impact will continue to live on for generations as long as we keep our eyes on the Cross.