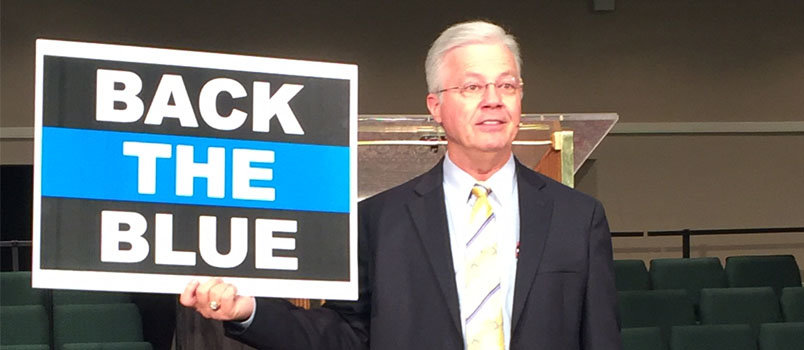 Wayne Robertson, pastor of Morningside Baptist Church in Valdosta, urges his flock to display "Back the Blue" signs to support local law enforcement officers. SCOTT SMITH/Truett-McConnell University[/caption]
VALDOSTA – In recent months America's police and law enforcement officers have been assaulted and assassinated in brutal attacks and ambushes.
However, to the greatest extent those who often stand in harms way to protect the public deserve respect and support. Sidney Sheldon remarked, "My heroes are those who risk their lives every day to protect our world and make it a better place – police, firefighters and members of our armed services."
Jody Hice, U. S. Congressman from the 10th District, recently stated, "The targeted attacks against law enforcement officers over the last two weeks are both horrific and heartbreaking. While we all have our differences, absolutely nothing justifies senseless violence against our nation's police officers.
"In the wake of these tragedies, we must come together and open our hearts and minds in full support of law enforcement. May God bless the fallen, bring solace to their families and friends, and keep our brothers and sisters in uniform safe as they continue to protect our communities.
Wednesday, July 20, was designated as "Back the Blue" day in America. People across the landscape of the nation were urged to wear blue and express gratitude for the service provided by the nation's law enforcement officers.
Brain K. Childress, chief of police for the Valdosta Police Department, is providing excellent law enforcement leadership in South Georgia's largest city. According to the Valdosta Daily Times, Childress is part of a team of top law enforcement leaders that travels around the country inspecting other departments, establishing professional standards, and promoting police department accreditation.
"The Valdosta Police Department is one of only five percent of police departments in the in the United States that maintains national accreditation," the paper noted.
Last week citizens of Valdosta were invited to a community forum with law enforcement officers at Morningside Baptist Church. Childress stated that keeping an open dialogue is crucial to bridging the gap between officers and the community. The discussion included the issue of using force and explaining how the department operates and why certain procedures are followed. The Daily Times reported that 147 people attended the forum.
Childress recently approached Wayne Robertson, pastor of Morningside, and told him he was thinking about creating a chaplaincy program for those serving under his charge.
Robertson stated, "He asked me if I would serve as a chaplain along with a few other ministers in the area. I responded in the affirmative; and I am glad to serve. We all need to support our law enforcement officers, because they often stand in harms way to serve and protect."
The Morningside pastor had seen a sign outside the police station with the words, "Back the Blue" written on it; and felt like it coincided with the forum his church was hosting. He had 300 of the signs made, which the church graciously paid for and had them available to pass out to those who attended the forum.
All of the 300 signs were distributed and Robertson led the church to purchase additional signs for law enforcement officers to distribute.
Robertson explained, "I have been delighted with the response. One lady came by our church and asked for one of the signs. Her father was a police officer in another state and said she would like to put up a sign in honor of her dad.
"I wish the distribution of the sign would go nationwide," Robertson added.
Childress stated to The Index, "I think these signs are going viral. I am so thankful for what Wayne and his church have done. It means the world to our officers, the deputies and the troopers here in Lowndes County."
Individuals or churches interested in securing "Back the Blue" signs may go to a local sign shop or contact Peliton Plastics in Valdosta at (229) 247-1269 or roger@peliton.com
We need to "Back the Blue."