Students gather for MOVE at Midway Church in Villa Rica.
---
VILLA RICA & FORSYTH – Over 550 students from across the state gathered to attend the MOVE Conference Dec. 29, and 37 churches joined in remotely. The theme was #NOTCANCELLED.
To comply with COVID-19 regulations, they gathered at two sites, Midway Church in Villa Rica and New Providence Baptist Church in Forsyth. The churches that joined in remotely did so through the purchase of a church kit.
Three keynote speakers were featured – Nick Person, teaching pastor at New Vision Baptist Church in Nashville; Chad Poe, teaching pastor at Grace Bible Church in Clute, Texas; and Ed Newton, lead pastor of Community Bible Church in San Antonio.
In addition, representatives from the International Mission Board shared about Nehemiah Teams and other opportunities, students shared their takeaways from each session, games were played, and they heard interviews from BCM's across the state to hear about how God is moving across campuses.
"We are excited about these partnerships to help cast vision for the middle and high schoolers at MOVE," Cameron Wilkins, Next Gen West Central region consultant, shared.
His hope is that through this, the students, "widen the scope of their view on how they can engage in the mission of Christ."
Impact of MOVE
"2020 was a year where everything was cancelled – graduation ceremonies, baseball seasons, competitions, church services, candidates, celebrities, and more. Cancelling became second nature to us. We wanted to address the cancel culture that is so easy to embrace. So we themed our Move conference, #NotCancelled," Wilkins shared.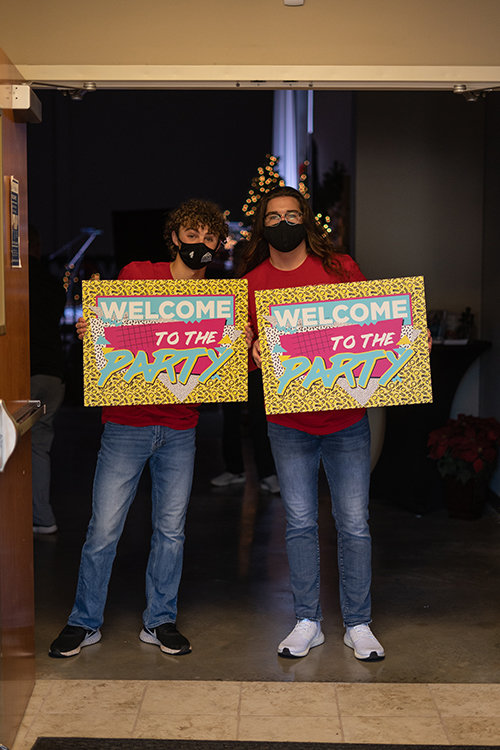 Students are welcomed to the MOVE Conference at New Providence Baptist Church in Forsyth.
He continued, "We pointed to the gospel, and how Jesus didn't cancel us; He called us. And that love is what changes us and changes how we treat our neighbor and how we join in with our churches and youth groups."
Wilkins added, "Was Move conference different this year than any year in the past? Absolutely, but the energy and passion shared at Move was just what we needed to embrace the calling Jesus has on each of our lives."
Stephen Williams, lead pastor of Belmont Baptist Church in Calhoun, brought a group of students to MOVE this year. He shared, "MOVE Conference was awesome! Cameron Wilkins and NextGen Ministries staff carried out a Spirit-led, one-day schedule, that had to be intentional and connect students to the mission of Christ."
"We genuinely worshipped as the music and sermons pointed us to Jesus. The speakers allowed Scripture to speak for itself, yet made relevant application," Williams continued. "The moments where students spoke about the impact of the sermons were wonderful, because these moments showed all the students that God works in them now, not later. They can live outside of themselves for God's glory, today."
"As usual we had a lot of fun with games, meeting other people, and hanging out in a laid back atmosphere. But the highlights that gave the students a tangible path forward were the emphasis on collegiate ministries and mission opportunities," Williams said.
He added, "These students want to matter and MOVE Conference pointed the way. It was best one I have ever attended."
Taking us to something new
"Maybe the very thing that God is doing in this season is to take us to something new – new ways of experiencing Him, reminders that He is good and up to something. Maybe it's a way of stirring up revival," Nick Person told the students.
He added, "In light of so many changes and difficulties, the will of God cannot and will not be cancelled."
Speaking from Isaiah 43, Person presented 5 things to either remember or forget:
1) Remember our king is still on the throne
2) Remember what the king has done.
3) Forget the former things. Do not draw on the past.
4) The king is charting a new way.
5) What the king is up to is worthy of praise.
He posed the question, "What would it look like for us to embrace something new, to step out of normal, and to really trust that you cannot cancel the will of God?"
God saves … completely
Chad Poe brought the book of Hosea to life for the students of MOVE.
He related the story of Hosea to the story of God's redemption of His children. "
"The story of Jesus is that God meets us in the middle of our mess and offers hope to us and direction for us," he shared.
In the same manner Hosea redeemed his wife, Gomer, Christ redeemed us.
"The story of Hosea is our story. The story of Gomer is our story," Poe shared
While giving a gospel invitation, he added, "The name Hosea means God Saves. The name Gomer means completely. So when we look at this story, it is our story, because it is the story of God saving completely."
God loves you and likes you too
Ed Newton exposited Romans 8:28 for the students.
If you're at this conference, "the God of the universe has been radically pursuing you not only because He loves you, but because He likes you too."
He explained that life is a series of doors, opened doors and closed doors like opposition and strife.
God's plan for the good of His children and His glory, from Romans 8:28 is proven by the fact that His own are:
1)Foreknown
2)Predestined
3) Called
4)Justified
5)Glorified
"No matter what you face, there is a God working for your good and for his glory," Newton reminded the students.
---