CAMILLA — When Neal Hager answered a call to become pastor at Southside Baptist Church, he knew a long tenure would be important.
"The longer you stay, the more change you can make," he told The Index last month. "This being south Georgia, it could take awhile. But, I wanted to facilitate change and move the church toward serving the community."
While those steps have been taking place since Hager first stepped behind the pulpit as pastor the second Sunday in June 1988, he's quick to point out that it's always a goal to improve.
In addition to holding its annual Vacation Bible School, Southside has established a jail ministry and outreach to Hispanics. Groups of young people visit local first responders.
"They'll visit the fire station or go out to the police department to take little thank-you bags and let them know how much they're appreciated," he said. "It's simple, small, practical acts to get out there serving other people. You don't have to go across the country for two weeks to do that kind of ministry."
Southside recognized Hager's 30 years as pastor last June while also noting his 50-year ministry. The viewpoint that only time can bring has given Hager a perch from where to see ministry in the past as well as challenges apparent today.
Country church with a city heart
A native of Charlotte, North Carolina, Hager first came to Georgia as an E4-Airman, First Class with the Air Force while stationed in Albany. After completing his military service, he returned to Albany and served on the police force. He would go on to seminary before serving as a pastor in Florida and Alabama.
In Georgia, Hager served as pastor at numerous churches such as Knotchaway Baptist, Pine Park Baptist, First Baptist Acree, Zion Chapel Baptist, Lighthouse Baptist, Maranatha Baptist, and Temple Baptist. Other churches include Macedonia Baptist in Pelham and Ochlocknee Baptist Church in Thomas County. Before arriving in Camilla, Hager served at Welcome Baptist Church in Thomaston from 1983-88. He was 47 years old when he started at Southside.
The longevity in one location has brought its rewards, he reflected.
"It's been great. I get to spend time with the men and disciple them. One of the great joys is seeing some of the young people grow up. I baptized them and did their weddings and now see their children growing up. I've baptized the children of the people who were children when I came here."
How many weddings has he done over that time?
"Good gracious alive, I don't have any idea!" he responded. "Some years you do two or three and then some years you don't. I've easily done 25 or more."
I've baptized the children of the people who were children when I came here."
Situated on the outskirts of the south side of town, Hager feels the location suits his congregation's description.
"We're a country church with a city heart," he said.
Ministry then and now
During his life Hager has noticed new ministerial hills to climb.
"People don't respond the same as when you'd go out and visit with them," he said. "They would rather you call them or text. We still go on personal visits, but some won't give you their address because they don't want you to come to their house."
Hager also observes a common trait in today's culture when it comes to church involvement.
"Today, people work so much and their jobs are so demanding that they bring their work home. Many folks get home from ball practice and have dinner, but then it's time to get the kids to bed by a decent hour," he said. "One thing we'll do is call before we visit or make an appointment, so they know we'll be stopping by."
The pace of life makes it difficult to keep them active in church and truly benefit from its fellowship, he asserted.
"People aren't as connected as they used to be. They can be involved in church, but aren't in a hurry to join church," noted Hager.
Supporting and receiving missions
Hager admits Southside has plateaued a little in recent years. But still, members remain active in outreach and gathering together for worship. In addition, Hager has led the church to average 10.2 percent of its financial gifts going toward the Cooperative Program over the last ten years.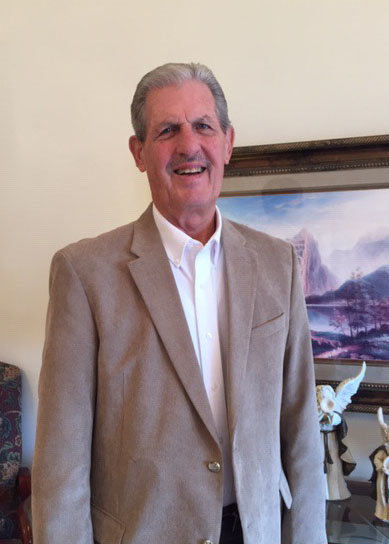 "I wanted to facilitate change and move the church toward serving the community," said Pastor Neal Hager of Southside Baptist Church in Camilla on his desire to have an extended pastorate at the same church. NEAL HAGER/Special[/caption]
Telling about the Cooperative Program and how it supports missions is important, he said. "It's good to let them know what their money is doing and showing how that's helping others. Folks follow that up by giving."
In the wake of Hurricane Michael – which claimed the homes of several Southside Baptist members – Hager and the church have witnessed the response of Georgia Baptist Disaster Relief. And while Southside Baptist – which sustained minor roof damage from Michael – continues to recover, they're planning mission trips of their own such as those to Pennsylvania next summer.
He admits that like many other churches, Southside has to transition in order to reach the culture and next generation. He's eager to begin taking advantage of the Reaching Next Gen materials available through the Georgia Baptist Mission Board. In the past, he bought copies of I Am a Church Member by Thom Rainer and handed them out to the congregation. Then, he preached a series based on the chapters.
"The culture has changed," he said. "We're looking to see how we can better reach others today. We have more of a blended-style worship now, leaning toward praise and worship."
That perspective comes from someone with 50 years of ministry experience, 30 of them at his current pastorate. At 77 years old, he knows it's a challenge. But, it's a challenge worth accepting.
"People aren't as familiar with church as they used to be. We recognize that," he admitted. "Making someone feel welcome is more than just shaking their hand. You have to welcome them into the fellowship. We're working on becoming a church that does that."