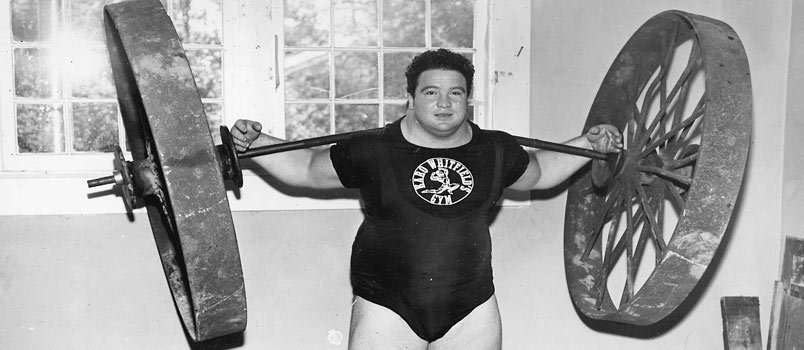 Paul Anderson of Toccoa was known as the World's Strongest Man … but he freely made known that his real strength came from God.[/caption]
Legendary sports figures roamed the earth in my childhood: Mickey Mantle, Stan "the Man" Musial, Willie Mays, Johnny Unitas, Wilt Chamberlin, Yogi Berra, and … Paul Anderson.
As a kid, I always wanted to see Paul Anderson, the world's strongest man, drive a twenty-penny nail through a 2-inch board with his bare fist; regretfully, I missed seeing it.
Paul Anderson was born on October 17, 1932, in Toccoa. He became America's 1956 Olympic super heavyweight gold medal winner in weight lifting. He stood five feet nine, weighing three hundred and seventy-five pounds with thighs thirty-six inches around. He was a ball of strength and steel — strong as an ox but gentle as a lamb.
After battling a kidney disease as a child, Anderson made the high school football team and later won a football scholarship to Furman University. Discovering an ability and passion to lift heavy weights, Anderson dropped out of college to train in his homemade gym back in Toccoa.
Cold War hero
Paul Anderson got his lucky break when America needed a hero as the Cold War with the Soviet Union grew tense and terse. In 1955, Anderson flew to Moscow as a last minute replacement for the American champion. Without a team uniform nor international reputation, Muscovites were sadly disappointed as they stared at America's jolly little giant and compared him to their tall well-muscled ironmen.
Sitting in a cold driving rain at Gorky Park, 15,000 Russians watched and cheered their champion as he lifted his personal best of 330.5 pounds in the two-hand press. Anderson told the officials to load 402.4 pounds — which was 20 pounds over the existing world record. The Russian crowd skeptically looked at Anderson much like the British crowd looked at frumpy Susan Boyle as she sauntered across the stage of Britain's Got Talent announcing that she would sing "I Dreamed a Dream."
After lifting the 402.4 pounds ten seconds of cold dead silence ensued. Suddenly, the Russians roared with surprised joy over this unbelievable feat of strength. As Anderson set the record for the clean and jerk, the crowd went wild in their cheering. They called him a "wonder of nature!" In Munich, Germany, a year later, Anderson would set three more world records.
Anderson went to the 1956 Olympics in Melbourne, Australia, with a severe inner-ear infection and a 103-degree fever. The weakened Anderson fell far behind the frontrunners. His only chance for the gold medal was to set a new Olympic record in the clean and jerk at 413.5 pounds. His first two attempts missed the mark.
Called on God's strength
Before his third and final attempt, Paul Anderson called on God for extra help and strength. Later he would say, "It wasn't making a bargain, I needed help." As those tree-trunk legs and massive arms moved into motion with renewed strength he hoisted the bar high over his head. The once sick, frail boy from the foothills of the Appalachian Mountains was now the "Strongest Man in the World."
Paul Anderson will be remembered for what he left behind as well as what he lifted up. With a vision to help troubled boys, Anderson gave up his amateur career to start and finance the Paul Anderson Youth Home in Vidalia. Today, it still operates with a mission statement that declares: "Paul Anderson Youth Home exists to offer the grace of Jesus Christ to hurting young men and their families by planting God's Word in their lives and discipling them in a relationship with Him."
Making 500 strongman appearances annually for many years while giving personal testimony to the saving and sustaining power of Jesus Christ, Anderson always drove this thought into the hearts of his hearers, "If the strongest man in the world can't get through one day without the power of Jesus Christ — where does that leave you?"
On August 15, 1994, Anderson died in Vidalia at the age of 61 from similar ailments which plagued his youth. Yet in declining health over the last decade of his life, Anderson never surrendered his title of the World's Strongest Man. Why?
Because no man ever matched the feat of strength that took place on June 12, 1957 in Toccoa as he back lifted a table loaded with calibrated weights totaling 6,270 pounds off the ground. The 1985 Guinness Book of World Records said Anderson's lift was "the greatest weight ever raised by a human being."
If the strongest man in the world needs Jesus — where does that leave you?