DULUTH — If you travel across rural Georgia you are likely to see churches scattered across the hinterland that were founded over 200 years ago. Several years ago I was traveling back to the Atlanta area from Statesboro and decided to take the scenic route back through Swainsboro to Sandersville, Linton to Devereux.
I wanted to see Beulah Baptist Church in Devereux, a church I had not seen since I resigned as pastor there in 1962 when I was a student at Mercer University. I recently told David Self, associational missionary for Washington Association, that our highest Sunday School attendance while I was serving Beulah was 53 on Mothers Day of 1962.
Because of doctrinal differences and practices contrary to the Baptist Faith and Message, the church voluntarily removed itself from Georgia Baptist life a few years ago, but the building still stands. The church was founded in 1791 and I was the proud pastor for almost three years.
The appearance of the church may have changed in the last couple of years, but it appeared to be in great need of repairs and renovation when I saw it four or five years ago.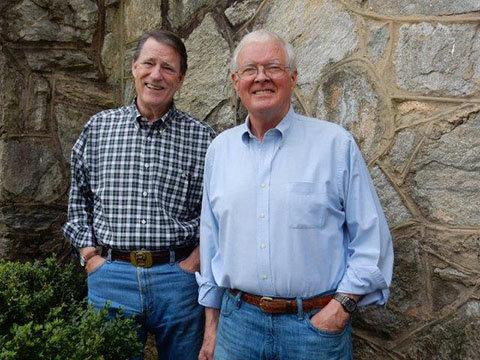 Marvin "Sonny" Seals, left, and George Hart took an interest in historic churches and turned it into a passion. In the process they've become instrumental in securing the history of numerous churches around Georgia.[/caption]
Re-opening doors to their stories
Marvin "Sonny" Seals and his longtime friend George Hart decided to take on the enormous project of restoring and refurbishing some of Georgia's oldest churches and have founded a nonprofit organization called Historic Rural Churches of Georgia to help them accomplish their objective.
Seals and Hart, both in their seventies, have traveled the breadth and width of Georgia and looked at churches of all denominations and in many cases inspected church buildings that have long been abandoned by congregations dwindled through the years.
When a church declines to the point that the few remaining members can no longer afford to maintain the property or pay the utilities or preacher they often have to make the regrettable decision to have a final service, pronounce the last benediction, and close the doors.
In a recent article in Georgia Magazine George Hart explained, "Sonny and I got involved in this just for fun. We put a couple of things on the website and found some photographers who did good work for free. It never occurred to us that so many would care what we did."
Book to be released
The article said thousands took notice, and stated, "Since the website was launched in 2013, thousands of visitors have subscribed to receive posts and thousands more have 'liked' the HRCGA Facebook page."
Seals and Hart are releasing a book this fall, Historic Rural Churches of Georgia, highlighting 47 early houses of worship from every corner of the state including nearly 300 stunning color photographs that capture the simple elegance of these structures with their grounds and cemeteries.
W. Todd Groce, president and CEO of Georgia Historical Society, says of Seals' and Hart's book, "Rural churches offer a unique window on the soul of Georgia. Through them we gain insight into the architecture, culture, history, and geography of our state. This beautifully illustrated and engagingly written book is an indispensable resource for anyone interested in this vanishing part of Georgia's landscape."
Beginnings
Seals started on this journey several years ago when he happened upon a Confederate grave marker signifying the final resting place of his great-grandfather, William D. Seals, who served the Confederacy in the 15th Georgia Infantry Regiment. The grave was in the old Methodist church cemetery in Powelton.
Powelton resonates with Georgia Baptists because Powelton Baptist Church, first known as Powell's Creek Church, was constituted in July of 1786 with 26 members. Jesse Mercer became the pastor of the Powelton church in early 1797 and remained in that capacity until late in 1825.
During Mercer's pastorate the General Committee of the Georgia Baptists was organized at Powelton in 1803; and the Baptist State Convention was formed in the church in 1822. The Convention's sessions were held in the church in 1823 and 1832. The historical marker in front of the church states, "Governor William Rabun was a distinguished member of Powelton Baptist Church, and served it as a clerk and chorister."
Other churches included on the www.hrcga.org website are Bethesda Baptist in Greene County, founded in 1785, and Kiokee Baptist Church, the oldest continuing Baptist church in the state, founded in 1772 by Daniel Marshall. Kiokee's third church building, constructed in 1808, still stands today.
Start of a movement?
Janisse Ray, who along with her husband has teamed up with Historic Rural Churches in Georgia to restore Cedar Grove Methodist Church in Tattnall County, says of Seals and Hart, "I think they are starting a movement and that you will see other people coming on board to save these old buildings."
According to Georgia Magazine Seals commented, "Our end game here is to influence the preservation process. Our role is to prioritize these churches in peril. If we don't intercede pretty soon, the death spiral will begin. Through Cedar Grove and Powelton we are learning to do that."
However, Seals and Hart are not only seeking to preserve the physical buildings of many of Georgia's oldest churches, they are researching, documenting, and preserving the history of these rural churches.
Georgia Backroads Magazine stated, "Many rural churches are well maintained and have active congregations, but a substantial number have been abandoned or neglected as Georgia has transitioned from its rural heritage."
Restoring history and faith
HRCGA believes that some of these old treasures in crisis can be renovated or repurposed in a way that will again bring rural communities together.
"We have found that three key elements must be in place in order to save a historic church in a state of abandonment and neglect: (1) a strong local group that wants to save the structure, (2) basic funding for critical repairs and renovation, and (3) an ongoing use that ensures its owners or caretakers will attend to stewardship and maintenance."
Seals said to The Index, "I hope we can start a movement here in Georgia that will spread across the nation. I would like to see the oldest church buildings in America restored along with the history and faith that made us a great nation."
Here is the criteria used to qualify churches for restoration:
Must be organized prior to 1900

Present structure must be at least 100 years old

There must be some history of the church's past available

The church must be rural or located in a village of less than 2,000 population

Must have some architectural eye appeal

There must be some elements of original architectural on the interior

A cemetery is not required, but preferred with internments prior to 1900

Prefer that there be no houses, parking lots, power lines, or fences adjacent to the church facility, and

Churches that have been modernized over the years would not likely qualify.
Anyone interested in finding out more about the history, restoration, and preservation of Georgia's oldest churches should go to www.hrcga.org.