Pastor Jason Dees preaches at Christ Covenant Church in Atlanta. The four-year-old church plant is running 800 people in attendance. (Photo/Christ Covenant)
'Christ Covenant could possibly be God's unique work unlike any other'

By Roger Alford

ATLANTA – When Jason Dees first began to feel God's call to plant a church in Atlanta, he was reluctant. But four years after founding Christ Covenant, he couldn't be more pleased that he did.

Having started with a core group of 16 people, Christ Covenant has grown at a phenomenal rate to more than 800 gathering for worship on a typical Sunday and to more than 700 members. And the upsurge is showing no signs of slowing.

"The growth is remarkable," said Jim Haskell, the North American Mission Board's former city missionary for Atlanta. "What we are witnessing with Christ Covenant could possibly be God's unique work unlike any other. "

Now Christ Covenant, which has been meeting in school auditoriums and event halls in Atlanta's inner core, is in the midst of a fundraising campaign to purchase a building of its own, which will allow them to give up a nomadic lifestyle of setting up and tearing down Sunday after Sunday in rented spaces.

The members of Christ Covenant are pursuing a $15 million project to purchase and convert a 50,000-square-foot industrial building at Armour Yards in the inner core of Atlanta into a place of worship. The church has already secured nearly $8 million in financial commitments for the project.

"It's been a huge decision," Dees said. "It's one that happened relatively quickly. The pandemic was disruptive for us. We saw how resistant some places were for us to meet there. It caused us to realize we needed our own space."

Dees said it has been amazing to watch God work, bringing in new people who are attracted to a simple style of worship and preaching.

"I think people find it refreshing to see a church in the core of Atlanta, a very secular kind of area, committed to orthodoxy," Dees said. "We sing gospel-centered hymns. It's piano. It's acoustic guitar. It's a simple service. The lights stay up. There are no lasers, no smoke machines. It's congregational focused. We want the congregation to sing. We preach the gospel, and we try to make it as clear as possible."

Everyone who walks into a worship service at Christ Covenant is going to feel welcome. That's a priority for Dees, who emphatically teaches members of his congregation that they are "a family" that comes together on Sundays to worship and praise the Lord and that families love one another.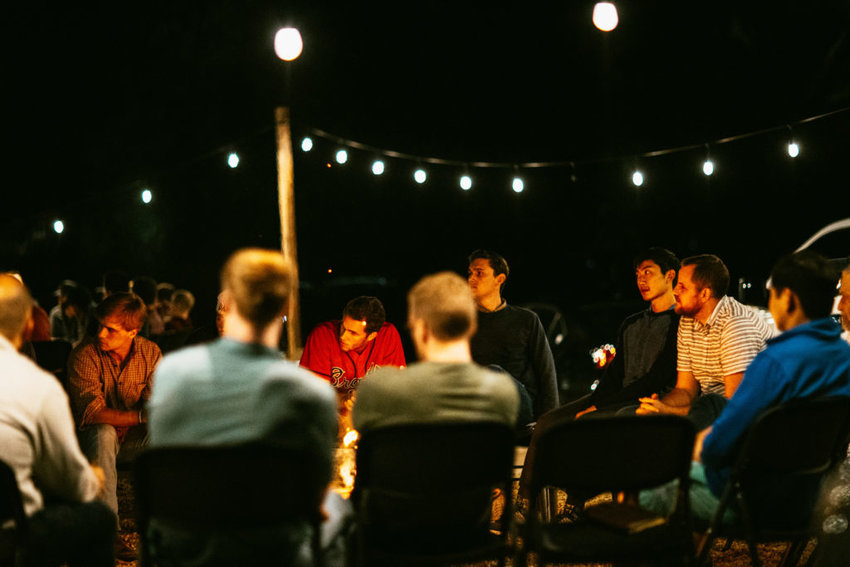 Community groups have been an important part of the growth of Christ Covenant Church.
"We want Christians to understand that when they gather, they're there to worship the Lord," Dees said. "So, they're not there to see a good show or just to engage a talented communicator. We're very committed to teaching them God's Word, to singing God's Word, to praying God's Word, and to do so together, to realize, 'I'm not alone in this; I'm a part of a family.'"

Christ Covenant's growth has impressed Ryan McCammack, the North American Mission Board's current city missionary for Atlanta.

"They have done exceptionally well," McCammack said. "It's not unheard of, but it is very unusual for a church plant to take off like this one has."

Dees grew up a preacher's kid in Huntsville, Ala. He went to Auburn University where he first began to feel God's call to ministry. It was while at Auburn that God began to give him opportunities to teach and to shepherd other students. After Auburn, he went to The Southern Baptist Theological Seminary where he got his first taste of a pastor's life. He accepted a pastorate at New Washington Baptist Church in southern Indiana, where he served for the three years he was in seminary.

When he graduated from the seminary, Dees became pastor at First Baptist Church in Covington, Ga., where, during five years of ministry, the church boomed. That's where he met and married his wife, Paige, and where they had their first of three children.

While in Covington, Dees met folks from Atlanta who discussed with him the need for healthy disciple-making churches. His interest was piqued, but he really felt at the time that church planting wasn't for him.

"In my mind church planters were only angry youth ministers, and I was a happy senior pastor, so I wasn't really a fit," he said.

The next stop for Dees as a pastor was Valleydale Church, one of the largest Baptist churches in Birmingham, Ala.

"I planned to be there for a long time," he said. "It was a wonderful church."

But the church planting seeds sown years early by the Atlanta folks had begun to take root in his heart.

In 2016, Haskell called Dees and told him about the need for a church plant in the most influential city in the Southeast, a place where a generation of unchurched young people needed to be plugged into healthy churches that could disciple them.
"I was intrigued by the need, and I was just intrigued by the secular nature of Atlanta," Dees said. "Atlanta is a very secular city. Statistics from North American Mission Board show fewer than 10 percent of people living in the urban core are involved in a church of any kind."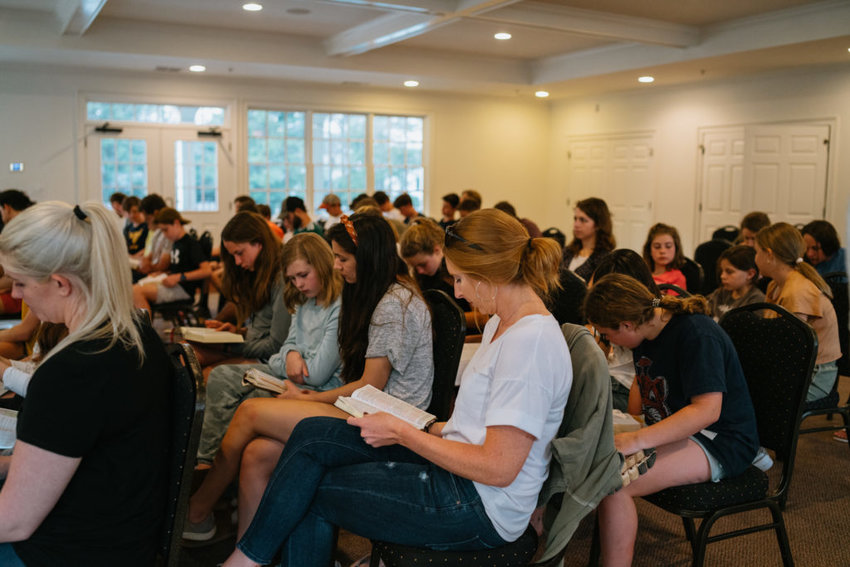 Young churchgoers enjoy Bible studies at Christ Covenant Church in Atlanta.
A number of Georgia Baptist churches signed on as partnering churches to help with the costs, including Dees' salary, which would allow him to concentrate fully on growing the church plant without having to work a separate day job.

Kevin Ezell, president of the North American Mission Board, has seen a number of church plants flourish, but he describes Christ Covenant as "extremely successful."

Ezell, who has led his organization to put a high priority on church planting, said Dees was blessed with an incredible sending church in Johnson Ferry Baptist Church in Marietta.

"That made a huge difference," Ezell said. He said Dees and his church "will be a force for the gospel for decades to come."
Leaving Valleydale to become a church planter, Dees said, was a difficult decision.

"It was a wonderful, healthy church," he said. "It had a $20 million building. We were giving a million dollars a year to missions. But we just felt like this is what the Lord had for us."

Christ Covenant officially launched in September of 2017, initially meeting at a middle school.

"The church really from the beginning started growing," Dees said. "We really believed in pastoral care for our members, to make sure every member has an elder, a pastor assigned to them. We really try to keep an eye on our members."

Dees says that kind of loving support for each member has been one of the keys to the church plant's growth.

Community Groups that allow members and visitors to meet together to pray and study God's Word have also been instrumental.

"One of our groups started in our house in 2017 with six young people, and has now grown into a young adults ministry with over 200 people coming," he said, "There are so many stories like that, where the Lord has poured gasoline on the fire." Dees concluded by saying, "We are grateful to the Lord that our church has grown but ultimately our goal is not to grow to be a big church, but to be faithful to Christ; to love his word, to love his people, and to love his mission."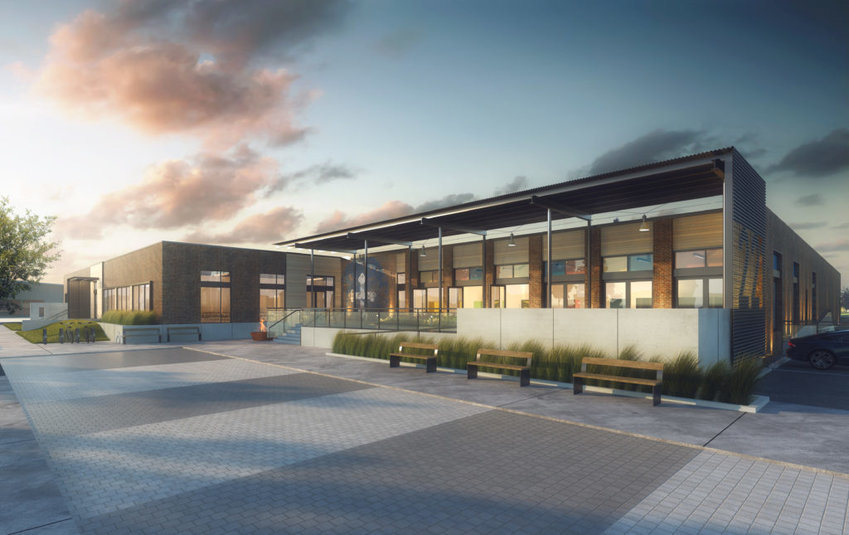 An artist rendering shows what Christ Covenant Church will look like after the industrial building in Atlanta is completed. (Image/Christ Covenant)