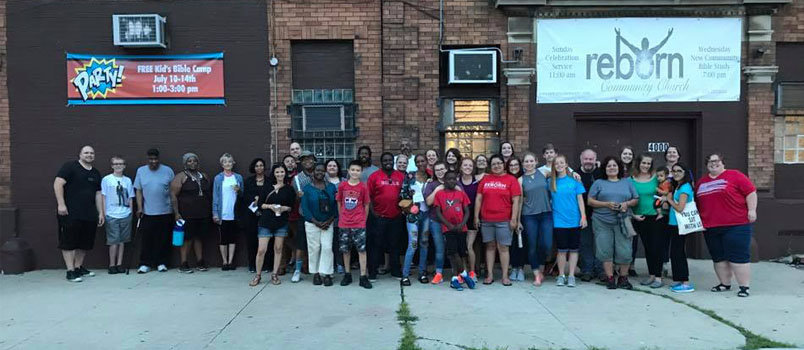 Southside Baptist Network is typical of Associations which have partnerships – such as this one with reborn Community Church in Chicago. Such experiences take churches out of their comfort zones and help build a greater vision for reaching their own communities. reborn is a NAMB SEND City church plant. SOUTHSIDE NETWORK/Special[/caption]
JONESBORO — What's in a name?
A lot of history, changing expectations, and public image. At least that's what drove the Southern Baptist Conference of Associational Leaders (SBCAL) to recently update the name of those who serve as the leaders of local Associations – the denominational entity closest to the local church.
At their recent annual meeting at the SBC gathering in Dallas, TX, the group voted to change their professional name from Director of Missions (DOM) to Associational Mission Strategist (AMS). But it's not the first update; the individuals have also been known as Associational Director of Missions (ADOM) and even later back, Associational Missionary (AM). Today, some business cards carry both Director of Missions/Associational Missionary title.
This was the first time in more than 40 years that the title was updated. But having just three or four names spread over three centuries is not all that bad.
Without taking a formal poll, it would be safe to say that few Southern Baptists know that the Association is the oldest entity in the denomination. In fact, it easily preceded the birth of the Southern Baptist Convention by 138 years. And if you crunch the numbers, the group even preceded the birth of the nation by 69 years.
It was on the "twenty-seventh day of the seventh month, on the seventh day of the week," in the year 1707 when five independent Baptist churches in Pennsylvania, southern New Jersey, and Delaware formed the Philadelphia Baptist Association.
While that was the formal constituting of the group, like-minded churches had been meeting together in a variety of places, the first being Salem, NJ in 1688. Still, its purpose was "to be a witness and transforming association for Jesus Christ."
It helped found Rhode Island College, now known as Brown University, and advocated for the abolition of slavery as early as 1789. Today, 311 years later, the Baptist Association continues that commitment to be a witness of the transforming power of Christ and to be salt and light in a fallen society.
In their meeting held in Phoenix, AZ in June 2017 – as part of the SBC annual meeting – the group launched a year-long study launched study to determine effectiveness of their members. This past June at the annual meeting in Dallas, TX, members unanimously adopted the new title, along with a number of "proficiencies" of effective Associational Leaders. The following month, Georgia Baptist Mission Board Executive Director J. Robert White instructed staff to begin using the new designation.
New name is suggested but not mandatory
While it is a suggested change, it is not mandatory … following Baptist polity of having autonomous associations. In fact, the Study Team Report clearly stated that the change "is not an effort to force current leaders or associations to 'adopt' or conform to a national standard. The best way to get Baptists to not do something is to 'recommend' that they do it."
Especially in states like Georgia, where most Associations are self-funded by churches, though some are partly funded by the Mission Board. In those instances, their leaders are state missionaries.
Ray Gentry, who leads the Southside Baptist Network from its Jonesboro office, also serves as Executive Director for SBCAL and oversaw the 12-member committee.
"We feel like it's time for a new name for the new century and the new demands upon us and the new opportunities before us," Gentry said. "In addition, a profile of associational effectiveness with competencies ... is even a bigger enchilada than the title.
"There really is no commonly accepted job description for a DOM," he said, "and so we want to come up with a profile with competencies for search committees and for purposes of coaching and helping new DOMs. We feel like that's going to be very, very important and very helpful to raise the credibility, and the profile and the effectiveness of DOMs."
Feedback came from more than 400 pastors and church leaders
More than 400 pastors and churches leaders who were interviewed for the study provided feedback on what they looked for in potential associational leaders. They overwhelmingly preferred the prospective associational leader have a Master's Degree. Those respondents over 60 years of age stated they preferred the candidate have more than 10 years' experience as a senior pastor; those under 60 said that such experience was not required.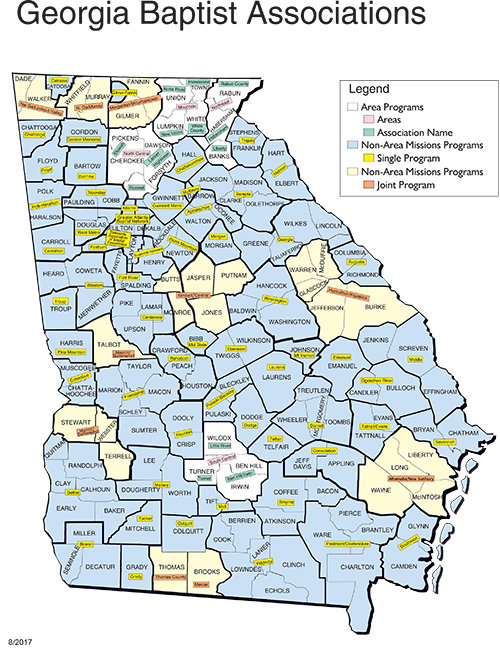 There are
91 Associations
in the Georgia Baptist Convention, largely reflecting the number of counties from the state's founding. Georgia is the largest state east of the Mississippi River with the nation's second largest number of counties – 159.[/caption]
Missions was cited as the "top priority" for associational leaders. However, those in larger settings defined missions as church planting. A second theme that emerged was a focus on church revitalization and church replanting, Gentry noted. A third finding was helping churches in pulpit supply, interim pastorates, and pastor search team assistance.
"Many times, when an associational leader retires the churches just hire a pastor to fill his shoes. Sometimes he may be a great pastor but not have the skills with developing a coordinated strategy for the churches to unite around. Being a pastor and a strategist are not the same skill set," Gentry explained. And that is why the committee also developed guidelines for the next generation of leaders. In that vein, the report announced new foundational, relational and strategic proficiencies for effective associational leaders.
Foundational proficiencies included being called to Associational Leadership; being a person of character, being spiritually mature, possess a commitment to learning, being a "leader of leaders" with skills such as donor cultivation and team building, and be trustworthy.
Relational proficiencies included being emotionally intelligent, be an active listener, be a supportive coach, be authentically vulnerable, and be a vocal encourager.
Strategic proficiencies included being a vision caster, strategist, consultant, leadership multiplier (or developer), demonstrate contextual understanding, and be a good communicator.
The report noted that although Associational Missionary, Director of Missions, and Executive Director "were the top choices in the survey, that is probably due to the familiarity of these title. Director of Missions was most popular among church leaders and staff, while Executive Director was preferred among larger populations and those in urban/suburban settings."
Variety of options were explored
A variety of options included combining words such as "missional," "catalyst," "mission," "network," "church," and "strategist." Associational Mission Strategist, or AMS, was chosen after lengthy consideration. For those with multiple staff, "Lead Mission Strategist" may also be used, the report noted.
Gentry noted that "the singular word 'mission' within the title conveys the singular focus we have of serving churches to engage with one Great Commission."
Cutting edge Associational Mission Strategists of the future will face challenges unlike their predecessors and must be equipped for a constantly changing society, he continued. Some associations may need to be merged while others may need to be created around new goals, as was the case in his Association just south of Atlanta.
Historically, Associations followed the geographical makeup of states. That meant a leadership structure for virtually every county; but as rural population declined and cities grew, many ceased to exist or merged.
There are 91 Associations in Georgia, which is also the largest state east of the Mississippi River. Its sprawling geographic area has 159 counties, more than any state other than Texas.
Gentry encourages struggling Associations to join with others to combine their strengths. "We have a lot of counties and a lot of associations that could benefit from consolidation," he believes.
Each year sees fewer Associations across the Southern Baptist Convention. At one time there were about 1,200 but have now declined to around 1,136. While some merge, others go with a part-time or bivocational leader. It can be done, he added, but it may not always be the best way to further the work.
Associations are in a new day economically and with population shifts and they need to adapt. Southside Baptist Network, which Gentry leads, is one such example.
In 2013 during the Great Recession, South Metro Baptist Association was considering whether to fill its vacant director's position while it and sister Associations were meeting on whether to combine into a larger Association. South Metro and Henry Baptist Association eventually merged out of the discussion, combining the best of both groups. Gentry, who was serving Henry Association, was chosen to lead the new group. But it was not your traditional rubber stamp merger.
A fresh new Association – this time called a "network" – is born in Georgia
Rather than grandfathering all churches of both Associations into the new entity, the organizing committee opted to ask congregations to join as charter members. After a set time churches wishing to affiliate would need to follow established procedures.
"There are a few Southern Baptist associations in other states that have adopted this approach but as far as we know we are the first in Georgia," Gentry told The Index at the time. "This is a fresh, 21st Century way to focus on how churches associate through networking."
Gentry said many felt that the traditional image of associations "doesn't relate very well to today's younger layman, pastor, or church planter. This is a strong way for a new association to establish itself with a larger audience."
The Warner Robins native believes the new structure … a blending of the new and the old … makes it more inclusive to both the younger and older demographic in the denomination. Younger ministers, in particular, relate more to networks and that signals an important attraction to them.
The new network had a much stronger focus on church planting and church revitalization – two items not necessarily ignored but not at the top of the agenda of the previous groups.
"I have to admit that we have not had the best church planting record and have had more failures than we are comfortable with. We want to work with our planters and provide them with the necessary resources for them to be more effective, while helping weak churches become healthier," he explained.
"Several directors of missions have told me this is the wave of the future – having fewer but stronger associations with a renewed focus – but only time will tell whether we are a pace setter or an anomaly."
Gentry believes the new title of Associational Mission Strategist will be another important step in the transition of Baptist Associations – both in Georgia and throughout the Southern Baptist Convention.