By Dawn Tolbert
ROME – The Shorter University baseball team welcomed 2019 by answering the call to missions. A group of 25 Hawks players and coaches took part in a six-day mission trip to Mexico at the beginning of January.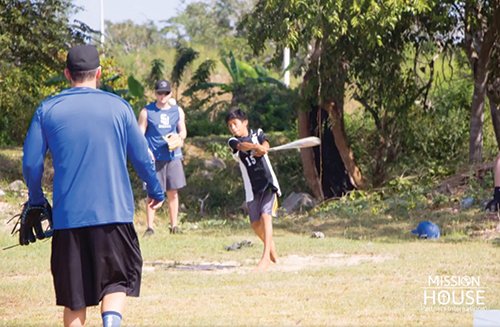 Shorter University Hawks teach local children some of the ins-and-outs of baseball on a mission trip to Mexico earlier this month. MISSION HOUSE/Special
"We took a three-and-a-half-hour bus ride south of Cancun to the village of Ichmul," said Shorter Head Baseball Coach Wes Timmons. "We worked with the villagers and surrounding tribes. We went to be obedient to our Father's calling to go! In Mark 16:15, Jesus said, 'Go into all the world and preach the Gospel to all creation.'"
Putting Shorter's mission of "Transforming lives through Christ" into action, the Hawks partnered with a local organization called Mission House to host baseball clinics where they taught basic skills of the game. Their aim was to use their sport to reach the Mayan people with the love of Christ.
"Global service is an important part of our mission as a Christ-centered University," said Shorter University President Dr. Don Dowless. "We know that when groups like our baseball team take part in serving others both locally and abroad they are advancing God's kingdom and showing the love of Christ to others. These experiences broaden their understanding of our world and the responsibilities we have as Christ's servants."
That was the experience of Jason Gonzalez, a freshman from Miami, Florida, who was part of the Shorter baseball mission team. He said, "We ministered to the people of Ichmul and shared the love of Christ with them. The people said we were sent by God to them because we brought them joy."
Gonzalez' teammate and fellow freshman Kenneth Jinks, of Cartersville, added, "My favorite moment of the mission trip was when we first arrived at the baseball field where we would be running the baseball clinics and seeing the kids' initial reactions to us being there and how happy they were."
The players were greeted with that kind of enthusiasm from residents both on and off the field.
Nathanial Butterworth, a junior from Mableton who is a catcher for the Hawks, recalled, "On the third day, we played a baseball game in the home village, and the people there volunteered to wear our jerseys as they played. For some it was their first time playing, so it was really neat to see the smiles on the kids' faces after they hit the ball. My favorite part was how the people treated us and embraced us. Even at the marketplace, people would smile and wave at us. They were genuinely happy we were there."
Reflecting on the trip, Hawks players recalled how they learned to lean on God to help them through the challenges they faced.
"The biggest obstacle was the language barrier; we could not communicate as well as we would like," Butterworth said. "Through the Spanish-speaking players on our team, we had some form of communication. We started our days with a quiet time, and spending time with God at the start of the day was the number one thing that helped us stay encouraged."
For freshman Andy Ferreiro, the trip was an opportunity to examine his own walk with the Lord.
"I know I had a relationship with God before, but this experience helped me realize I need to grow," he said.
He and his teammates were touched by the poverty they saw in the areas they visited.
"(Many of the Mayans) do not have shoes, so they walk everywhere and play barefoot," Ferreiro said. "We are blessed to have all that we do; you do not know how blessed you are until you see (how others live in comparison)."
Butterworth agreed, "It changed my whole perspective of how blessed I am with the opportunities I have been given and still get today. I can be used by God to accomplish His work. I was baptized for the first time on the mission trip. I had (not taken that public step), but the trip showed me I need to be more vocal through words and actions about my faith. The trip impacted me in a huge way and has really changed the way I live back at home."
Seven of the Hawks players were baptized on the trip, some giving their lives to Christ for the first time and others – like Butterworth – demonstrating publicly the faith they had placed in Jesus as their Savior. A local couple was also made a profession of faith after one of the baseball clinics.
Coach Timmons thanked Mission House in Mexico and West Rome Baptist Church for partnering with the Shorter team to make the mission trip a reality. "We give a special thank you to Mauricio-Laura Menesses, the CEO and founder of Mission House, for allowing us to be a small part of God's ultimate plan and to Topher Stockton, executive pastor/college and West Rome Baptist Church for spiritual guidance, financial support, and helping design a dream."
For Timmons, the vision for this missions experience began while he and his family were part of another mission trip to Mexico. "Four years ago, my wife Randi, our oldest daughter Kallyn, and I were on a mission trip in Monterrey, Mexico, serving at an orphanage. It was there that God called me to fill a mission need with college kids—baseball players! And in January 2019, I was simply obedient to that call. And I am forever changed."
Many of the players have also felt changed since their return to campus and the start of the spring semester.
"Since the trip, I have had a stronger relationship with God and long to grow deeper in my walk with Him," Jinks said.
Coach Timmons is already looking forward to the team being part of more missions outreach in the future. "We have been incredibly blessed to have this opportunity, and we will go back."