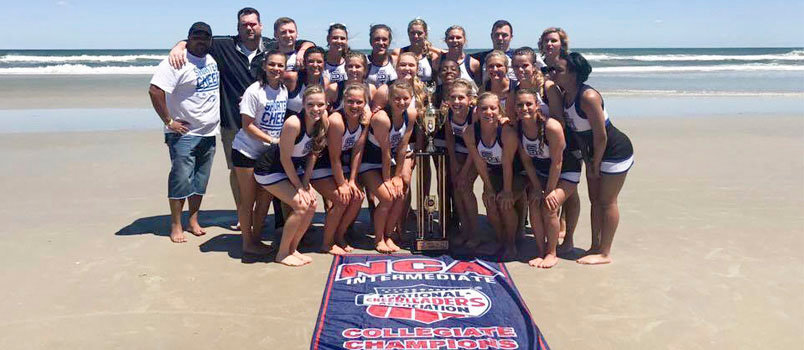 The Shorter University Cheer Hawks won the NCA National Championship for Small Coed Division II in Daytona Beach April 7. It is the program's fifth national title. SHORTER/Special[/caption]
DAYTONA BEACH — For the fifth time in program history, Shorter University Cheerleading left Daytona Beach on top; winning another National Cheerleaders Association (NCA) National Championship.
Prior to 2017, the Cheer Hawks won the NCA Championship three times in the All-Girl Division (2009, 2010, 2011) and once in the NAIA Small Coed category (2012). This year, the team added a second Small Coed title, having bested the field in the Intermediate Small Coed II Division.
Shorter entered the finals April 7 in second place after the prelims, behind the University of Texas at Dallas. And, en route to the championship win the Hawks tallied a score of 94.37. A score that was .74 better than second place finisher, Valdosta State, which earned a score of 93.63. McKendree rounded out the top three.
"When I was first hired, every athlete on the team came to me with the same two goals – to be a family and to win a national championship," head coach Chad Reid said. "They fought through a lot of adversity over the past year and they did it together. They never lost focus and as a family, they were able to come together and cap off their season with a National Championship."
"I could not be more honored to coach this group of young men and women. They inspire me every day to be a better coach and a better person. All of the 6 a.m. practices, all of the workouts have led us to the school's first national title since 2012. It is a new beginning for Shorter Cheerleading, and we are all ready to get back to work for next year."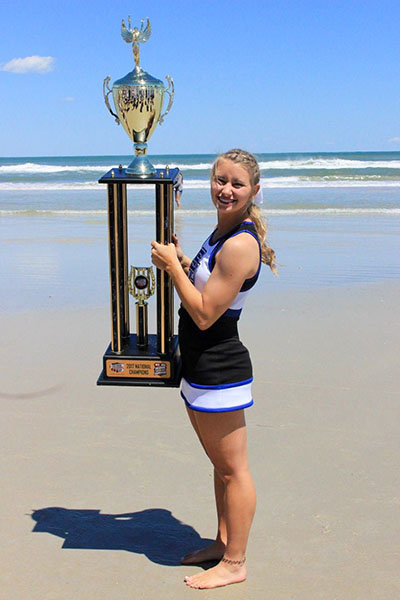 Senior cheerleader Abby Patrick poses with Shorter's national championship trophy. SHORTER/Special[/caption]
Reaching a goal
"My senior year as a cheer hawk has been one to remember! From the beginning of the new season, a lot of things were new and refreshing, but the one thing that never changed was our dedication to work hard for our goal of a National Championship," senior Abby Patrick commented.
Abby is the daughter of Scott and Ann Patrick and a member of First Baptist, Douglasville, where her father serves as Minister to Children. While at Shorter, Abby attends Hollywood Baptist Church. She's not the only member whose father serves as a Georgia Baptist minister. Joining her is Kaylee Darsey, whose father, John, is pastor of Redeemer Church in Madison.
"Our team has been through a lot this season but we have grown closer because of it. This team is my family and I am so proud of everything we have accomplished since August – from winning a Gold Bid in August to winning the National Championship in April, our team has done it all.
"Thank you to our new head coach, our families, and everyone who has supported us along the way, she added. "We couldn't have done this without you all!
"Go Hawks! We did it! Being a national champion is one of the best feelings I have had my whole college career!"