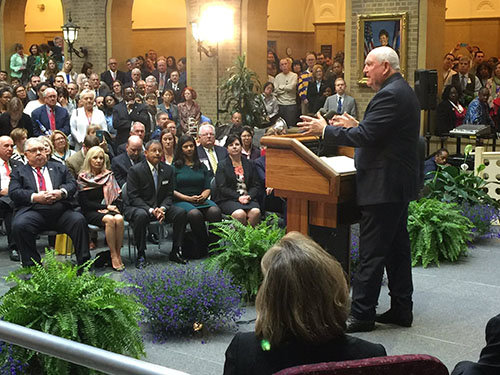 "Happy to be on the job @USDA and meet employees for 1st time. Want to leave our nation, fields & farms in better shape than we found them," new Secretary of Agriculture Sonny Perdue stated after being officially announced to the position. TWITTER/@SecretarySonny[/caption]
WASHINGTON — President Donald Trump has a distinct Georgia presence in this cabinet. Joining U.S. Representative Tom Price from District Six in Georgia, who was selected as the Secretary of Health and Human Services, is former Georgia Governor Sonny Perdue.
The President announced Perdue as his pick for Secretary of Agriculture on January 18th and he was officially confirmed on Monday, April 24th. Perdue served two terms as governor between 2003 and 2011 and became the first Republican governor in Georgia since Reconstruction.
On January 19th, after announcing Perdue as his choice as Agriculture Secretary, Trump said, " will deliver big results for all Americans who earn their living off the land."
According to the University of Georgia newspaper The Red and Black, "The former Georgia governor is the son of a farmer and is a UGA alumnus from the class of 1971 when he earned his Doctor of Veterinary after graduating and later went on to build three small businesses in grain trading and trucking before entering Georgia politics."
Bipartisan support
Perdue started his career in politics by serving on the Houston County Planning and Zoning Board during the 1980s. In 1990 he ran for state senate and won, spending the next 11 years representing his middle Georgia district in the General Assembly. Perdue left his Senate Seat in 2001 to begin his successful campaign for governor, which focused on restoring public trust in state government.
Unlike some of the President's nominations for cabinet positions, Perdue sailed through the vote, winning approval by 87-11. Zpolitics called it "one of the most bipartisan outcomes so far for the Trump Administration."
Senator David Perdue, cousin to the new Agriculture Secretary, praised the former Georgia governor for his "integrity and responsibility," and added that his nomination is an indicator that President Trump is "building an outstanding cabinet."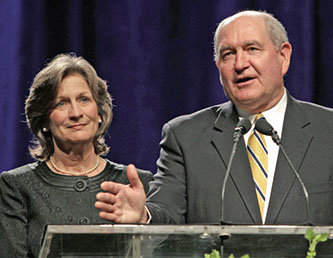 Georgia's 81st governor, Sonny Perdue, and first lady of the State Of Georgia, Mary, give an exhortation to messengers during the evening session of the annual meeting of the Southern Baptist Convention June 15, 2010 at the Orange County Convention Center in Orlando, FL. ADAM COVINGTON/Special[/caption]
Perdue and his wife, Mary, were members of Second Baptist Church in Warner Robins when he was elected governor and became members of First Baptist Church Woodstock during his tenure as governor.
The Perdues taught a Sunday School class for young couples at the Woodstock church, emphasizing the importance of faith in building a strong and lasting marriage. Upon completion of his second term as governor, the Perdues returned to Warner Robins and Second Baptist Church where their son, Jim, became pastor in 2012.
One of the best things about Secretary Sonny Perdue is that he knows the source of our strength and power. "Our greatness does not come from our government," he admits. His life is a witness that our source of power comes from God.