CLEVELAND — Thursday, March 17, was perfect for outdoor activities in most of Georgia and especially in Cleveland where the sun was shining brightly and a gentle zephyr enhanced the atmosphere of the day. However, the event that made the day special was the groundbreaking for the George Blaurock Student Wellness Center.
The significant gathering for the momentous occasion included Cleveland city and White County officials, leaders from the business community, Georgia Baptist pastors and laity, Georgia Baptist Convention president Thomas Hammond, Georgia Baptist Mission Board personnel as well as TMC trustees, members of the Board of Visitors, administrators, faculty, and students.
Emir Caner, president of Truett-McConnell, began his message to his audience by explaining why he was not wearing a tie for such an important occasion, stating, "I only wear a tie for two reasons: first, for funerals and second, if someone wants to donate a million dollars to the college."
Suddenly, Caner produced a tie from his pocket with the comment, "However, I did bring a tie if anyone wants to make that kind of donation."
Not about brick and mortar
Caner announced that the new wellness center would become the largest building on campus.  It will house the new basketball arena for intercollegiate games, a 9,000-square-foot aquatic center, an aerobics room, a fitness center, indoor track, two racquetball courts, a training room, office suites, and a student café.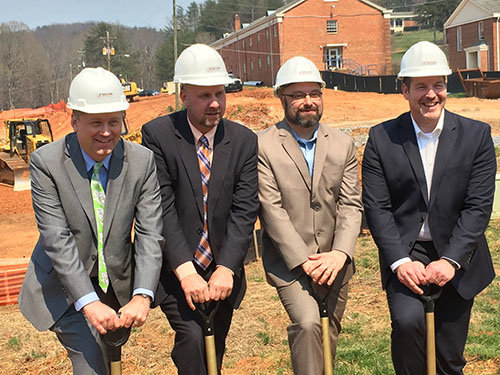 Left to right, Joseph Wiegand, vice president for Finance and Operations; Brad Reynolds, vice president for Academic Services; President Emir Caner; and Chris Appling, vice president of Student Services and Athletics, take part in the groundbreaking ceremonies for Truett-McConnell College's new student center. GERALD HARRIS/Index[/caption]
Caner stated, "The transformation of our campus and the expansion of our facilities will allow Truett-McConnell to welcome more students who have a heart for the Lord and a call on their lives."
The TMC president added, "As construction gets underway, remember, such a project is not about brick and mortar; it is about preparation and discipleship and raising up a generation of believers who will love the Lord, love His Word, love the Church, and love the lost."
Caner continued, "People have asked, 'Why call the building the George Blaurock Student Wellness Center'? They want to know why we have chosen the name George Blaurock. We have selected his name because we wanted to honor those who have died for their faith, as did George Blaurock. We want to honor those who have demonstrated an unwavering resolve to stand for their faith regardless of the consequences."
George Blaurock was born in Bonaduz, Switzerland in 1491 and became a Catholic priest. In 1524 he traveled to Zurich after making a break with the Catholic Church. He joined Conrad Grebel and Felix Manz in following the reformer Ulrich Zwingli. However, it did not take long for these men to become unhappy with Zwingli's understanding of the Scripture. Zwingli denounced the beliefs of Grebel, Manz, and Blaurock and they were forbidden to hold Bible studies together any more.
Blaurock and his friends prayed for guidance; and when they had finished their prayer on Jan. 21, 1525 he stood up and asked to be baptized. Grebel proceeded to do so, thus making Blaurock one of the first Anabaptists in Europe. Because of Blaurock's zeal and commitment to God's Word, Caner asserted that he became known as the "Hercules of the Anabaptists."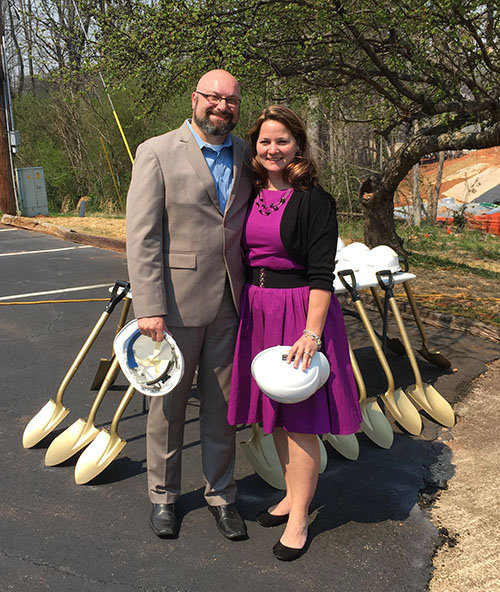 Emir and Hana Caner prepare to put on their construction hats and choose a shovel to break ground for the Blaurock Student Center, already referred to as "The Rock." GERALD HARRIS/Index[/caption]
Blaurock and Manz had worked closely together, but their ministry came to an abrupt end on Jan. 5, 1527 when Felix Manz was martyred by being baptized in the freezing waters of the Lammat River in Zurich.
Subsequently, Blaurock was banished from Switzerland and moved to Austria in 1527. He became pastor of a church in 1529 after its leader was martyred. In six months he baptized many people and founded a number of churches. However, Blaurock's work ended with his arrest, torture, and martyr's death. He was burned at the stake near Klausen, Austria on September 6 1529.
Blaurock's final words were, "Forsake your sins, and continue no longer in your hardness, sickness, and blindness ... When you can have a physician who can heal all your infirmities, and who will afford his service gratis" (Matt. 9: 12).
George Blaurock is remembered as a man of action. If he knew what was right, he tirelessly and forcefully pursued it with all his might. He represents an unashamed voice of truth, which stands as an example of commitment for modern Christians living in America.
So, the Student Wellness Center at Truett-McConnell is appropriately named for one of the most heroic saints of the 16th century. The students have already abbreviated the Blaurock's name to "The Rock" – a fitting name for an Anabaptist with a bedrock commitment to Christ and for those who want to establish their lives upon the solid rock of Jesus Christ.
Go here for more information about the George Blaurock Student Wellness Center.