This is the final installment in a five-part series of Thanksgiving Week conversations with survivors of Hurricane Michael. The interviews, titled "Surviving Michael: A Thanksgiving Retrospective," explore the faith that saw everyday individuals through the eye of a Category 3 storm. We hope that today you will remember these individuals, and many others in Southwest Georgia, as you give thanks for the Lord's blessings in your life. To read the entire series, see Part 1 here, Part 2 here, Part 3 here, and Part 4 here.
Mason Welch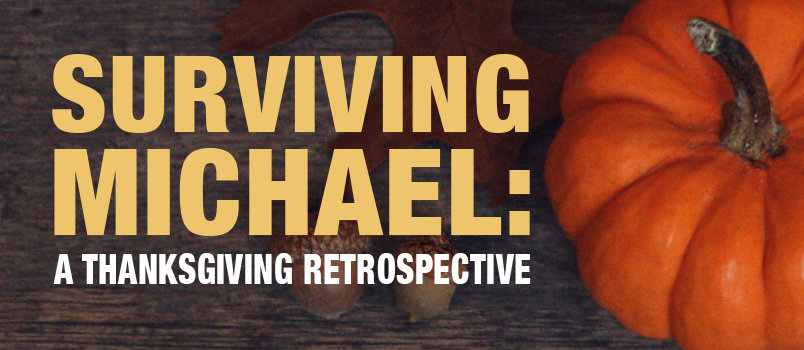 Mason Welch grew up in Jakin, population 155 according to the 2010 census, and was taken to church as a newborn. In fact, Springfield Baptist Church is the only church she has ever known.
It's situated in the middle of farming country and is surrounded by crops which nurture the community with food and employment and a good quality of life. Unfortunately, that bounty is dependent on weather, which can change drastically like it did on the afternoon of Oct. 10.
The sky began to darken mid-afternoon, some say around 3:30 p.m., with the wind beginning to pick up and blow around with increasing severity. Two hours later the sky was as dark as night and the full force of Michael was knocking on the church's front door. Some say the eye eventually passed over and by 10:30 p.m the storm had decreased to a regular hard rain. It was not until morning that the damage was fully realized.
Mason Welch was one of those young people in their early 20s who experienced their first Category 3 hurricane on that uncertain evening. She says she will never forget its fury.
"I'm a worrier by nature anyway so I was scared. But I kept thinking of the verse from the Bible that says Christ calmed the storm. I knew He was more powerful than what was going on around me, outside our family's home."
She says she might have gone to bed and dozed off for a while during the long night "but I didn't really sleep. It was the worst-case scenario I could imagine."
What is she thankful for?
"Protection, for sure.
"Everything.
"There is too much to be thankful for, I need more fingers to count them all up."
A personal word from the managing editor
Journalists are trained to never interject themselves into a news story. What we write is meant to be objective and to let the reader make up their own mind. With that being said, I am going to bend the rules on this one occasion as I conclude this series.
On Monday night I received a letter from a member of First Baptist Church of Donalsonville who had just read that day's second installment. She and her husband were driving through the evening across the state line to Dothan, AL, and she was reading it to him from the link on The Index's Facebook page. The woman, Brenda Bailey, felt moved enough to write a letter expressing her gratitude for the series. On a phone call later that evening she was thankful for its role in keeping the plight of people in Southwest Georgia in the prayer life of Georgia Baptists.
Her letter was so relevant to the topic I was attempting to address that she gave me permission to use her letter as the conclusion to this series. Brenda explained she is a longtime reader of The Index and mentioned the role her church played in ministering after the hurricane. She appreciated the coverage the series was providing regarding the ongoing struggles all are enduring nearly two months after the storm.
With that background, I would like to share Brenda's heartfelt letter. And, I would like to ask every reader of this article, on today – Thanksgiving Day – to pause and ask God's blessings on all the residents who are still struggling to put their lives back together. May the unchurched be open to the gospel through the ministry of our Disaster Relief volunteers, through the ongoing ministry of our churches and Associations, and may believers be strengthened in their faith as they work through the lengthy healing process.
Brenda's letter follows:
Mr. Westbury,
Thank you for your articles from a Christian standpoint; the agricultural situation is devastating in Seminole County. My husband manages a large corporate farm here in Donalsonville.
We have 33 pivot systems on our farm, Seldom Rest, Inc.; 17 of them are upside down in the field. We also have 500 Acres of pecan trees; 80% of the trees are on the ground and the remainder has serious damage.
Many farm buildings have been destroyed. There is no quick fix for the devastation here.
I know the Lord will see us all through but prayers are needed for folks here to have mental clarity and stamina to keep on keeping on. It is going to be a long, slow process. The cleanup is just the beginning; it will be many, many years before life is "normal" again in Seminole County.
God bless,
Brenda V Bailey
Seldom Rest Inc
Donalsonville, GA