ATLANTA — Maina Mwaura, Georgia Baptist churchman and freelance writer, was recently contracted by the Georgia Baptist Mission Board's Communications Department to interview Gov.-elect Brian Kemp about his faith and values.
Mwaura invited Christian Index Senior Editor J. Gerald Harris to join him in asking Mr. Kemp several questions in order to give Georgia Baptists a personal look into the Gov.-elect's religious and family life.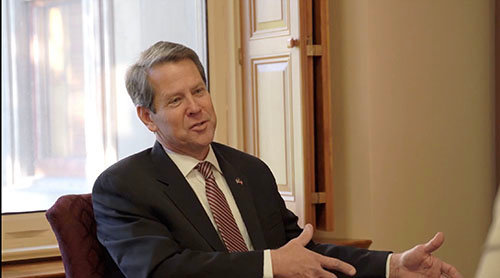 "I knew that God had a plan for me, but I just didn't know exactly what it was until after the election," Governer-elect Brian Kemp said in a recent interview. GA STATE CAPITOL/Special[/caption]
Earlier this year, gubernatorial candidate Kemp tweeted, "I'm a man of faith who loves my family and our nation. I stand for the National Anthem, support those in uniform and back @realDonaldTrump. If that offends you, then I'm not your guy. But if you are ready for a politically incorrect conservative, I'm asking for your vote."
The campaign was highly competitive, hard-fought, and resulted in Kemp claiming victory with 50.22 percent of the vote – just over the 50 percent threshold to avoid a runoff. He garnered 54,801 more votes than his Democratic opponent Stacey Abrams.
Mwaura, John Yarbrough, who is on the administrative staff at Truett McConnell University, and I met Mr. Kemp early one morning at the State Capitol for the interview. The Gov.-elect was gracious, affable, and accommodating.
He admitted that he had never been busier in his life than during the campaign, but indicated that the compressed transition schedule prior to his first official day in office has been equally exacting and demanding. However, there was no doubt that he looked equal to thechallenge.
Concerning his faith background, Kemp explained, "I have been going to Emmanuel Episcopal Church in Athens my whole life. My mother raised my older brother, younger sister, and me there. I had a lot of friends in my Sunday School class. We grew up together and we are still very good friends. So, I am very much at peace in my home church."
Kemp admitted that the hectic campaign compelled him to much prayer. "I knew that God had a plan for me, but I just didn't know exactly what it was until after the election," the Gov.-elect mused. "But I know what it is now – at least for today, but He could have a different plan tomorrow, which is why we have always got to be ready for Him to come back or for us to be drawn into His Kingdom. So, I am ready for that and I prepare every day to be ready.
"But I also pray for wisdom, because I know that is the only way I can be a good governor. It also helps you do the right thing when no one else is watching. You must have great internal fortitude, values, and wisdom in these positions; it doesn't matter whether you are secretary of state, a legislator, governor, father, or a businessman. We are all sinners, but I pray often for that wisdom to keep me grounded, to keep me humble, and to keep me faithful every day.
"I know that there were people praying for me. They would text me and tell me that. They would call me; and pray with me on the phone. There were Sunday School classes and churches that prayed for me; and that was not only good for me, but for Marty (Brian's wife) and our daughters."
Mwaura asked Mr. Kemp about the divisiveness that exists in the state. Kemp admitted that the race for governor was a divisive campaign, but commented, "I think for most people, the race is over. The national climate is also divisive, but it is time to put the campaign behind us, reach out, and work with everyone to move our state forward; and I'm the guy that got elected to do that. I got more votes than anybody that has ever run for governor in the state of Georgia.
"Yesterday I walked 300 steps to the Mayor of Atlanta's office and had a great meeting with her (Keisha Lance Bottoms) about how we move our state and the city of Atlanta forward. We had a very productive meeting; and I will continue to do that. I have been texting and speaking with some of the Democratic legislative leaders. They know the campaign is behind us. They have got to work with me; and they are looking forward to it and so am I."
When asked about his family, Kemp readily admitted that they were his greatest asset on the campaign trail and will continue to be his most reliable resource and blessing as governor. He admitted that some referredto his wife and daughters as "rock stars."
Kemp continued, "We had many discussions before I got in the race; and we talked about how hard this was going to be and how bad people were going to say I was as a person. When we made the decision, it was a family decision and they knew there was no backing out. They were a big part of why I won the race; and they will also be a big part of me being a great governor. They will be a great first family and Marty will be a great first lady."
The full interview can be seen below:
Brian Kemp Interview from Georgia Baptist Mission Board on Vimeo.