Matthew Slemp (foreground) leads the congregation is a rousing hymn of praise. COURTESY/Matthew Slemp
---
ATLANTA – Matthew Slemp, a gifted young man with a winsome personality, has become the worship pastor for First Baptist Church in Atlanta. He served as Rodney Brook's associate at FBA for seven years before being called to serve in a similar role at First Baptist Church Indian Trail, a suburb of Charlotte, NC, where he succeeded Mike Speck.
First Baptist Atlanta Pastor Anthony George, stated, "Matthew came to First Baptist at age 22 right after graduating from Belmont University. Our people watched him grow and blossom into an effective and valued staff member. When he went to Indian Trail he continued to grow and develop into one of Southern Baptists' premier worship leaders. When he came back, our people welcomed him with open arms. Due to his expertise in audio, video and lighting, he has also become the lead player in operating our media ministry."
Slemp grew up in Johnson City, Tenn., and lived there until he left for college. He explained, "I am indebted to my parents, Michael and Judy, who were godly examples, modeling lives surrendered to Christ. My dad has served as a deacon for over 34 years and my mom has been involved in the music ministry, has led Vacation Bible School and the children's ministry programming.
"In September 1991 at the age of 4, I knew I needed to be saved and with the prayers and guidance of my dad, I asked Jesus to come into my heart. I was baptized the next month in Grace Free Will Baptist Church in Johnson City where my parents are still active members. That was also my first church to serve as minister of music."
The FBA worship pastor earned a bachelor's degree in Church Music from Belmont University with an emphasis on vocal performance and choral conducting and a secondary emphasis on organ performance. His education includes a Master of Christian Studies degree at Union University in Jackson, TN and the completion of online doctoral work in theology from Andersonville Theological Seminary.
"I was about 10 years old," Slemp recalled, "when I began to sense the call of God upon my life. However, in the context of my upbringing the opportunities for vocational ministry outside of a pastor or an evangelist were limited. When I was 12 years old, my dad took me with him to the annual Pastors' Conference at First Baptist Church in Jacksonville, Fla. It was there that my eyes were opened, and I saw for the first-time what possibilities there were to serve the Lord in ministry.
"On Tuesday evening Dr. Adrian Rogers spoke and during his closing prayer I surrendered fully to the Lord and committed the rest of my life to serving God and His church. I did not tell anyone about the prayer I had prayed, but on the following night I was asked to lead the singing for our Wednesday evening service in my home church, marking the beginning of what has now been 22 years in music ministry."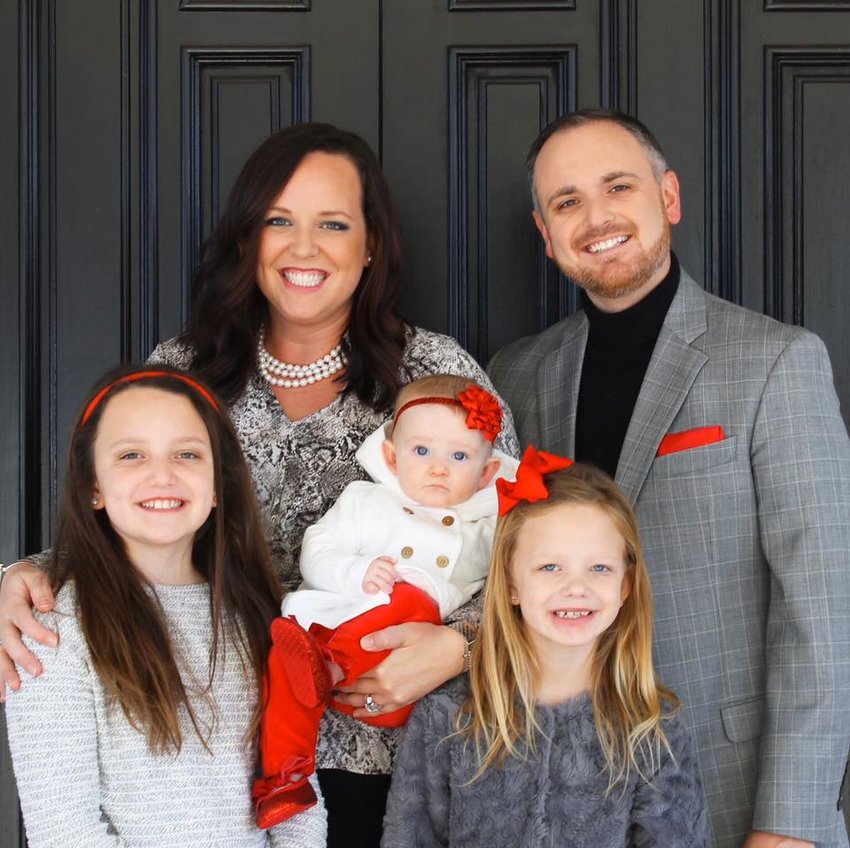 Matthew Slemp is the minority male in the family, but is extremely proud of his girls, (left to right) Mackenzie, wife Chelsea, Mia and Morgan. COURTESY/Matthew Slemp
Matthew met Chelsea, the young woman who became his wife, at Belmont University on move-in day. He declared, "When I saw her on campus, I thought she was the most beautiful and radiant person I had ever seen. She has a smile that lights up any room. We had an Italian diction class together and eventually I summoned the courage to ask her for a date. She declined at first, but finally 'came to her senses' and agreed to go on a date with me. I asked her to marry me at a beautiful, nostalgic restaurant in Kingsport, Tenn. in October 2006 and we were married August 4, 2007."
The Slemps have three daughters, Mackenzie (10), Morgan (8), and Mia (2). Gushing with pride, Matthew asserts, "Our girls are beautiful and have unique and wonderful personalities. Mackenzie and Morgan are very musical, love to dance and enjoy horseback riding. Mia is simply into anything and everything as a very active two-year-old."
From the very beginning of his teenage years there have been a goodly number of men who have mentored and invested in the Johnson City native including his uncle Doyle Hurdt, a bi-vocational minister of music. Slemp stated, "Uncle Doyle had an incredible impact upon my life. My earliest memories in church were of a tear running down his face, a hand lifted in the air in worship, and a song of praise in his heart. He was real and I knew above any training or ability I might acquire over the years, I wanted to be an authentic worshipper leader."
Rodney Brooks, Mike Speck, Gerald Wolfe, John Glover, Dr. Ed Scruggs and Landy Gardner have all been invaluable friends and mentors to Slemp. He has specifically praised Brooks for his many years of counsel and guidance; Speck for continuing to be a genuine and lasting friend, and Wolfe for his godly leadership and character.
Slemp is a young man with a genuine sense of spiritual maturity about him as reflected in his respect for the past and vision for the future. He exclaimed, "I am both humbled and very excited about the opportunity to serve here at First Baptist Atlanta. My vision for our music ministry is to continue building upon the rich legacy of the faithful men who have preceded me. It is my desire to continue to build and lead a dynamic choir and orchestra. I am dedicated to multi-generational worship, providing opportunities for children and students and investing in their lives. First Baptist will continue to sing and cherish the great hymns of faith while also embracing new songs of worship and praise. Ultimately, my heart is for people who attend First Baptist in person or worship with us online to experience God in real, authentic worship, while always pursuing excellence."
John Maxwell has stated, "Teamwork makes the dream work!" Anthony George and Slemp have a mutual respect and appreciation for one another. Slemp testifies, "The greatest relationship I have in my role as worship pastor is that with the senior pastor. We have a relationship that is grounded in trust. In my philosophy of worship, I believe that the senior pastor is the primary worship leader of the church and I must be submitted to his authority.
"Any musical preference I have must come in alignment with the Senior Pastor's vision and direction for the ministry. When the philosophy of the church music and worship are not the same, division happens. Jesus said in Matthew 12:25 that a house divided cannot stand. Therefore, it is my desire to always be in lockstep with the senior pastor."
Slemp believes in a full-orbed music ministry. He explained, "I believe that using as many people as possible in the music ministry of the church is simply a picture of what heaven is going to be like. The kingdom of God is made of people from every tribe, nation, and background. The fabric of Scripture is made of everyone from mighty warriors, to widows, young children, fishermen, tax collectors, and so many more. God had a place for them, and He used them mightily. I think the same is true in music ministry. God takes those willing to be used of Him despite their background and does amazing things with them. You never know who God might use to reach someone else. It is my belief that there is always room at the table for one more.
---