I have just returned from the fall meeting of the Gateway Seminary Board. Our meeting was in Denver, CO, where one of our Gateway Seminary campuses is located. Dr. Jeff Iorg serves as president at Gateway Seminary and has completed the remarkable transition of the physical move of the seminary from Mill Valley, CA to Ontario, CA.
It was an historic move of some 400 miles with an extraordinarily smooth transition for faculty, administration, and students. The beautiful new campus in Ontario is situated in the midst of the most rapidly growing part of the state of California. The growth potential for this Southern Baptist seminary is truly exciting.
One of the things that has impressed me the most about Gateway is the number of students preparing for full-time mission service internationally and domestically. There is a new outreach to Chinese students that will have a tremendous impact in mission work both in the States and in Asia.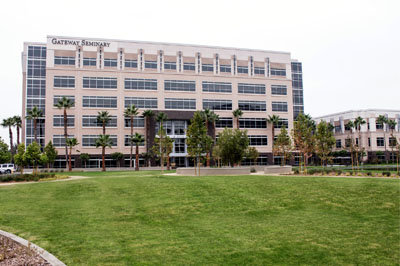 The grassy area in front of Gateway Seminary's new facility in Ontario, CA, has been dubbed "Gateway Park." BP/Special[/caption]
Dr. Iorg is an unusually gifted strategic thinker and planner. Not only did he engineer the process of moving the seminary from the San Francisco Bay area to the Los Angeles area, but he was also able to secure a sale of the Mill Valley property that was significant enough to purchase and complete the construction of the Ontario campus and place a large deposit into the seminary investment pool, thereby stabilizing the economic situation of the seminary and creating an endowment for future ministry.
One of the delights of serving on the seminary board has been getting to know Southern Baptists from across the nation who have been selected to serve on the Gateway Seminary Board. Although I am a life-long Southern Baptist, this is my first opportunity to serve on the board of one of our Southern Baptist entities. I consider it a great honor and am very thankful for the privilege to serve.
Please pray for Gateway Seminary as it becomes established in its new locale. It is in the process of building a new base of seminary students. Dr. Iorg commented that students have at least two challenges as they desire to attend seminary. These are time and money.
I am confident all six of our Southern Baptist seminaries are facing that same challenge. Please join me in praying that God will continue to call many gifted individuals to serve in ministry among our churches and on the mission field across the world. Pray that the challenge of time and money resources will be met for those whom God calls as they seek to be equipped for effective ministry for years to come.
I believe Southern Baptists are wonderfully blessed to have six of the finest seminaries in the world today. All six of our seminary presidents are conservative theologians with a profound devotion to Christ and love for the ministry of Southern Baptists. I encourage you to be faithful to pray for our seminary presidents and our six seminaries as we train the next generation of church leaders and missionaries. Plenty of challenges come along with that opportunity, but what a blessing it is to witness the development of our future leaders.
I feel unusually blessed by Gateway Seminary as they have invited me to be an adjunct professor in their Doctor of Ministry program. Thus far, I have taught two D. Min. seminars. What a delight it has been to pour into these seminary students from my 50 years of experience in ministry. Having witnessed first-hand the quality of students in our seminaries, I am very encouraged about the future ministries of Southern Baptists.