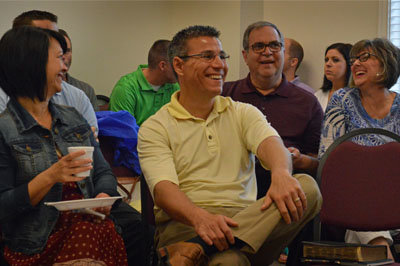 A welcoming atmosphere helps create community in the GIFT (Growing In Faith Together) class at First Baptist Church in Cumming, which is among Georgia Baptists' fastest growing Sunday Schools in the mega category (700 or more). JIM BURTON/Special[/caption]
I have long believed that the way to build a strong church is through a strong Sunday School. Southern Baptists experienced our greatest years when our Sunday Schools were the strongest in our history. As you are probably aware, a number of years ago we began to witness a shift in emphasis in our Southern Baptist churches from Sunday School to the worship service.
Now, I am a proponent of a vibrant worship experience. In my position, I find myself preaching in a different church every Sunday and often throughout the week. I participate in a lot of exciting worship services. The music in our churches is unsurpassed. The consistent preaching of the Gospel by our pastors is outstanding. The flip side of this discussion, however, is the vital role played by Sunday School and small groups in our churches today.
We have watched as our baptisms have declined annually. Our evangelism statistics are embarrassing. We have more churches, more members, more money, more opportunity, yet our baptisms are down. Why?
I believe our diminishing baptisms is directly tied to our diminishing focus on Sunday School and small groups in our churches. For Southern Baptists, all the way back to the good old days of The Southern Baptist Sunday School Board, there was an understanding that as goes Sunday School, so goes the church. When we began to de-emphasize getting together in our small groups for Bible study during the Sunday School hour on Sunday morning, our baptisms began to slide.
What does that have to do with it? The small group gathering has been the place that Southern Baptists have introduced friends and acquaintances to the church and most importantly, to the Lord. So much of the personal care-giving and outreach functions of the church have been housed in the Sunday School class and small groups. Adding additional units to our Sunday Schools has been the way we have grown in our most healthy growth years.
I enjoyed lunch this week with one of our fine young pastors, Brian James. Brian is pastor of Level Grove Baptist Church in Cornelia. In the midst of our conversation he began to talk about Sunday School and small groups at Level Grove. He told me that over the past 12 months his church has grown by 30%.
"Brian, that is truly outstanding," I said. "How did you do it?"
He replied, "We did it through the Sunday School. I have always believed in Sunday School. I still like to call it Sunday School. Our growth has come through our Sunday School growth."
I had to ask, "So, what kind of growth are you seeing in your Sunday School?"
He said, "Our Sunday School has grown by 40% over the past year. It has been the key to our rapid growth."
Knowing that Sunday School growth happens through the initiation of new units, I asked Brian if they had started any new units over the past year. He said, "We sure have. We started five new units. We intended to start a couple of new classes this year, but we started five and we are going to be starting more."
I was getting so excited in this conversation that I almost choked on the meatloaf. The next obvious question was, "Do you have room for all the folks who are attending Level Grove?"
"No," he said, "We are all over each other. We are getting ready to talk about providing additional space." I learned that they own 25 acres across the road from the church, so they are set with the space they need to continue to grow.
I left our lunch together with a lot of appreciation for a vibrant young pastor with a heart for Sunday School. No wonder his church grew by 30% last year. I can't wait to see what the next few years will bring at Level Grove.
How can Southern Baptists turn our decline in baptisms around? I am convinced we can do it through renewed commitment to Sunday School and small groups.