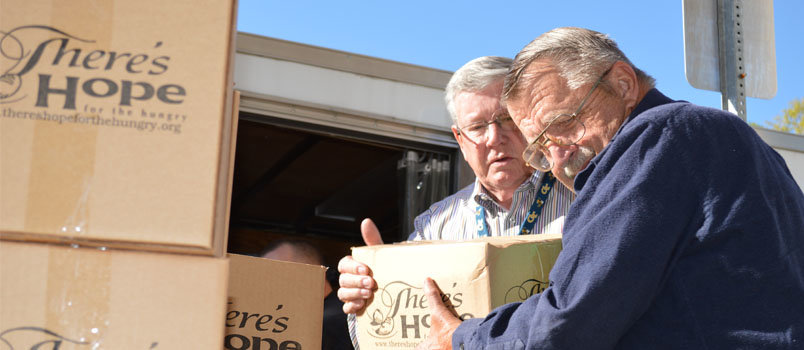 There's Hope for the Hungry volunteers Jerry Hammock, left, and Jim Harper recently unload some 200 food boxes at Bear Creek First Baptist Church in Winder. HOPE FOR THE HUNGRY/Special[/caption]
By Mickey Noah
CUMMING – There's Hope for the Hungry – a 13-year-old, mobile food ministry – is looking for a few new churches with which to partner. No previous experience required, just a love for lost and hungry people.
"We are looking to expand the ministry to new locations throughout North Georgia," says Michael Brown, who with Scott Phillips, co-directs There's Hope for the Hungry.
"We are looking for churches that have a heart for the lost, hurting and hungry in their communities," Brown said, "and the desire to launch or enhance a food ministry that will make a difference in the lives of North Georgians."
Brown knows many Georgia Baptist and other denominational churches already run food pantries and ministries, but may lack the physical assets, experience, manpower and economies of scale to be as effective as possible.
The There's Hope for the Hungry ministry includes an 8,000-square-foot warehouse in Cumming, where canned and packaged food items are stored, inventoried and distributed each week via two diesel trucks hauling 28-foot trailers.
About 125 volunteers serve the ministry. Some 50 are counselors who share the Gospel, field prayer requests and distribute food at one of 31 participating churches/locations in North Georgia from Monday to Thursday. Yet others work at the ministry warehouse in Cumming ­– packing, stacking and praying over the boxes of food that will be distributed during the month.
Solely funded by donations
There's Hope for the Hungry is funded solely by financial donations to the ministry. Although some food is donated, most of the food distributed is purchased through the Atlanta Community Food Bank. Brown says $20 will feed six families because of the operation's efficiency and economies of scale.
Since the ministry was launched in February 2003, it has fed more than 712,000 people, including 267,000 families; some 191,000 children; and more than 102,000 senior adults. The ministry has distributed 5.88 million pounds of food. More importantly, There's Hope for the Hungry has recorded more than 12,500 professions of faith in Jesus Christ over the last 13 years, according to Brown.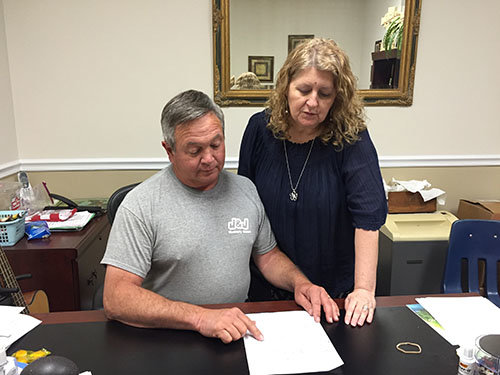 Bear Creek First Baptist Church pastor Johnny Wright and wife Deborah feed and share the Gospel with area people on the first Tuesday of each month, with support and assistance from the There's Hope for the Hungry food ministry, based in Cumming. THERE'S HOPE FOR THE HUNGRY/Special[/caption]
Currently, 31 locations are being served: Acworth, Baldwin, Blairsville, Blue Ridge, Bowman, Braselton, Buford, Canton, Carnesville, Chatsworth, Clarksville, Cobb County, Colbert, Comer, Cumming, Dahlonega, Dallas, Dalton, Douglasville, Homer, Hull, LaFayette, Marietta, Mineral Bluff, Paulding County, Royston, Suches, Summerville, Talking Rock, Temple and Winder.
One participating church is Bear Creek First Baptist Church in Winder. Johnny Wright is the church's bi-vocational pastor and his wife, Deborah, coordinates There's Hope for the Hungry locally, working with Brown and Phillips.
With an almost new facility located atop a hill overlooking U.S. 82 in Winder, Bear Creek First Baptist, a member of the Georgia Baptist Convention's Mulberry Association, began as a small mission church in Auburn, Ga., in 1991. Wright has been its one and only pastor.  When Wright's not pastoring, he's a chicken/cattle farmer, living about a mile from the church on his family's fifth-generation farm.  Married for 43 years, the Wrights have two grown daughters and four grandchildren.
"When we were a little mission church at a local mobile home park, at Thanksgiving and Christmas we would cook hundreds of meals, package them in Styrofoam containers and deliver them to needy people in the trailer park," recalls Deborah. "But we just couldn't handle it. We realized there was so much more to do.
1,000 professions of faith
"Now we can feed on a much larger scale," she said. "If There's Hope for the Hungry wasn't there, we couldn't do what we do now.  Also, we've had 1,000 professions of faith through the There's Hope for the Hungry ministry and have given away more than 477,000 pounds of food over the years," said Deborah, adding that about 100 people show up when the ministry comes to the church on the first Tuesday of every month.
"Deborah is the one who really works with There's Hope for the Hungry because I can't be here all the time because of my job," Wright said. "But any church considering a food ministry should first look at this ministry.  Their staff is made up of real, genuine people, who really love the Lord."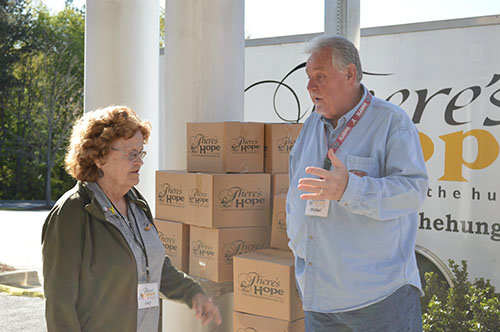 Michael Brown, right, co-director of the There's Hope for the Hungry mobile food ministry – which serves 31 locations in North Georgia – talks over plans with Lucy Anderson, a ministry volunteer at Bear Creek First Baptist Church in Winder. THERE'S HOPE FOR THE HUNGRY/Special[/caption]
And Wright said there's another added benefit of working with There's Hope for the Hungry.
"If you want your church members to grow and develop in a ministry that's so vital, I recommend There's Hope for the Hungry. It will rub off on them. Our volunteers really look forward to the ministry team coming to our church every month. They realize they are part of something so much bigger than they are, and bigger than what our one little church could do on its own. It lifts them up.  There's no way to be able to see the impact of this ministry this side of the grave," Wright said.
Wright calls the food ministry an ever-growing opportunity, since 42 subdivisions dot the local landscape within five miles of the church.  "When you feel God's presence in this food ministry, you know something is going on," Wright said. "You know He's got to be delighted."
As many as 20 professions of faith on Tuesdays
Wife Deborah believes the deeper her church gets into the There's Hope for the Hungry ministry and draws "first-timers" on Tuesdays, the better chance for salvations, adding that on some Tuesdays, they've had as many as 20 professions of faith. "A lot of churches don't have five people saved in a year."
"What we really do is go out and tell others about Jesus Christ," said Brown, who's co-directed the ministry for the last nine years.  "That's our real purpose. Even though we are giving people a box of food, people are desperate. They're hungry for food and the truth. We find people who are living out of their cars, vans, tents and even out in the woods. They need God's touch."
Brown said he believes – because of There's Hope for the Hungry – fewer children in North Georgia will go to bed hungry tonight.
"My prayer is that when I'm in heaven one day, someone is going to walk up to me, tap me on the shoulder, look at me and ask, 'Do you remember me? If it wasn't for you, I wouldn't be here.'"
For more information contact: Michael Brown at (678) 455-5511 or (770) 402-7159.