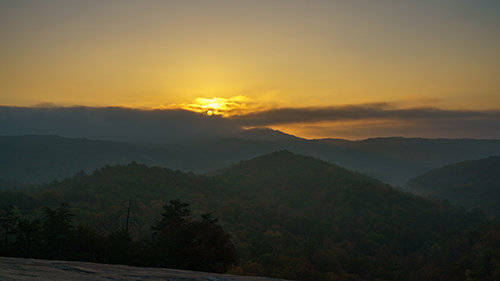 View from Stone Mountain at sunrise. GETTY IMAGES
STONE MOUNTAIN – Once known for his mega-hit "This Is How We Do It," the nationally-known singer, songwriter, record producer, and pastor, Montell Jordan will be the keynote speaker for the 75th annual Easter sunrise service on top of Stone Mountain on April 21.
Today, the work of Stone Mountain Ministries and the Stone Mountain Sunrise Service Association, originally started by Jim Lancaster and Bob Bailey, have become part of Stone Mountain Missions, a new entity led by Rick Kirkland and under the Stone Mountain Baptist Association (SMBA).
SMBA Associational Missions Strategist Larry Cheek said he is thrilled for his association to provide "Christian ministry to the number one attraction in Georgia, Stone Mountain Park."
"Thousands of people from all over the world visit the park each year," Cheek said. "This gives evangelical churches and volunteers an opportunity to literally reach around the world from our doorsteps."
Jordan will preach Easter Sunday morning, April 21, to the thousands of men, women, and children expected to climb Stone Mountain or ride the cable car to the top to watch the sunrise and hear a message of faith and hope.
Park gates open Easter morning at 4, with the Summit Skyride opening at 4:30 a.m. The sunrise service begins at 7 a.m. with a message delivered by Jordan and music provided by area choirs and singers. Vehicle entry to the park is $20 for a one-day permit or $40 for an annual permit. Skyride fees are $15 for round-trip or $12 for one-way. The park also sells an all-attractions pass with information available at the gate. Church vans and buses enter the park free that day. An estimated 5,000 people are expected to be in the park for the sunrise events that Sunday.
A simultaneous 7 a.m. sunrise service will be held at the base of the mountain on the Memorial Lawn with Robert Mason from For Eternity Christian Church in Stone Mountain leading the worship. A third Easter worship service will be held later that morning at the Stone Mountain Campground. Dan Parker, pastor emeritus of the First Baptist Church of Stone Mountain, will preach at the campground Easter morning from 9 to 9:45 a.m.
Kirkland, who is also minister of education at Bethany Baptist Church in Snellville, said he is hoping other evangelical churches of all denominations will join the work of Stone Mountain Missions and provide volunteers and other assistance.
The SMBA represents many churches in Rockdale, Newton, Walton, DeKalb and Morgan counties. Headquartered in Conyers, the SMBA joined other church associations and the Georgia Baptist Mission Board in 1994, to develop a ministry at Stone Mountain Park prior to the 1996 Summer Olympics. The park ministry is reportedly one of the only ongoing ministries following the Olympics in North America and the only known one to remain in Georgia.
Anyone interested in volunteering or helping Stone Mountain Missions in any way is asked to contact Kirkland at rkirkland@stonemountainbaptistassociation.org. Anyone interested in being part of the mass choir that will sing at the mountain for the Easter Sunday Sunrise Service should also contact him for more information.
---
Press release provided by Stone Mountain Baptist Association.