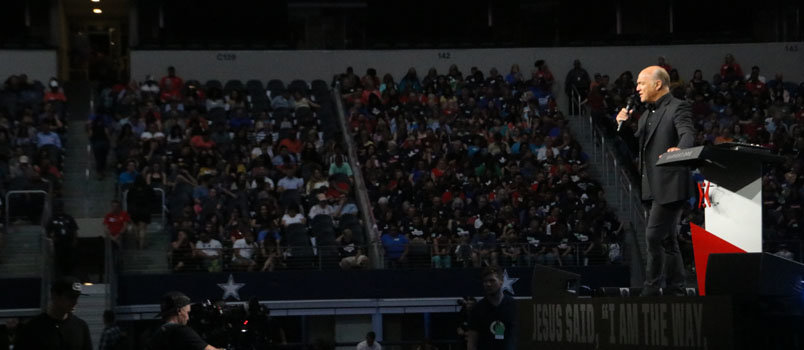 California pastor and evangelist Greg Laurie addressed a crowd stretching into the upper levels of AT&T Stadium Sunday night, June 10. SCOTT BARKLEY/Index[/caption]
ARLINGTON, TX --- Evangelist Greg Laurie exhorted a crowd reaching into the upper levels of AT&T Stadium to understand their worth in Christ as well as communicate that message to a world losing hope.
The Harvest America Crusade – which also featured music by Trip Lee, Crowder, Chris Tomlin, and Phil Wickham – culminated the Crossover Dallas outreach weekend preceding the Southern Baptist Convention annual meeting. Crossover Dallas, conducted by the North American Mission Board, relied heavily on Southwestern Seminary students and volunteers spreading the gospel through various means in Dallas and Fort Worth neighborhoods.
"Tonight, there is someone who loves you. There is someone who values you. He is called Jesus Christ, and he's here with us right now," Laurie informed the crowd.
Laurie told of his own struggle with self-worth, not knowing his biological father and having a mother who had been married seven times. Like so many others, though, he hid those feelings. And while he preached a message Sunday night that his younger self so desperately needed to hear, he admitted that younger version would be standoffish at best.
"My friends warned me; 'Stay away from the 'Jesus Freaks, Greg'" he related. "I told them, 'You can count on one thing: Greg Laurie will never become a Jesus Freak.'"
The prediction didn't exactly hold. At 19 Laurie entered the pastoral ministry with a Bible study group of 30 people. That group eventually grew into a church of 15,000. Since Laurie began holding large-scale Harvest Crusades since 1990, more than 5.2 million people have attended the events held around the country as well as in Canada, Australia and New Zealand. An estimated additional 1.7 million have watched Laurie preach via live-stream broadcasts or archives online.
Where worth, and hope, are found
Many today mistakenly place their sense of worth in a version of happiness brought by the world, he added. Laurie noted the suicides last week of fashion designer Kate Spade and television personality Anthony Bourdain, as well as last year's suicides of rock musicians Chris Cornell of Soundgarden and Chester Bennington of Linkin Park.
"Did you know suicide rates in America are up 25 percent?" he asked. "Though antidepressant use is up, it doesn't appear to be helping."
Laurie told the crowd of Jesus' parable about the rich fool, found in Luke 12. The man had too much stuff and still wasn't satisfied, the evangelist said. Giving a real-life example, Laurie told how American tough-guy icon Steve McQueen had everything at his apex, except happiness. "He was called the 'King of Cool,'" Laurie explained, "with an airplane hangar for all of his cars, motorcycles, and planes.
"But he, found himself empty and searching. Eventually, he disconnected from Hollywood and moved away and found himself in a little community in California. He came into contact with a man with strong faith in Jesus Christ. … didn't find salvation on a sound stage, but in a little church."
Following the invitation, where many made their way from every part of the stadium to meet with counselors on the playing field of the Dallas Cowboys, Laurie issued what could be termed a generational challenge.
"Forty-six years ago, at the peak of the Jesus Movement, there was a big event held … 20 miles from here [at the Cotton Bowl]. It was called Explo '72. Billy Graham was there and he said it was his prayer that they'd reach the world for the gospel.
"They made a great impact. We need that to happen again."
At Explo, Laurie said, Graham had students take a candle and light it one from another, symbolizing the spread of the gospel. Laurie then asked the crowd to do a 2018 version in holding the flashlight of their cellphones up.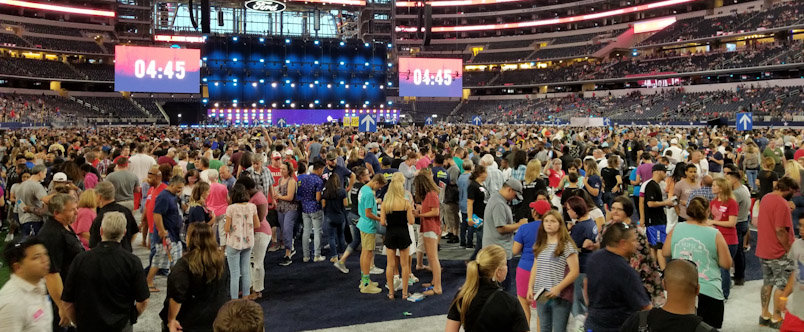 Thousands seeking a new life in Christ crowd the field at AT&T Stadium, home of the Dallas Cowboys, after the Harvest America crusade invitation given by evangelist Greg Laurie. The June 10 event was the culmination of Crossover, an annual evangelistic emphasis preceding the Southern Baptist Convention meeting. SCOTT BARKLEY/Index[/caption]
"We can literally reach the world with the gospel in our generation. It can happen through existing media platforms, through new technology being developed right now. We can be the first generation of Christians to fulfill the Great Commission in our life's time.
"You can't say the word 'God' without using the word 'Go,'" he proclaimed. "You can't use the word 'gospel,' without using the word 'go.' Jesus said, 'Go into all the world, and preach the gospel.'
"We're called to do this. We need to do this. I believe it's America's only hope."