A legacy of Billy Graham's crusades was his emphasis on advance planning. The success of any revival was based on the amount of time churches spent in preparing the field for the seeds to be planted. And after the seeds were planted, the harvest would come, he maintained.
Springtime is planting time in Georgia and many farmers are preparing their fields for the harvests which will not occur for another six months or more, well into the fall.
That analogy is not lost on state missionary Jenni Carter and her team ,who are spreading out across the state to lead Vacation Bible School workshops. That's because the annual children's programming results in more professions of faith each year than any other outreach of the local church.
LifeWay Christian Resources reports that the number of decisions for Christ and baptisms track very closely to the number of volunteers who participate in the annual workshops. Fewer involvement generally results in fewer professions of faith and baptisms, while larger enrollments result in a bump in those statistics.
For example, last year 2.5 million children attended Vacation Bible School. From those:
70,135 made salvation decisions;

1,383 responded to the call to ministry or missions;

155,344 were discovered as prospects for followup;

$6,526,962 was given to missions causes through VBS offerings.
Vacation Bible School results in 15 hours of discipleship compacted into one week of instruction, the agency reported.
With two Anglo regional meetings in Georgia down and three to go – plus two Hispanic workshops still on the calendar for April and May – the time is ripe to prepare those fields, Carter says.
Pre-registration is encouraged, but walk-ins gladly welcomed
"Pre-registration is encouraged but not required; we gladly accept 'walk-ins' on the morning of the workshops. The registration just helps us plan the Continental breakfast and snacks and helps the teachers know how many students are planning to attend their classes," she added.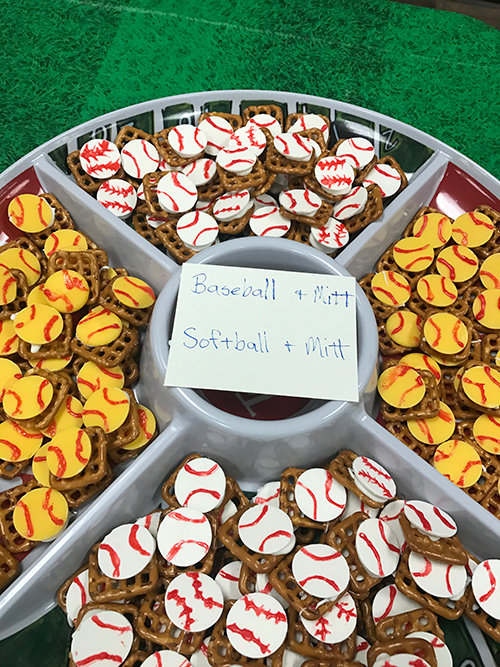 This year's snacks – cookies decorated like baseballs and basketballs – reflect the VBS theme of "Game On!" JENNI CARTER/Special[/caption]
The workshops average 175 "but we always hope to have as many as 200," the Macon native explained.
This weekend's two regional workshop will be held on March 10 at Lakewood Baptist Church in Gainesvlle and Sherwood Baptist Church in Albany. The final training session is set for March 17 at Flat Creek Baptist Church in Fayetteville.
Cost is $25 per individual and childcare will not be available. Children are also not allowed to attend the sessions.
The two Hispanic workshops are scheduled for April 21 at Northside Baptist Church in Douglas and Chicopee Baptist Church in Gainesville.
Attendees will be able to choose one track among 10 that are being offered:
Younger Preschool Leaders (B-4K);

Older Preschool Leaders (5K);

Younger Children Leaders (1st –2nd Grade);

Middle Children Leaders (3rd – 4th Grade);

Older Children Leaders (Preteen);

Adult and Youth Leaders;

Mission Leaders;

Music and Worship Leaders;

Crafts;

Vacation Directors, Pastors, and Association Missionaries.
The theme for this year is "Game On!" and will focus on sports, Carter said.
Twinkies and corn dogs and cookies
That adds a unique element each year because the snacks are built around the theme. For example, earlier workshops this year displayed creative snacks such as Twinkies resembling corn dogs and cookies decorated like basketballs or baseballs.
Local planners for each workshop use their creativity in preparing snacks so the treats may differ from conference to conference, Carter explained.
More information, including a breakdown on training schedules and list of breakout sessions, is available. Also, Carter can be reached at the Georgia Baptist Missions and Ministry Center at (770) 936-5370.
And there is one thing Carter would like to ask.
"We would really appreciate VBS directors send in their reports after their event so we can effectively track trends and so we can make sure our budget money is spent wisely."