Pastor Michael and Liliana Lewis worshipping at Roswell Street Baptist Church in Marietta. MYRIAH SNYDER/Index
---
Here at the Georgia Baptist Mission Board, one of our sayings is "Pastors are Heroes." I honestly thought I always believed that statement.
But a couple of months ago, a weird turn of COVID-19 related uncertainties left me with the option to find, apply for, sign a lease, and move into an apartment in three days' time, or move in temporarily with my pastor's family – Roswell Street Baptist Church's Michael and Liliana Lewis.
They have daughters around my age (Charity, Faith, and Hope), extra space in their basement, and they welcomed me and my senior chihuahua mix into their family with open arms. We weren't just brought in as temporary guests. Somehow, we unofficially became part of the Lewis family. I'm not sure if a 28-year-old with an actual family can be adopted, but it feels like I have been.
Living with them has been one of the healthiest things that ever happened to me (spiritually, emotionally, and physically) – from the constant encouragement to tailored-to-my-exact-spiritual-need mini sermons (from both Pastor Michael and Mrs. Liliana) to the fact that every meal they make in that house is 100% organic.
But it's also given me a unique perspective on my pastor and his family. In a very loose sense, I almost see what the life of a pastor's family looks like from the inside. And I've learned a few things about my pastor in the last two months that make me appreciate him and his whole family exponentially more than I ever did before.
He is non-stop.
He gets up before the sun and spends time in the word and in prayer. He'll go for a prayer walk, and he's constantly posting Instagram devotions from those. He goes to the office and does all his pastor-y things. He comes home, and sometimes I'll hear him on a Zoom deacon's meeting or something. His wife works too; so often, he'll start cleaning the kitchen and making dinner. He stops, puts his phone away, and is totally engaged in family dinner. If he doesn't make dinner, he's helping to clean it up. From what I see, he only officially "stops" early enough for a decent bedtime so he can get up and do it all over again. And again, this is only the part of his day that I see. His weekends are filled with ministry and prayer as well.
He prioritizes taking a Sabbath.
Saturday-Thursday, he doesn't seem to take much of a break. But on Friday, whenever possible, he pauses. I'm always in the basement working on Friday, but from what I've heard, he spends a ton of time with the Lord, walks, does projects around the house, spends time with his family, and a host of other not-typical-pastor things. He explained, one day while encouraging me to take a Sabbath, that it doesn't have to be spent doing nothing. It's just resting from your usual work and spending extra time with Jesus. Of the good habits I've picked up at the Lewis house, that's probably one of the best.
He prioritizes his family.
If one of his daughters have a need, he is there – whether it be the daughters that are in the house now or the one in Washington, D.C. He's quick to defer to his wife in any conversation, because you can tell he genuinely values her wisdom – and trust me, she'll full of wisdom and discernment. If his parents call, he'll drop whatever he's doing for a conversation with them – even if it's just shooting the breeze. And during family dinner – that happens most nights a week – he's all there, engaged, and interested.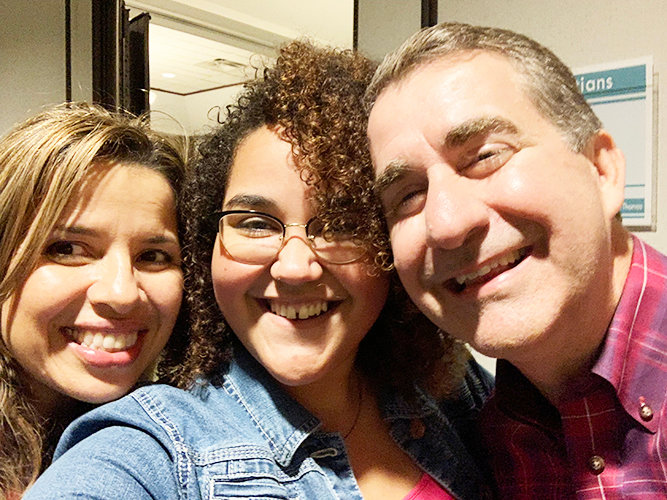 The Lewises and Myriah last year on Pastor Appreciation Day.
He and his wife spend an unprecedented amount of time in the Word and prayer.
Seriously, I've never seen people want to spend more time with Jesus in my life. Mrs. Liliana has alarms set to stop and pray for each of her three girls daily. She has worn note cards of prayer requests. She takes daily prayer walks. She'll constantly send Scripture reminders in the family group chat (that I'm a part of). I'm sure she does a host of other things too that I just don't see.
Pastor Michael gets up at some ridiculously early time each morning. His office is right over my bathroom, and I can hear muffled prayer coming from his study each morning as I get ready. He prays Scripture. He has a time of intercessory prayer. He journals. He prays his heart. He reads and meditates on the Word. And again, I'm sure he does a host of other things.
Often, I'll get a personalized text from either of them speaking into whatever I'm going through currently.
I've never seen faith so consuming, consistent, and genuine as I see in the entire family.
The whole family is the same at church as they are at the dinner table. They practice what they preach more than I have ever seen a family do. If someone starts being negative, Mrs. Liliana is quick to steer the conversation in a positive direction. If someone needs godly admonishing, Pastor Michael or Mrs. Liliana are both there to give it, always grounded in the Word. If Pastor Michael says something he feels he needs to apologize for, he doesn't hesitate. Even their daughters bleed their faith, whether it's at Bible study, around the table, or downstairs while we're swapping war stories (a.k.a. boy drama).
They have an unprecedented capacity for empathy and grace.
I'm a mess. And while I spent the first month of my time with the family trying to hide that, one day the real Myriah just came barreling in, and I haven't been able to find my church face yet. I've cried more tears in front of this family than anyone deserves to see. I could go on, but you get the picture. Each meltdown has been met with the words, "We grieve this (fill-in-the-blank with today's catastrophe) with you." And then, only after I've gotten a second to process, have they spoken the truth in love – always accepting me.
I admire all pastors. I am so appreciative of the sacrifices made and the calling fulfilled. I do what I do as a Christian journalist to encourage and equip and inform the saints – starting with pastors.
But specifically for me, my pastor's entire family are my heroes – and as you can see, they've earned that title.
---