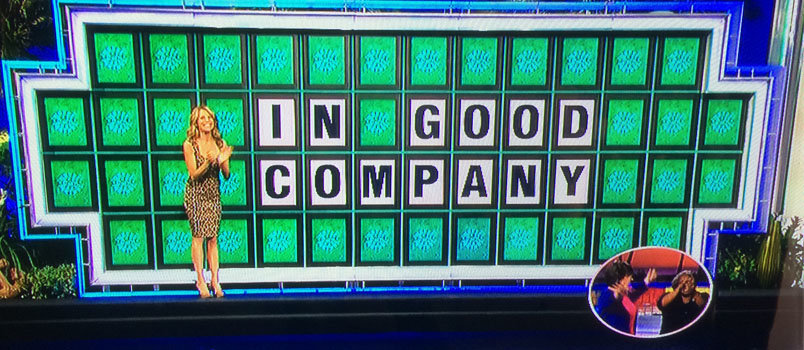 As appropriate as you could plan, the final puzzle reflected Team Jan's successful appearance on the game show.[/caption]
WARNER ROBINS — Even before she was a participant on "Wheel of Fortune", Jan Morton had a big platform.
It's been building through her marriage to Gary Morton, currently pastor of Worship and Administration at Second Baptist Church in Warner Robins, where he's been on staff since the Mortons arrived 28 years ago. It's come through the raising of sons Jeremy, pastor of Cartersville First Baptist Church, and Jonathan, a deacon at Second Baptist where he's also part of the Worship Ministry Production Team and volunteers with the youth praise band. It certainly continues to build every day as "GranJan" to her five grandchildren.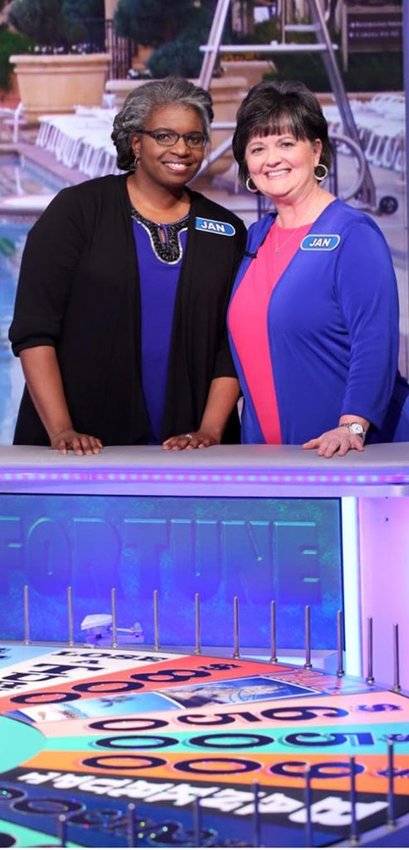 Jan Leary and Jan Morton became friends ten years ago in the Second Baptist Church, Warner Robins, choir. Leary won the audition on "Wheel" before inviting her friend along upon learning the theme was "teams".[/caption]
So long before Morton went on the game show – filmed early last month but aired Feb. 10 – she'd already been leaving quite a ministerial footprint.
At her church she's in the choir and on the praise team, co-teaches the Covenant Membership class "Second Life" with her husband, continues in her 19th year as women's ministry director, and teaches a women's Bible study. In addition to all of that she's the administrative assistant to the superintendent of Houston County Schools.
Most recently, she's become involved in a mentoring ministry set in the kitchen called "Taste &  See." You may hear that and think it's just about making meals, but Morton knows cooking like Russian weightlifters know kettlebells. There's a great deal more to it than just throwing ingredients into a casserole dish. The purpose and benefits greatly outnumber what appears to the untrained eye, and is a ministry as well-suited for today's culture than any other in recent memory.
"Even with all the ways for these young women to connect through social media nowadays, nothing ever replaces a face-to-face conversation that provides the authenticity they long for," Morton wrote in a LifeWay blog post last August. "And in this fast-food, fast-paced world in which we live, there is something really special about gathering around a good meal at the table."
Morton was originally scheduled to go on "Wheel" two years ago with her friend, Jan Leary of Atlanta, as part of a "Girlfriend Getaways" theme, but the trip was canceled due to a snowstorm. They made enough of an impression, though, for the two to be invited back compete. And compete, did they, winning and taking home more than $54,000 in cash and prizes.
Jan session
"Jan is the reason I was there," explained Morton. "She received the original invitation for an audition and invited me when they told her they were looking for 'teams.' When she called me and told me the exact date of the audition, Gary had an appointment in Atlanta just a few blocks from there. He literally 'put me out on the street' and came back and picked me up several hours later!"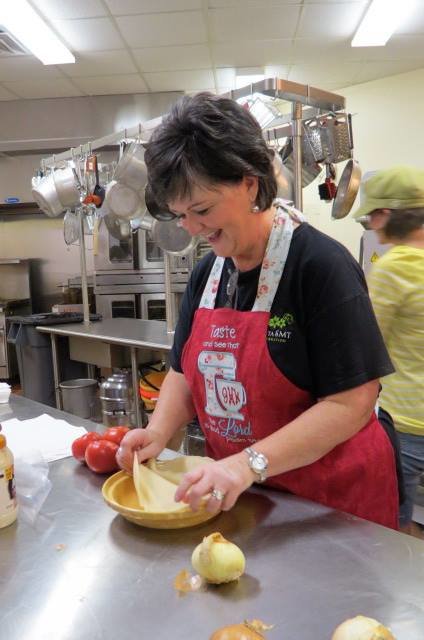 Morton's latest ministry is called "Taste & See" and is based on mentoring in the kitchen. She is currently co-writing a book about the program to be published this summer entitled "Tasting Grace." FACEBOOK/photo[/caption]
Gary also made the trip with her to California, sitting with family and friends of other contestants before moving down off-stage when Team Jan made it to the Final Round.
"I was confident in her abilities," he said. "She's is a 'word' person and has solved the puzzles for years from the sofa. I've wanted to get her on the show for years."
Perhaps the best part of the experience, he added, didn't even make it to viewers' TV screens.
"We prayed together that someway, somehow they would be a witness for Christ. Their prayer was for the people to see Jesus in them, from the hotel clerk, to the stagehand, even Pat and Vanna.  Their goal was to let others see Jesus in them win or lose.
"The greatest moment of the day was during the commercial break just before the Bonus Round. Jan and Jan bowed their heads and prayed together right in the middle of the stage.  The room kinda got quiet and people were whispering 'They're praying. Look ... they're praying.' To me that was the best part of the day. Two ladies, praying with and for each other for all to see. That was so good!"
Jan had about three-and-a-half weeks to get ready to fly to California after getting word she and Leary were back on the show. The two had met about ten years ago in the choir at Second Baptist and became fast friends, continuing the friendship when Leary moved to Atlanta.
Fortunate one
When it comes to "Wheel," Morton is about as close to a ringer as you can get. She began reading at age 5 and has been a loyal viewer of the show since it began airing at night 33 years ago. She loves studying the origin of words. She checks her "Word of the Day" app on her phone like pre-teen girls check Taylor Swift Instagram posts.
"I've won many a spelling bee in my younger days," she said, "and unconsciously proofread everything – signs, recipes, church bulletins, newspaper articles. I worked from home editing papers when my boys were toddlers. However, I will say the game is much harder there at the Wheel of Fortune studio than sitting on my sofa at home playing!"
Her sons were very confident in her ability to do well, and even more confident in the witness she would provide.
"There's no question my mom has played a critical role in my spiritual development," said Jonathan Morton. "I've seen her desire to study and learn more about God's word personally, so that she can share it with other women at the church. At this stage of life I see her teaching and living the importance of prayer."
"She's been our biggest fan, number one cheerleaders, and faithfully prayed for us," agreed his brother, Jeremy. "Countless mornings I woke up and found her praying by her lamp in the den."
For awhile, Gary will probably need to get used to being addressed more as "Jan's husband." He's okay with it.
"I am blessed to have her as my life's partner and the mother of my boys," he beamed. "She's smart. She's a gifted communicator. She loves me, our family, and the Lord! All that and she can cook, too!
"I am the most blessed man in the world and she is my greatest blessing!"