named the single most lethal weapon American forces faced
. Unlike other IEDs (improvised explosive devices), EFPs formed projectiles capable of covering 100 yards or more, meaning they didn't have to be implanted directly next to a road. Often, they'd be camouflaged further out to look like trash or rocks. This EFP killed two in the Humvee. Kolhofer, 24 at the time, and his team dispatched a recovery vehicle. Insurgents had another EFP waiting, which resulted in another dead American soldier. After an hour or so, a chaplain sent to the site was hit by a sniper's bullet. The chaplain survived. "That was our first day," remembers Kelhofer. "The first time, you're kind of in shock."
Something he could do
Kelhofer completed his service in Iraq the following year and left the Army in 2012. However, some things came back to the States with him. He began to withdraw. He would stay in bed rather than go to work. Like other veterans, Kelhofer isolated himself from others. Eventually, he was diagnosed with have Post Traumatic Stress Disorder. The Lilburn native says he ultimately dealt with PTSD through his faith and the discipleship he experienced growing up at
First Baptist Church in Atlanta
. However, he knew there was more to do. There was more only someone like himself
could
do. So, on June 11 Kelhofer was ordained into the ministry at
First Baptist Loganville
, where he's currently a member with his wife, Colleen, and their children Lily, 12; Thad Jr. (TJ), 3; and Daniel, six months. It's not unusual for someone to enter the ministry. Kelhofer's story is different, though. He wants to concentrate on helping fellow soldiers struggling with PTSD. Specifically, Kelhofer wants to show the way through the gospel. "I found myself going the same path many veterans do when they commit suicide," he says. "Veterans can be a bit reclusive and withdraw. You start to experience depression. You begin to hate your life."
PTSD's impact on veterans
Kelhofer is only too familiar with the symptoms. He understands reliving experiences thought to be left on a battlefield. Kelhofer has fought trust issues. He's wrestled with worries over safety, security, guilt, even shame.
Studies on the suicide rate among veterans in recent years have hovered between 20-22 a day. And that doesn't necessarily isolate it to Iraq War veterans. Roughly 65 percent of all veteran suicide in 2014, for example, came from those 50 years of age or older.
Earlier this year, the U.S. Department of Veterans Affairs (commonly referred to as the VA),
put out a fact sheet on the relationship between PTSD and suicide
. While calling PTSD's role among veteran suicide a "considerable debate," the report did note that "PTSD alone out of six anxiety diagnoses was significantly associated with suicidal ideation or attempts."
A church's commendation
Jimmy Wilson, assistant pastor at First Loganville, joined Pastor Ronnie Kendall in taking note of Kelhofer's desire to enter the ministry. "I spent a good bit of time with Thad to determine if we could recommend him for ordination," says Wilson. "He has a strong passion for Christ and a special calling to bring healing to those struggling with PTSD. The staff and deacons were overwhelmingly in favor of proceeding with the ordination." Kelhofer's range of concern regarding PTSD isn't limited to the military. His dad, Paul, served as an officer with the Gwinnett County Police Department for 30 years. As such, Thad is familiar with the emotional struggles of those wearing the Blue. "He wants to bring healing and help to police officers as well as those returning from military combat," comments Wilson, who adds how Kelhofer's church background factored into his current-day path. "It helped him more easily access the power of Christ for inner healing," he says.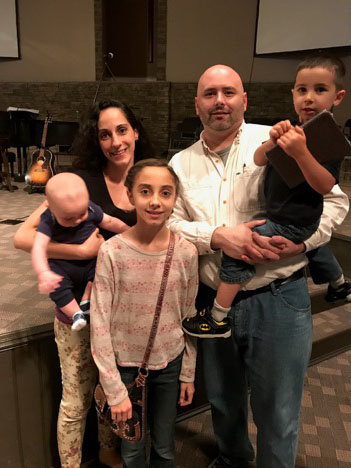 On June 21, Thad Kelhofer was ordained into the ministry at First Baptist Church in Loganville. Joining him and his wife, Colleen, were children Lily, 12; three-year-old Thad Jr., also known as TJ; and Daniel, six months. THAD KELHOFER/Special[/caption]
Being a friend
Kelhofer, currently working on his Master of Divinity in Chaplaincy at Liberty Baptist Theological Seminary, knows that to best reach a veteran, it takes a veteran. "When I started talking about [my depression] with friends at church, they kind of didn't know how to approach it," he remembers. "That got me angry. I was angry at civilians for not being able to understand." Veterans have a connection, he explains. "If you didn't experience the same thing I have, I don't want to talk to you. The Army doesn't give veterans very good skills in coping after you leave. And so, you're kind of left alone and it's an eerie feeling. You wonder what you're going to do now. "My best friend – a guy named Joe – helped me. We've been friends for over 20 years. He noticed I was 'off,' and began listening to me. He let me open up and heard what I'd experienced in war." And this type of warfare isn't limited to the temporal, he claims. "From a spiritual perspective I consider this to be, at times, demonic. There are signs of demonic activity from veterans who have seen manifestations or even heard voices of the enemy." Rather than allowing loved ones to withdraw, he encourages stronger family relationships and support in addition to leaning on the gospel. "Today, I live a productive life due to Jesus' grace and my wonderful wife," Kelhofer testifies. "It's hard for some veterans to be vulnerable and let people close, trusting will truly understand the pain of war. "It's okay to come as you are, broken with scars."
Thad Kelhofer remembers his unit – 1st Battalion Infantry, the Black Lions – arriving in Kuwait sometime just after Super Bowl XLI in 2007. A little over a month later Kelhofer was at Forward Operations Base Falcon near Baghdad. His job, as a human resources specialist, involved tracking those killed or wounded in action. This meant he maintained constant contact with those in the field via radio with ground units suffering casualties. On March 20, an EFP (explosively formed penetrator) struck a Humvee. EFPs had a particularly lethal effect in Iraq,