Freed slave George Liele, converted and baptized by Buckhead Church in 1773, is increasingly recognized among Southern Baptists for his pioneering church planting and missions efforts. Screen capture from NAAF video
---
Editor's note: The Index will be sharing historical items for its readers leading up to the 200th birthday of the Georgia Baptist Convention in 2022.
The small church no longer exists, although closing its doors opened many new doors for spreading the gospel around the world.
Baptists lost one church in Georgia during the American Revolution, Buckhead Baptist Church (ca. 1773-1779) of Burke County. It is the story of a small rural church scattered by the ravages of war, African American Baptists' struggle to find a voice, and the beginning of Baptist foreign missions.
Matthew Moore was the pastor of this church, which was a member of the Charleston Baptist (S.C.) Association. Founded in 1773 on the eve of the American Revolution, the church was unique among Georgia Baptists because its membership was composed of Tories – Georgians who would remain loyal to the Crown during the Revolution.
The political divide between Tories and Patriots often ended in bloodshed, both on and off the battlefield. American General Anthony Wayne, writing to his wife, described Georgia as a "lawless place" where "neighbors were killing neighbors." Revenge drove acts of violence, turning neighbor against neighbor. This was the reason few Tories remained in Georgia after the war.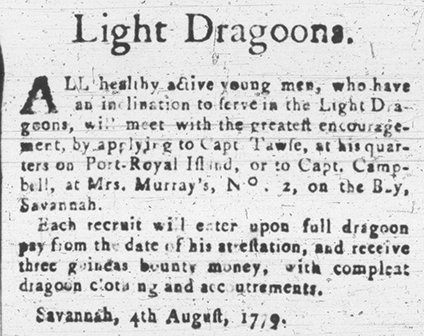 Baptist Deacon Henry Sharp, also known as "The Notorious Major Sharp," was an officer of the Georgia Light Dragoons. Supporting the ordination of his slave, George Liele, and then giving him his freedom changed Baptist history. (Image: Historic Newspapers: Digital Library of Georgia)
One of the Buckhead Tories was Pastor Moore's brother-in-law Deacon Henry Sharp, who was an officer of the Georgia Light Dragoons. "Dragoons" were small calvary units which scouted enemy positions and conducted raids. Sharp commanded a successful attack, capturing Fort Morgan on the Ogeechee River in 1779. He developed a reputation and was known as the "Notorious Major Sharp."
Although a Torie, Sharp was a bit of a rogue, charged with illegal trade with the Indians in 1769. He was a planter, trader, military officer, slave holder, and deacon of the Buckhead Church.
One of Sharp's slaves born in Virginia was named George Liele (ca. 1750-1828). Liele was converted and baptized by the Buckhead Church in 1773. He became deeply burdened with the spiritual condition of fellow slaves and soon began preaching. He was ordained by the Buckhead Church in 1775, becoming one of, if not the first, ordained back minister in America. His ordination gave him an authority to speak, which normally would not be afforded a black man, slave or free.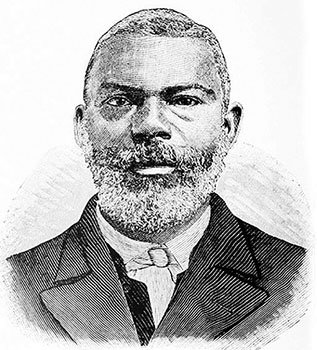 George Liele
Furthermore, Sharp granted Liele his freedom. Liele could move freely, preaching on plantations and in villages. This freedom provided Liele time to mentor other back ministers, at least three of whom we know. All had significant ministries.
Nearing the end of the war, after the Patriots regained control of much of Georgia, Tories and runaway slaves (promised freedom for helping the British) fled to Savannah, which was still under British control. In Savannah, Liele began preaching on surrounding plantations. During this time, a slave and future Baptist preacher named Andrew Bryan (1716/1737-1812) was converted and baptized by Liele in 1781.
Following the war, few Tories remained in Georgia. Major Sharp had been killed in a skirmish. A freedman, Liele and his family would nevertheless have been in danger had they remained since they were identified with the Tories. They booked passage to Jamaica in exchange for Liele working off the debt. If he had not been associated with the Tories, there is a good chance he would have remained in Georgia.
George Liele is considered by many to be Baptists' first modern missionary, pioneering work in Jamaica after his arrival in 1783. He worked two years to pay off his debt while preaching to slaves on the plantations. At one point he was imprisoned because white slave owners thought he was inciting the slaves.
In 1794, Liele was listed as the pastor of the Baptist Church in Kingstown, which had a membership of 400. He spent the rest of his life in Jamaica and by his death in 1828 the island reported over 8,000 Baptists who were the fruit of his labors.
David George (1742-1810), a runaway slave, became convicted of his sin under the preaching of George Liele and was later converted and baptized by an itinerant (white) pastor, Waite Palmer. During the Revolution, George fled to Savannah and spent time preaching to slaves with George Liele. He then fled to Charleston, SC, where the British offered free passage to many blacks to Nova Scotia, Canada. George spent almost ten years in Canada helping establish churches while at times enduring harsh persecution.
British abolitionists offered free passage to the former slaves living in Nova Scotia to establish a colony in Freetown, Sierra Leone, Africa. George and his family sailed to Sierra Leone, where he pioneered Baptist missionary work in that country. At the time, natives of Sierra Leone were still being enslaved and transported to slave markets in Georgia. In 1794 the Baptist church in Freetown, Sierra Leone had a membership of 100 and David George was pastor.
Jesse Peters (aka. Galphin) (ca. 1740s-1810s) was another black preacher mentored by Liele and likely ordained by the Buckhead Church. Peters and his family fled to Savannah on the promise of freedom, but for unknown reasons Peters later chose to return to the plantation.
Peters became the founding pastor of Springfield Baptist Church Augusta in 1781. Springfield is one of the oldest, if not the oldest, black congregation in America. In 1793, the Silver Bluff/Springfield Church reported 210 members with Peters as pastor.
In Savannah, Andrew Bryan and other slaves continued to meet and worship after Liele's departure. This was prior to the establishment of a "white" Baptist church in Savannah in 1802.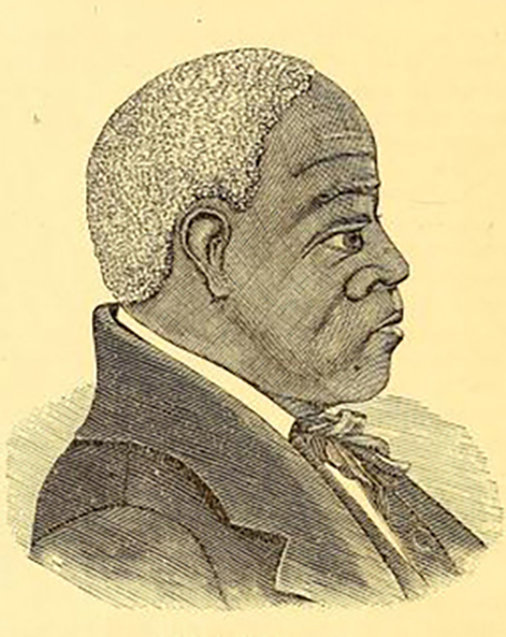 Andrew Bryan: The founding pastor of First African Baptist in Savannah as he was being whipped for preaching called out, ""You may kill me, but I will preach the gospel. If you would stop me from preaching, cut off my head." (Image: The Centennial History of the First African Baptist Church of Savannah 1788-1888, by E.K. Love)
Bryan, about 70 years old, was persecuted. He was tied to a post by a mob and whipped. An account stated: But while bleeding, and the cruel lash yet falling upon his naked back, he held up his hand and said to his vile persecutors: "You may kill me, but I will preach the gospel. If you would stop me from preaching, cut off my head. I rejoice that I am worthy to suffer for Jesus."This was said with such Christian courage and humble boldness, and with a wonderfully powerful and sweet voice, that his inhuman and ungodly persecutors were dumbfounded. This touched the hearts of the white people and excited their sympathy for the persecuted saints ...
Kiokee Baptist pastor Abraham Marshall (white) traveled to Savannah, picking up Jesse Peters, the pastor of Springfield Baptist Church in Augusta. They ordained Bryan and organized the First African Baptist Church of Savannah.
The new church and Bryan were provided the authority and protection of the Georgia Baptist Association. In 1793 the church listed a membership of 389, making it among the ten largest Baptist churches in America. Bryan was the much-beloved pastor until his death in 1812.
After the war in 1786, a new Buckhead church was constituted. The earlier church and its Torie membership were scattered from Canada, Jamaica, and beyond.
The first Buckhead Church opened the doors for larger work in Baptist life including: ordaining black preachers, the beginning of Baptist foreign mission work in Jamaica and Sierra Leone, setting the precedent for future foreign mission work, and establishment of two of the oldest African American congregations in America. Alone, any one of these would have been significant. But the fact that they came from a small country church which only existed a few years is even more amazing.
Many churches today are struggling. If the doors close, that does not mean they cease to exist. Either here or in eternity, they would exist just as the first Buckhead church continues to do so. There is a piece of it to be found in First African Baptist Church of Savannah, Springfield Baptist in Augusta, and their many daughter churches. There is a piece of it in Nova Scotia, Sierra Leone, Jamaica, and beyond.
Churches on the verge of closure today would do well to think about the legacy they will leave behind.
---