PHOENIX, AZ — Do you feel the madness? It permeates the nation. If you haven't felt it yet, you will this weekend. The hysteria, the emotion, the excitement, the frenzy, yes, the madness will become full-blown by 6:09 p.m. Saturday when the South Carolina Gamecocks men's basketball team meets the Gonzaga Bulldogs in Phoenix.
The winner of the 6:09 game will meet the winner of the North Carolina-Oregon game on Monday night for the national championship.
Interestingly enough, the South Carolina women's basketball team is also in the final four; and South Carolina is the only school in the nation that averaged more than 10,000 people in both its men and women's home games this season. In fact, the Palmetto State is doing quite well athletically, considering it's also home of the collegiate football champions (Clemson) and baseball champs (Coastal Carolina).
The University of South Carolina men's team has never reached the Final Four in college basketball. In fact, the Gamecocks have only won four games in the NCAA tournament in school history. On the other hand, Gonzaga has won 28 NCAA tournament games.
The drive to fulfill a dream
Hassani Gravett, from Villa Rica, is a guard on the Gamecocks men's basketball team. He also happens to be a Georgia Baptist as a member of Ephesus Baptist Church, where Pastor Billy Godwin baptized him when he was about 7 or 8 years old.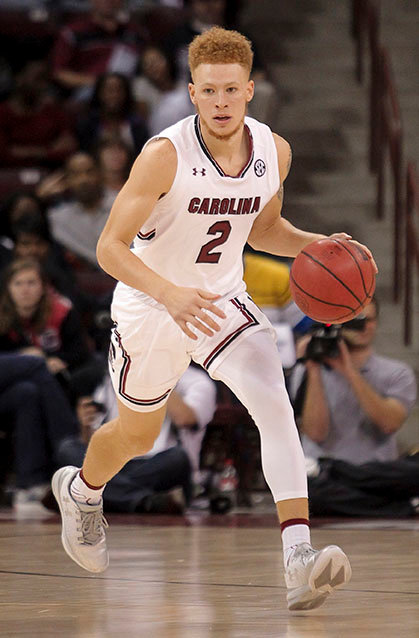 "There is so much to like. He's a good ball handler, a good shooter, he's very competitive and works hard every day in practice," says one of Gravett's former coaches. SOUTH CAROLINA MEDIA RELATIONS/Special[/caption]
Gravett was an outstanding athlete at Alexander High School in Douglasville where he played football, soccer, and basketball. At the end of his senior year he was named Georgia 4A Player of the Year.
He graduated as an Honor Board Scholar before going to Pensacola State College. There, he red-shirted his first year at PSC. But in his first year of eligibility Gravett won the Panhandle Conference Player of the Year Award even though his playing time was limited by two separate ankle injuries.
When asked how he managed to return to the court earlier than expected he answered, "I shouldn't have been able to play, but by the grace of God, I was able to press on because I wanted to fulfill my dream."
Pete Pena, basketball coach at Pensacola State, said of Gravett, "There is so much to like. He's a good ball handler, a good shooter, he's very competitive and works hard every day in practice. He runs off ball screens, but is quick enough to create his own shot."
Numerous schools attempted to sign him to a basketball scholarship after playing his first year of eligibility at Pensacola including West Virginia, Georgia State, East Carolina, Virginia Commonwealth, and Georgia Southern as well as several schools on the West Coast.
Gravett has explained, "My dream was to play Division I basketball. I would love to go to the NBA, but my main focus is getting my education to be a physical therapist, dentist, or anesthesiologist.
"I have played basketball my entire life. I love and respect the game. Basketball has always been my favorite thing to do. I love to train and work hard so that I can reach my fullest potential."
In Phoenix on Saturday, here on Sundays
USC basketball coach Frank Martin said of Gravett, "Hassani is quick, explosive, unafraid to shoot a 25-footer whenever he needs to. He can bring a lot of excitement to USC's offense."
After beating Florida to advance to the Final Four, Gravett said, "After Marquette we went into the Duke game a little bit nervous, but after a few minutes we realized that we could play with anybody. The powerhouse teams don't affect us; we just come out and play our game."
Being a part of a team in the NCAA Final Four Tournament is an incredible experience, but Hassani Gravett is an incredible young man with a solid faith.
He recently told The Index, "Jesus Christ to me is my Lord and Savior. He is the One who watches over my life and pours blessings upon me when I give Him glory.
"With the platform that has been handed to me, anytime we achieve something or even if we don't, the media asks questions and I am able to incorporate God in the success that my team and I have had so far. I make sure to say that if it wasn't for Him we wouldn't have made it this far in our season."
Gravett continued, "To be on a team that has been able to capture the spotlight in America is unbelievable. Sometimes I'm not even able to process what is really going on. I am living the dreams that as a little kid I always hoped I could. God is really good."
If you were to go to Ephesus Baptist Church on a Sunday morning near Villa Rica after the spring semester ends, you would likely see Hassani and his parents, Chris and Mekia Gravett, sitting on the first row on the right side of the church during the second worship service.
If you watch South Carolina play in the Final Four, look for number 2 in the Gamecock uniform. That is Hassani's number; and he wears it well.