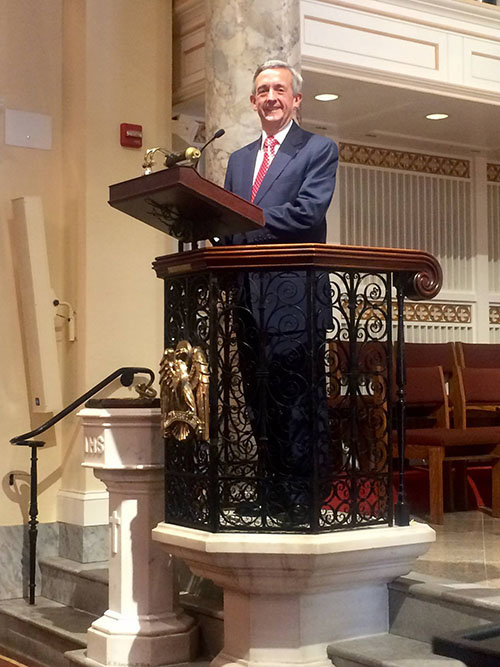 Southern Baptist pastor Robert Jeffress was one of the first clergy to endorse Donald Trump. This morning the First Baptist, Dallas, TX pastor preached at a pre-inaugural worship service attended by President Trump and Vice President Mike Pence. ROBERT JEFFRESS/Facebook[/caption]
With the exception of Richard Nixon, every president since Franklin D. Roosevelt has attended a worship service on Inauguration Day. Many of those services have been held at St. John's Episcopal Church across the street from the White House.
Southern Baptist pastor Robert Jeffress was the preacher selected for the pre-inauguration service for President Donald Trump at St. John's Church this morning. Jeffress, pastor of First Baptist Church of Dallas, TX, vigorously campaigned for the new president in the final months of the campaign and calls himself a personal friend of the new President.
Jeffress was interviewed on Fox News by Bill O'Reilly on the eve of the inauguration and gave the news commentator a synopsis of what he was going to say in the worship service just a few hours before the inauguration. His sermon was titled "When God Chooses a Leader" and the church service was basically a private worship service for President Donald Trump, Vice President Mike Pence, their families, and guests.
The Dallas pastor stated, "I'm not going to lecture the new president; I want to encourage him. I am going to compare him to another great leader God chose 2,500 years ago to restore the nation of Israel. God didn't choose a politician or a priest, he chose a builder by the name of Nehemiah. And interestingly, he told Nehemiah to build a giant wall around Jerusalem. So, I am going to use Nehemiah's story to illustrate why God blesses leaders. I want the message to be an encouragement to our great new president.
"The country [of Israel] had been in bondage for years in Babylon and the country was in shambles; and God said, 'The first step to rebuilding the nation is to secure the nation with a border – to keep the enemies out.'"
Jeffress continued, "Nehemiah had his share of critics in his day who were heckling him, hounding him, spreading rumors about him, kind of like the mainstream media today. The country ignored them. The country went through an economic recession. There were terrorist attacks, but Nehemiah kept plowing forward. And I see those qualities in Donald Trump. He is not going to stop for his critics. He is not going to slow down. He is going to do what is best for the country and that is why I support him."
Jeffress was characterized by CNN as "an inflammatory preacher" because of his remarks about Muslims, Mormons, Catholics, and gays. For example, he called Mormonism a "cult" and urged Christians not to vote for Mitt Romney, a Mormon, during the Republican primary, but later supported Romney over President Barak Obama in the general election.
I don't know Pastor Jeffress well, but I have met him and talked to him on several occasions. We first met years ago at a writer's conference at a state park in Tennessee when we were at an orientation of curriculum writers for LifeWay Christian Resources and more recently prior to his message at the Georgia Baptist Convention in 2015.
What CNN calls an inflammatory preacher, I call a preacher with courage and convictions. What the mainstream media calls a prejudiced and narrow-minded preacher, I call a preacher who is unashamed to give a certain sound.
One spokesman with the Trump inauguration planning team defended the choice of Jeffress by saying, "Pastor Jeffress is a unifying figure representing a diverse spectrum of Americans. Any attempt to vilify this religious leader is deeply disappointing and misplaced."
The Trump team could have chosen some liberal, timid, weak-kneed, milquetoast, spineless preacher with a cotton string for a backbone as the preacher for the special occasion. I am extremely glad they chose a strong, Bible-believing preacher who consistently preaches the truth without seeking favor or fearing criticism. In fact, the choice of Jeffress portends good things about the new administration.